Donley's is working with Gilbane Building Company on The Yield in Holly Springs, North Carolina.
The Yield will be a life sciences campus focusing on biomanufacturing, office, and lab space with retail amenities. The first phase of The Yield will offer over 260,000 square feet of biomanufacturing space designed to maximize flexibility for tenant's needs and deliver with speed to market. Two buildings, each over 105,000 square feet, are available for single or multi-tenant biomanufacturing, and the third building will feature 52,000 square feet of lab and office space.
Donley's scope includes Foundations & Ribbon Slab.
Donley's is working with Rycon Construction on the Pinecrest Student Housing project.
Pinecrest Student Housing is a 509-bed student housing development serving students attending Virginia Commonwealth University in Richmond. The 275,000 square-foot property will offer a mix of one-, two-, three- and four-bedroom units with bed-to-bath parity. Shared amenities within the 16-story community are set to include study spaces; a two-story parking garage with bike parking; a penthouse-level clubhouse; multi-purpose art studio; zen wellness terrace; outdoor courtyard; and a rooftop deck lounge with grills, fire pits and social seating.
Our scope includes 12,400 CUYD of concrete.
Donley's is working with Clancy & Theys Construction Company on the NOVEL Scott's Addition in Richmond, Virginia. This 275-unit apartment community will be a five-story wrap building with a seven-story corner pop-out. The complex also features a pool and pool deck, dining and gathering spaces including a fireside lounge, library, co-working rooms, dog park, spa, garden dining room, sky deck and resident speakeasy.
Our scope of work includes foundations, slab-on-grade, short/site walls, and framed slabs.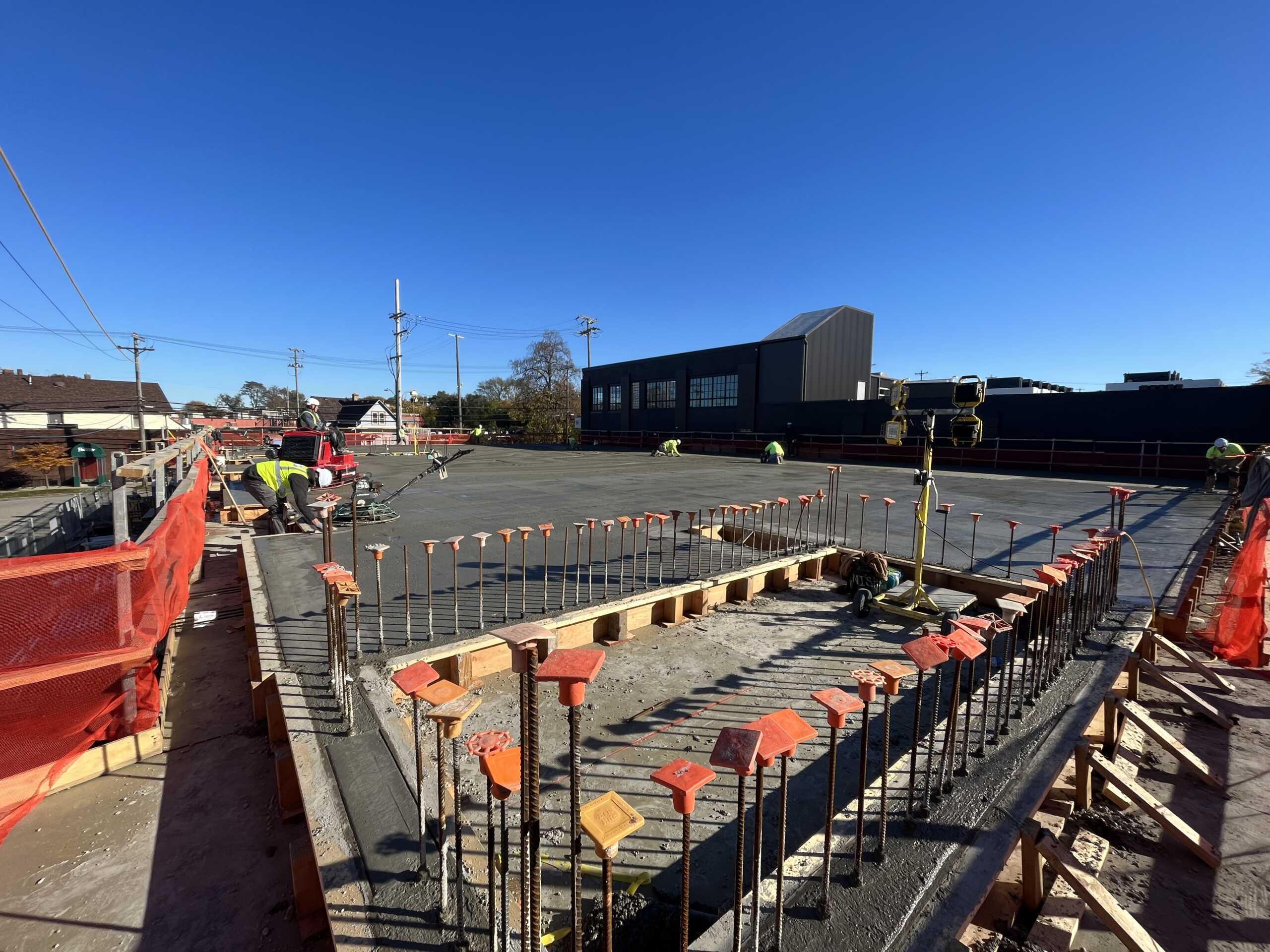 Donley's is working with The Krueger Group on the Breakwater Lofts project, an apartment building in the Gordon Square neighborhood of Cleveland, Ohio. This 4-story building will include a parking garage, 26 residential units, a fitness room, and a co-working lounge.
Donley's scope includes shallow foundations, foundation walls, slab on grade, PT deck, site paving, retaining wall, and frost slabs.
Donley's is working with Rabren General Contractors on the OPUS Savannah project in Savannah, Georgia.
This project is a 5-story multi-family residential development with ground floor lobby and amenity space, parking, and multi-family residential units, with a single-story basement parking level, a second-floor exterior pool deck. The project will consist of podium-style construction, with a cast-in-place podium, and 4 stories of wood-framed construction above.
Our scope includes 104,653 SQFT and 7,150 CY of concrete.
Donley's is working on the Naples Beach Club with Suffolk in Naples, Florida. Naples Beach Club, formerly known as Naples Beach Hotel & Golf Club, will be a Four Seasons Resort and will offer 216 hotel rooms and more than 150 condos. The upscale development will include the renovation and improvement of HB's on the Gulf, the Sunset Beach Bar, the conference center, and the golf course. The resort will also feature a "Market Square" for its guests, residents and neighbors that will include a cinema, a kids' club, a restaurant with bowling lanes, and the resort's spa and fitness facilities.
Our scope includes the turnkey construction of a seven-level beachfront hotel. The turnkey scope includes over 350,000 SF of CIP Framed Slabs.
Donley's is working with CF Evans Construction on the Woodfield River Arts Apartments, formerly RAD Lofts, in Asheville, North Carolina.
This mixed-use development will be 431,736 square feet total, comprising of 237 apartment units, over 60 public parking spaces, 16,000 square feet of retail space, and a five-panel wall of murals along its Clingman Avenue face.
Our scope of work includes:
Foundations
Foundation Walls
Columns
Slab On Grade
Structural Framed Slab Level 1
Structural Framed Slab L2 (Podium)
Upturn Pool and Toppings.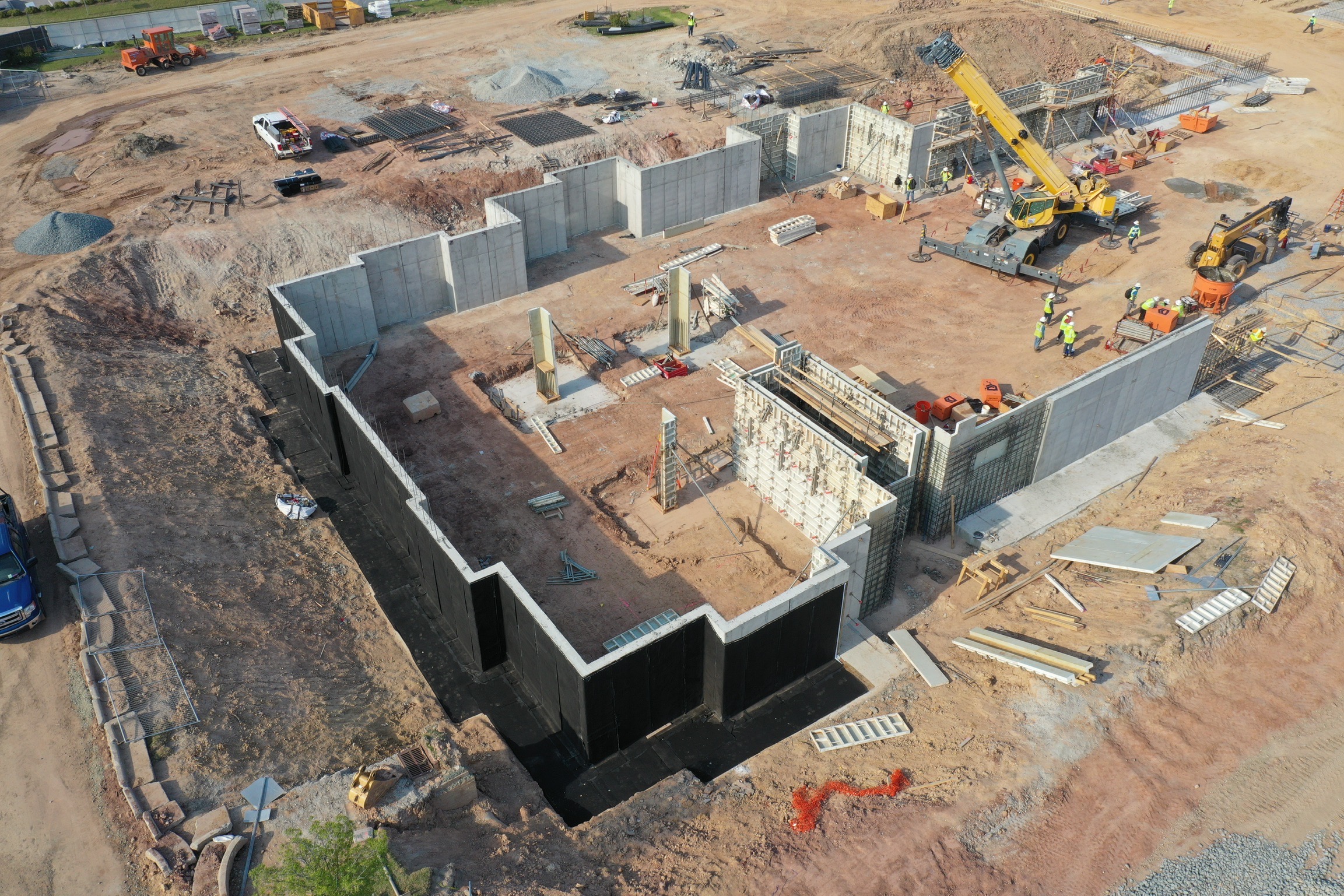 Donley's is working with Clancy & Theys Construction Company on the Searstone Retirement Community Phase II project in Cary, North Carolina. The Searstone campus is located in a mixed-use neighborhood and the expansion focuses on their vision for the future of retirement living. Searstone is expanding its horizons with The Highview, a new 4-story residential addition featuring 152 elegant apartment homes, a 5,000-square-foot auditorium and arts center, and three exciting new dining venues.
Our scope includes: Foundations, Foundation Walls, Columns, Elevated Podium Deck, SOG, Epicore Fill.
123,292 SQFT SOG
100,353 SQFT Elevated Deck
38,250 sf Epicore
94,108 CSF of Wall
AVG Crew – 31 with Supervision
Donley's is currently working with Williams Building on The Acorn in Raleigh, North Carolina. The Acorn will be a 7-story apartment building with amenities such as a fitness center, clubhouse, and a pool on the fourth floor with views of southern Raleigh. The apartment building features four stories of apartments over three stories of shared structured parking.
Our scope of work includes: Foundations, Foundation Walls, Structural Columns, SOG, Elevated CIP Decks for Parking, Top Floor Elevated Podium for Framing, and Misc site work.
Donley's Restoration Group completed the work at 55 Public Square in Downtown Cleveland, OH. The property consists of a 300-foot tower was completed in 1958, that was the first new skyscraper built in downtown Cleveland since the Terminal Tower was finished in 1930 and its attached eight (8.00) level parking garage. Donley's design build work consisted of the complete structural restoration of the garage followed by traffic membrane application across all levels.