This free-standing, single-story ambulatory same-day surgery facility houses:
patient examination rooms
three operating rooms and related areas
patient pre-op rooms
patient recovery areas
an endoscopy room
two semi-private overnight rooms
In addition to building operations areas, support spaces include:
the main registration and waiting lobby
radiology room
laboratory
medical supplies storage
medical and administrative staff offices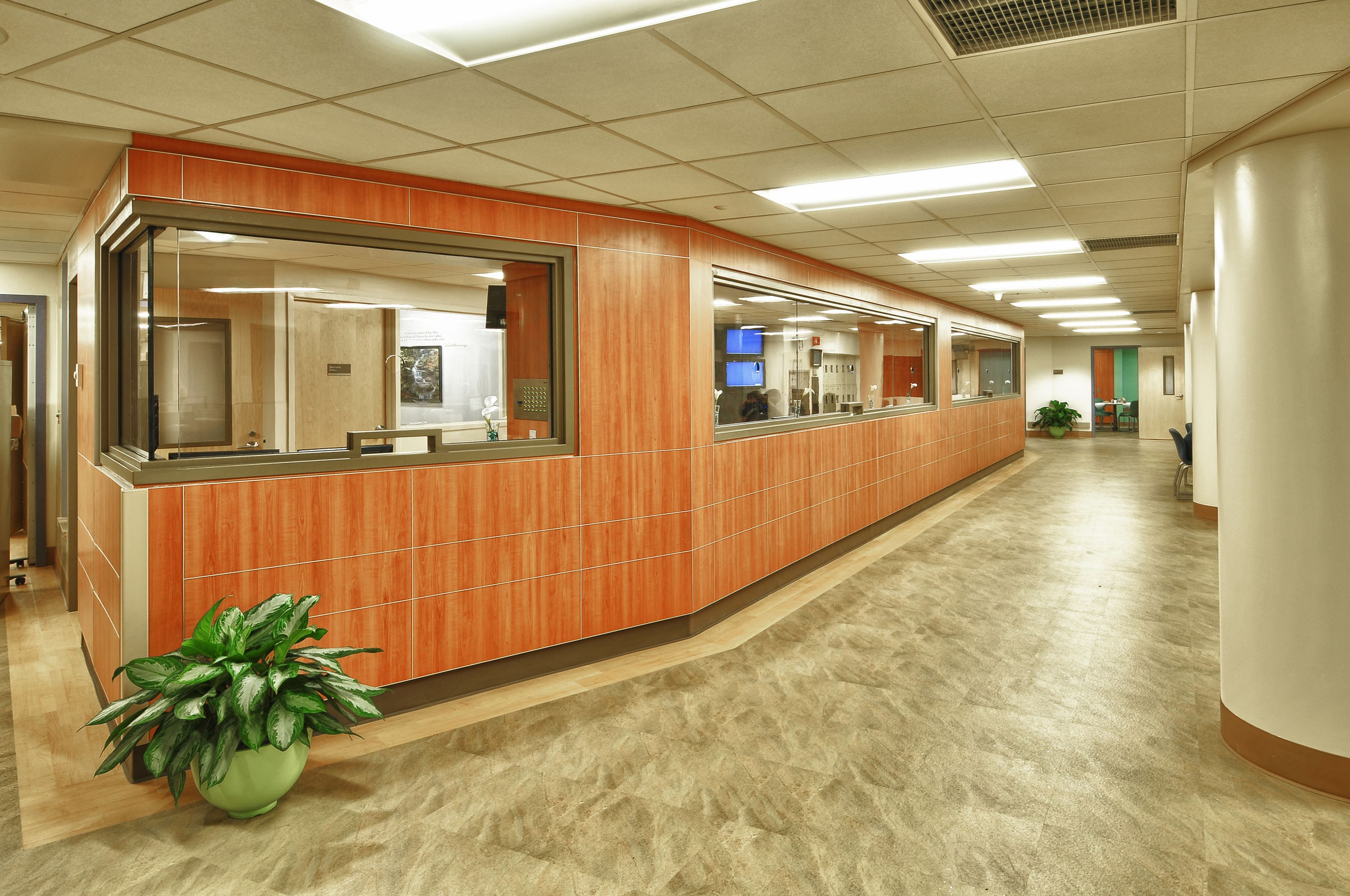 Renovation to the hospital's Patient Tower made up the majority of the project and was completed in six phases in order to minimize disruption to the facility. Areas addressed included:
patient rooms
nursing stations
sterile storage areas
showers
MEP/HVAC system upgrades
Work in the Emergency Care Center included new air handlers and a lobby renovation that took place while the ECC remained open. Renovation of the Biometrics area consisted of a new IT room, a new stress lab, and a new EMG room. The Physicians Information Center was also renovated to include fireplace and other amenities.
Set on a 30-acre wooded site, the single-story Craftsman-inspired structure is designed to reflect the architectural aesthetic of the suburban neighborhood. Reminiscent of a rambling family home with gabled roofs, a mixture of brick and wood siding, and half-timber details, the care center offers families comfortable and private respite from 24/7 caregiving.
The interior's main focal point is a parlor entry that transitions to a study and then a grand atrium. In addition to the 32 private patient suites, the facility features:
two family kitchens
a dining room
living room
study
interior courtyards
a screened porch
four family alcoves with attached porches
exercise room
two spa rooms
teen room
children's play room
family conference room
meditation room
music therapy and art therapy studios
This facility is LEED Gold certified.
The two-story north addition serves as the new main entrance for the hospital and features:
a new emergency department
patient registration area
four new operating rooms
a new gift shop
pre- and post-op areas
a public atrium
a PACU
The second floor of the north addition serves as a bridge to the three-story south addition which features a new oncology center, as well as a new kitchen and dining area. The basement level includes a new loading dock and an emergency generator to serve the entire hospital.
In addition to serving as construction manager on the project, Donley's self-performed the construction of the cast-in-place concrete frame.
This new administrative office building and parking garage is located in the heart of the Clinic's main campus in downtown Cleveland. The six-floor office surrounds a parking deck on two sides and the exterior façade consists of an attractive combination of granite, metal panels, and glass curtainwall.
Donley's self-performed the structural concrete portion of the project and was also awarded the interior fit-out of the office space, which houses the pharmacy and the security operations command center for the entire Cleveland Clinic campus.
The seven-level cast-in-place concrete parking structure accommodates 1,400 vehicles.
Donley's later served as Construction Manager for a 482,000 sq. ft. expansion to this facility, consisting of 364,000 sq. ft. of added parking and an additional 118,000 sq. ft. of office space.
Located on Lake Health's Mentor Medical Campus, the Cancer Center functions as an adjunct to the primary health care complex and was constructed contiguous to the Ambulatory Care & Surgery Center (also constructed by Donley's). The cancer treatment facility provides radiation therapy, chemotherapy, and medical oncology utilizing:
two linear accelerator vaults
a simulator room
examination and treatment rooms
a day hospital for chemotherapy treatment
Donley's was responsible for the complete interior fitout of this new two-story speculative office building to house ambulatory patient health care services. A two-story atrium lobby on the building's South side serves as the main entrance for patients and visitors accessing the ambulatory surgery functions. A large seminar room on the first floor serves patient education and staff training needs and is accessible from the main lobby.
The major portion of the building's first floor houses The Peak, Marymount Hospital's sports medicine and rehabilitation facility. The Peak is outfitted with a full range of exercise apparatus for general health maintenance and for injury or post-surgical rehabilitation.
A complete surgery center for ambulatory outpatients occupies the second floor and consists of six operating rooms and a patient pre-operative preparation area. A 12-bed post-operative area is positioned along the exterior window wall, thereby maximizing light and providing visual contact with the exterior. The nurses' stations are strategically placed and centrally located within the pre-operative and post-operative patient areas. Functionally planned for patient observation, they also lend an element of aesthetics to these utilitarian areas.
This ambulatory care and inpatient surgery facility is located on the site of Mercy's Medical Center's existing 32-acre medical campus. The facility houses:
6 surgical suites
surgical preparation areas
a patient recovery room
a new patient/visitor entrance lobby to serve surgical functions
Included in the project was an interior renovation of the existing adjacent buildings. Site development included underground utility services, an access drive and service road, as well as a multi-level concrete parking deck.
This projects consisted of:
Complete renovation of the existing 13,500 sq. ft. C-Section and Labor/Delivery/Recovery areas
A 2,000 sq. ft. addition featuring two new C-Section rooms and waiting areas
Renovation of the maternity wing consisting of the finish upgrades to the existing 7,000 sq. ft. patient wing
The project was made up of six phased areas to allow for ongoing operation of the hospital.
Donley's was responsible for the buildout of existing shell space on the lowest level of the hospital's existing Ambulatory Care/Surgery Center (also constructed by Donley's).
The new 8,730 sq. ft. Radiation Oncology department includes a 2,200 sq. ft. linear accelerator vault that was added onto the side of the existing building. The department also houses:
a CT Simulator
a hot lab
examination rooms
physicians' offices
ancillary support spaces
The Women's Imaging Center features:
four ultrasound rooms
two mammography rooms
chest x-ray and bone densitometry
ancillary support spaces