Donley's is providing concrete services to Ozanne Construction for the new Case Western Reserve University School of Dental Medicine. The three-story, 126,000 square foot structure will provide a space where students can treat patients under dental faculty supervision.
The new school is located directly across the street from the new Health Education Campus.
Donley's Concrete Group is pleased to be working with Rycon Construction on the The Glass House. The project is a residential building in Station Square, Pittsburgh. Glasshouse will be located on the former site of Pittsburgh's historic glassmaking factories, on the bank of the Monongahela River, overlooking the city's central business district. The community is scheduled to provide 319 residential units, including studio, one-, one+den and two-bedroom apartments, ranging in size between 665 and 1,200 square feet. Ground-floor retail and 335 indoor parking spaces broaden the variety of facilities on the property.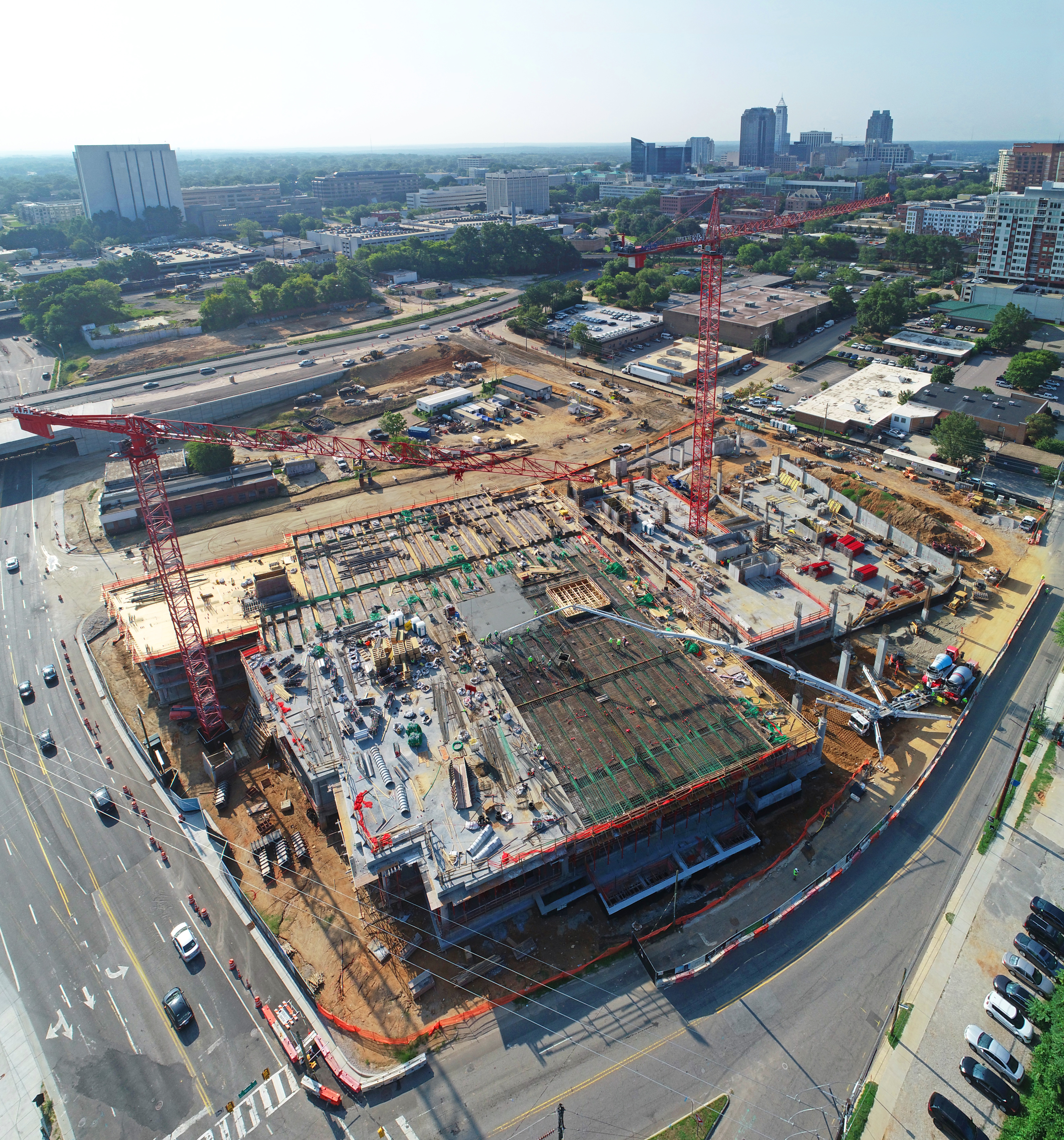 Donley's was hired by Clancy & Theys Construction to provide concrete service for the Peace Development in downtown Raleigh. Located in the old Smokey Hollow neighborhood in downtown Raleigh, this development is a 11-story, urban, mixed-use project anchored by a 45,600 sq ft Publix grocery store. This will be Downtown Raleigh's first grocery store. Above the grocer, this concrete structure will include 417 units of residential apartments with a mix of studio, one-, two- and three-bedroom units averaging 898 sq ft. The project will also have 5,340 sq ft of additional retail and office space, an 83,000 sq ft parking garage underneath the grocer, and a 7-level, 206,000 sq ft post-tensioned parking deck.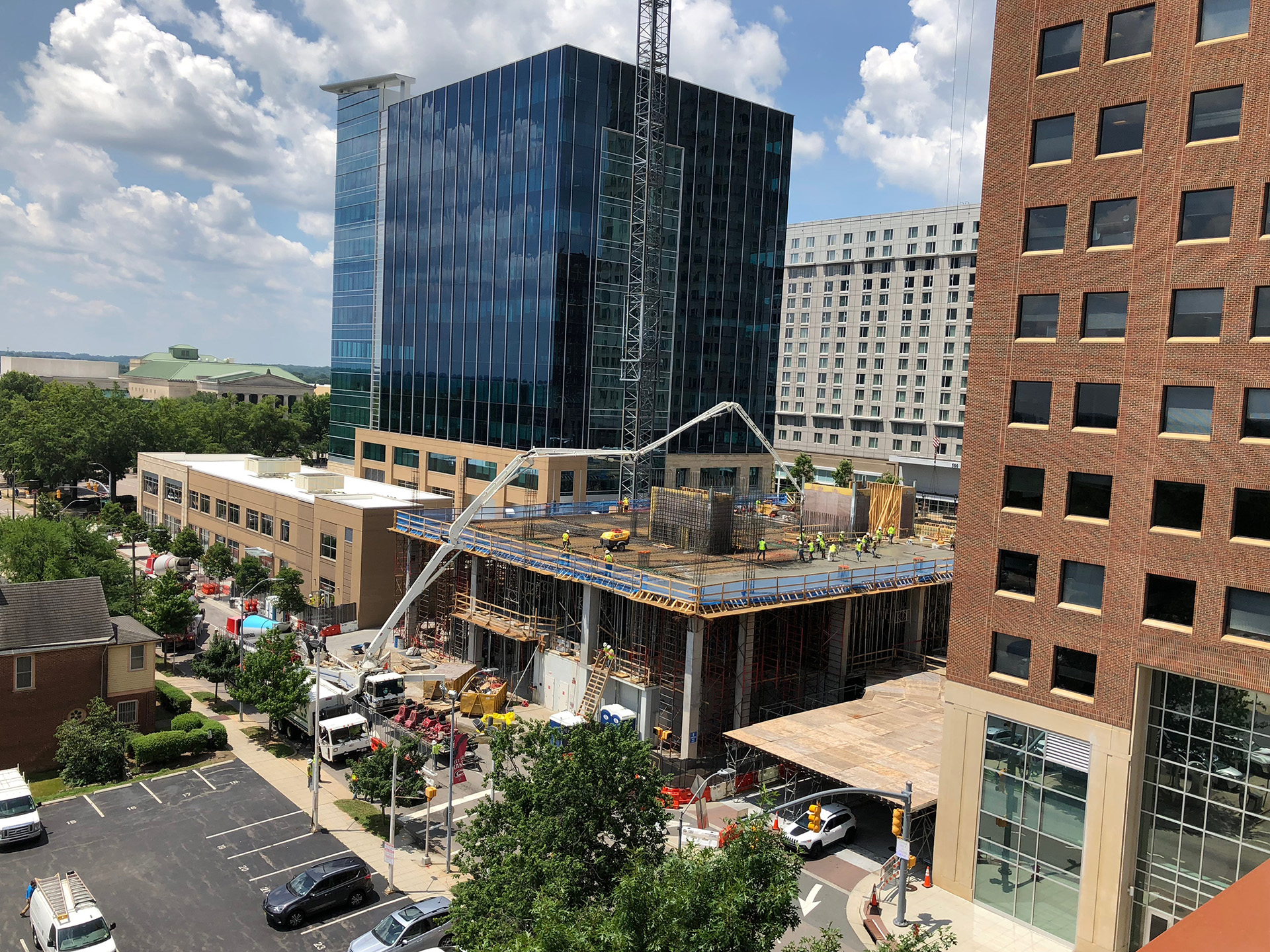 Donley's is excited to be providing concrete services for Choate Construction on the FNB Tower at 501 Fayetteville, the latest addition to the downtown Raleigh skyline. Pennsylvania-based First National Bank anchors the 22-story building with a 40,000-SF regional headquarters.
Designed by Raleigh-based JDavis Architects, the massive 420,000-SF tower is built atop an existing parking deck. Exterior elements include a striking facade with modern low-emissivity glass, metal skin, and vertical mirror glass fins.  Luxurious features include six floors of Class-A office space, ground-level retail, 239 luxury residential units with a world-class amenity level, and an outdoor Skydeck terrace offering unparalleled views of the downtown skyline.
Our scope of services for the  project included structural concrete totaling 16,600 cubic yards of concrete.
530 Meeting Street is an approximately 200,000 square foot mid-rise student oriented apartment project located in the Upper King district. The project will boast 5 levels of residences, onsite parking and over and 6,000 square feet of amenity space. Building amenities will include a large pool and courtyard, bike storage, state of the art gym and conference rooms.
DCG is providing cast in place concrete foundations, underground water detention vault, slab on grade and 1 level structural concrete podium.
Expected to be completed by May 2019.
This project includes the addition of a wastewater treatment facility to an existing 2,390 MW coal fired generating facility owned and operated by Santee Cooper. This facility will enable the plant to treat coal ash water to meet more stringent EPA regulations.
DCG is providing 36" deep foundations with pits up to 16 feet deep, slab on grade, 26 foot high push walls, piers and beams, curbs, tank and pump pads, topping slabs and trench infill for over two dozen separate structures.  DCG will pour nearly 33,000 cubic yards of concrete on this project.

Expected to be completed by April 2018.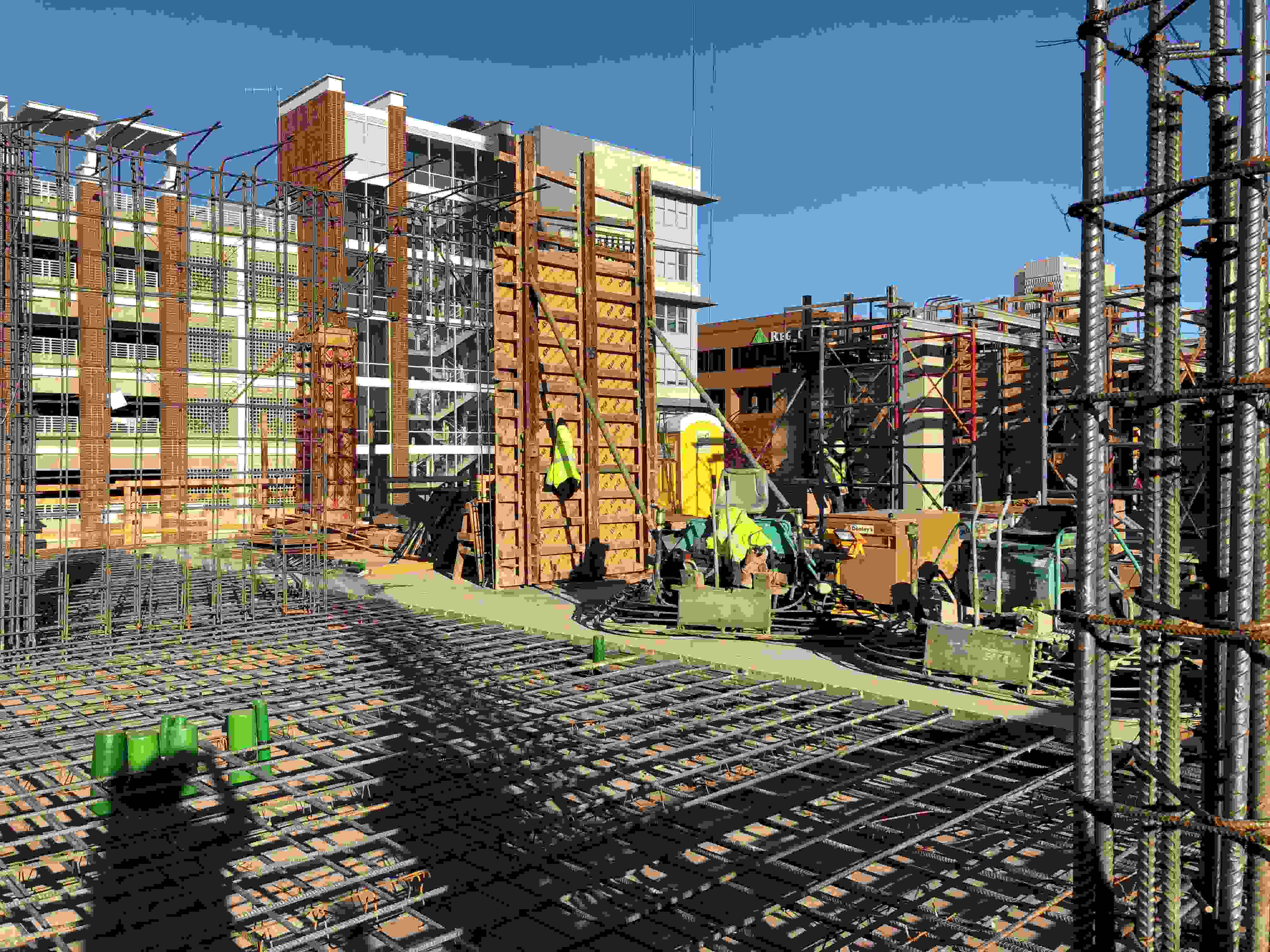 This is a dual brand hotel complex that will provide 286 rooms with an underground parking garage to fit 103 spaces in the heart of downtown Greenville, South Carolina.
DCG is providing cast in place concrete foundations, retaining wall, slab on grade, 3 levels structural concrete podium and 4 floors plus roof level of slab on metal deck.
Expected to be completed by August 2018.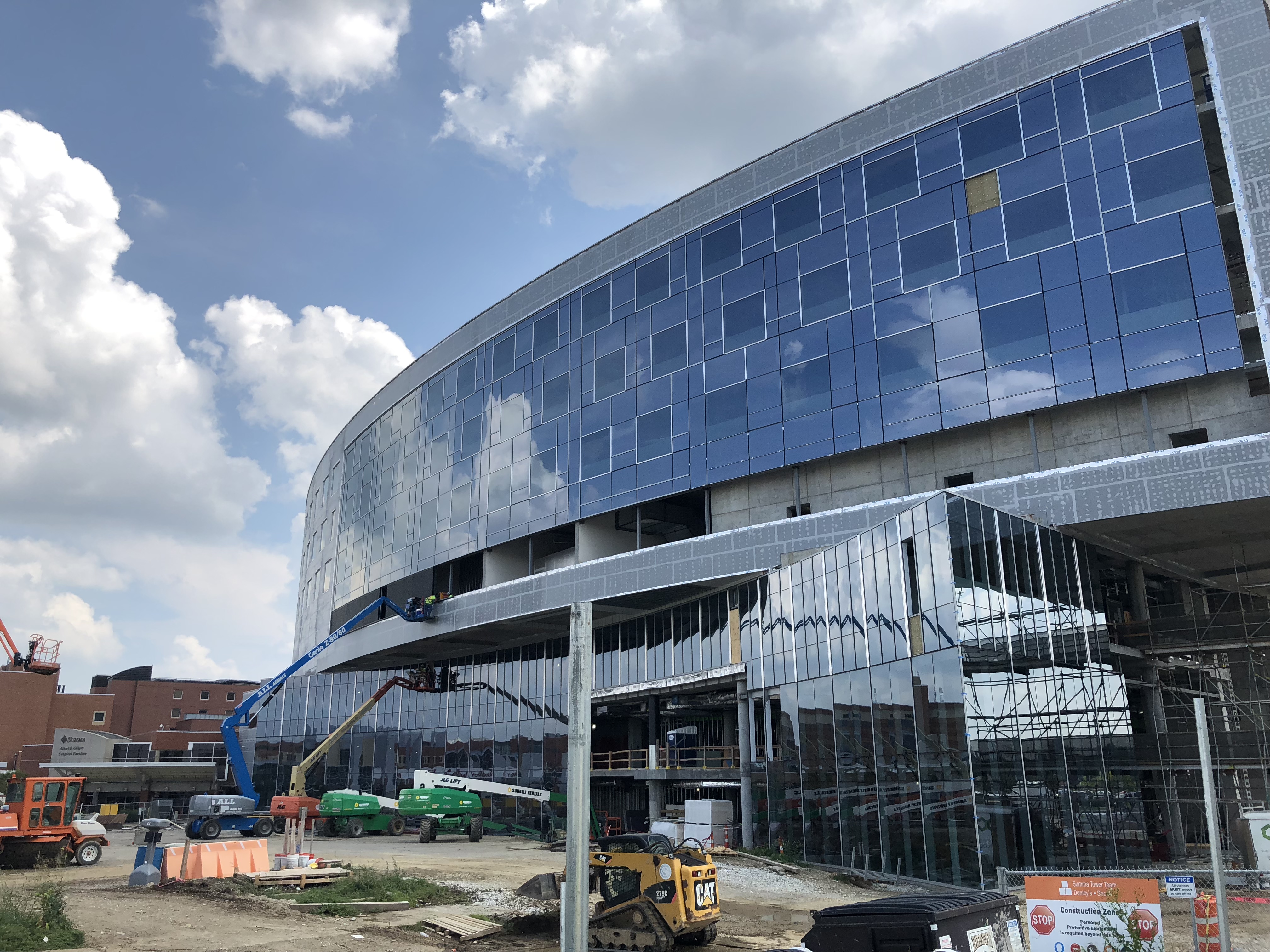 In a construction management joint venture with Shook Construction Co., together we are constructing the new six-story west bed tower. The 331,000 sq. ft. tower will serve as the hospital's new main entrance and will house two 36-bed medical/surgical units with all private rooms, a breast center, eight new operating rooms, 65 same-day surgery rooms and a women's health center that includes a 36-bed post-partum unit.
On this project, Donley's is self-performing the structural concrete and the building is scheduled to be completed in late Spring 2019.
Donley's served as Construction Manager, and also the concrete contractor, self-performing for MetroHealth's 1,500-car, open-deck parking garage on its West 25th Street main campus in Cleveland. Construction began in Fall of 2017 on the seven-level garage, which was on the site of the former NorthCoast Behavioral Hospital. The garage was designed to accommodate technology to direct drivers to open spaces or read license plates to save employees from idling while stopping to swipe their ID badges, according to the release. The project will be complete in October 2018.
Our Richmond office was awarded the concrete services contract for the Virginia War Memorial expansion project. The $26 million expansion project will add 26,500 square feet in educational facilities, administrative office space and a lecture hall, a second shrine. Donley's scope includes slab-on-metal deck for this building expansion.
The parking deck will add on roughly 170 spaces, more than tripling the memorial's parking capacity, with two underground levels and a third above ground. Donley's scope includes cast-in-place foundations, walls, columns, slab-on-grade, stairs, and post-tension cable elevated decks. The memorials entire expansion is set to finish in late spring or early summer 2019.