The Campus Village will bring four new buildings and more than 1,800 new beds to the south campus, offering students a unique living-learning experience. Incorporated into the buildings are academic support spaces, a dining facility, and a campus safety office. The development also includes a sundry store and coffee shop that will be available for use by neighborhood residents as well as students. The project is the largest in the history of the university.
Our scope includes 118,000 square feet and over 7,000 cubic yards of concrete.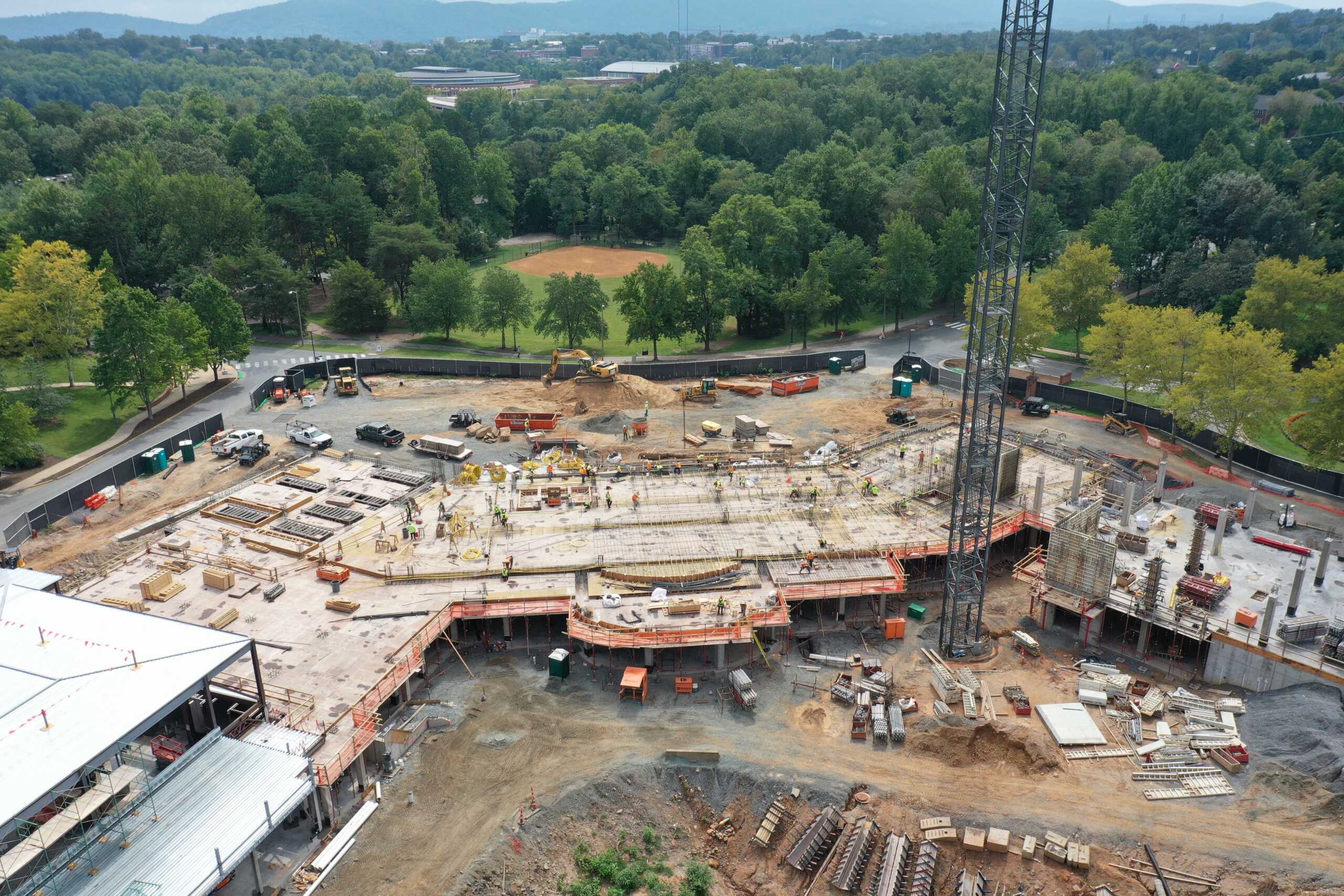 Donley's is currently working on the Darden Inn at the University of Virginia in Charlottesville, VA. Construction is scheduled to be completed in 2023 and will include a landscape-transforming arboretum and botanical gardens that will surround the inn and conference center.
The new facility will feature up to 200 hotel rooms, up to 12,000 square feet of meeting, innovation and learning space, including a ballroom of up to 6,500 square feet, a destination restaurant, a lounge, and a café. Connected to the facility is a beautifully designed outdoor green space and arboretum that will feature outdoor classrooms, specimen trees, natural green spaces, a water feature, and trails that will connect the Darden Grounds, UVA School of Law Grounds and the Rivanna Trail.
The Darden Inn is only a 2 km stay from the campus's stadium and only 900 feet from the UVA campus arena. Donley's is working for Construction Manager W.M. Jordan and Cooper Cary architects on this project.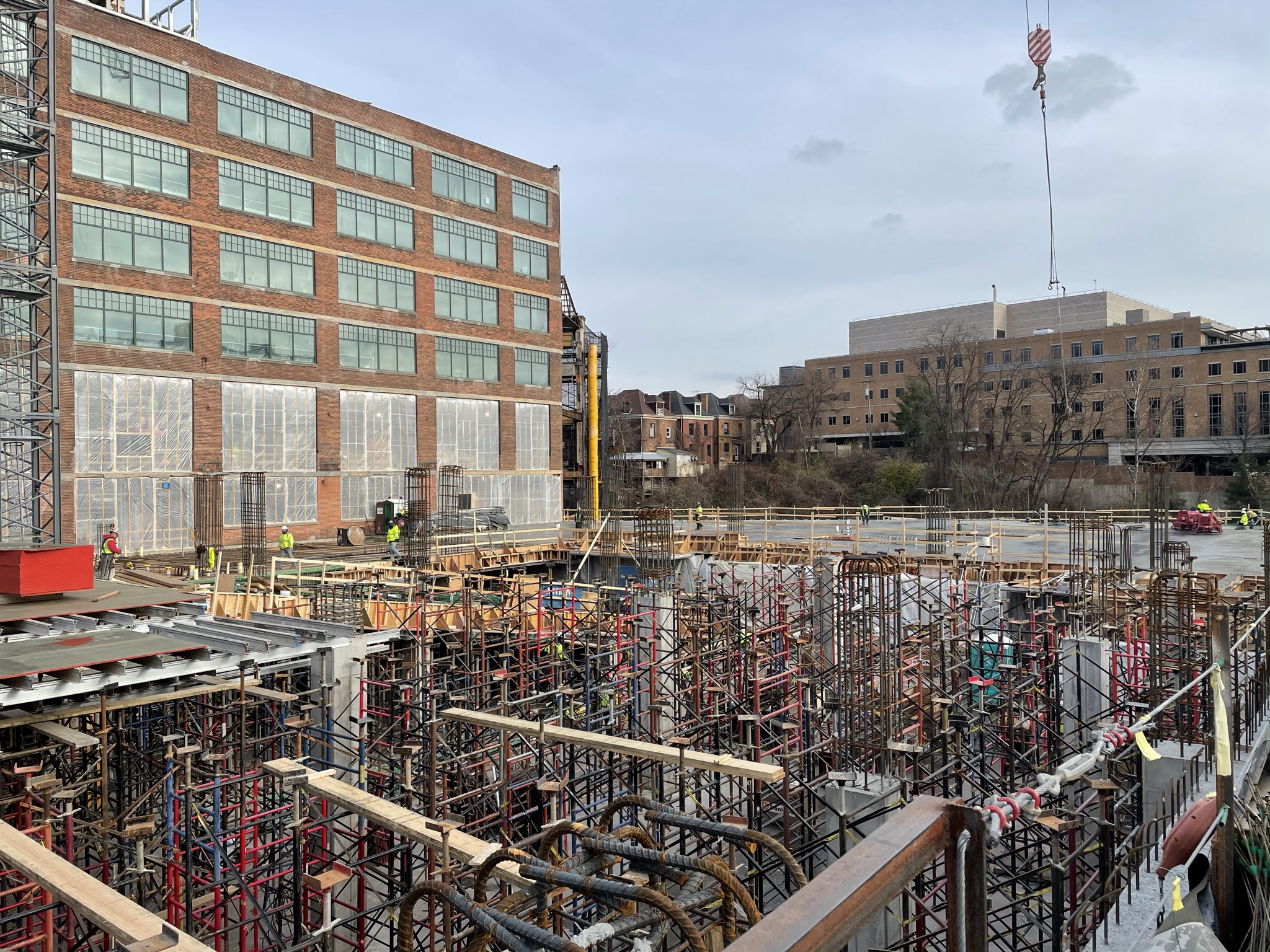 Donley's recently completed its work for Turner Construction on The Assembly Project at 5051 Centre Avenue in Pittsburgh. The Assembly will pioneer Pittsburgh's newest high-tech developments in cancer biomedical research and commercialization, anchored by the University of Pittsburgh. Donley's provided concrete services for the new three-tiered parking garage and lower floor next to the building.
The location of the Assembly project with respect to adjacent structures presented unique logistical challenges that the team was able to overcome through extensive planning and coordination efforts with Turner's operations team.  An earth retention system consisting of steel soldier piles with wood lagging and tie-backs extends more than 50' below street level to create the west and south boundaries of the project. At the same time, the existing century-old Ford Building intersects the new underground garage along its north side.
Donley's engineering team utilized state-of-the-art laser scanning technology to map out conflicts between the as-built earth retention system and the proposed structural concrete framing of the garage. Detailed drawings and reports were then provided to the design team in advance of garage framing, resulting in design modifications of the garage to accommodate the as-built conditions without any delay to the project's schedule.
Donley's delivered the project safely and successfully on time over an aggressive 10-month schedule during the COVID-19 pandemic.
Donley's is currently working on the UVA Alderman Library Renewal project for Skanska. The project — expected to be complete in the summer of 2022 — will build a new 130,000-square-foot addition on roughly the same footprint of today's stacks and renovate 100,000 square feet of the historic building. The renovated library will include open shelving for our extensive holdings, study areas, reading rooms, staff work areas and spaces for scholarly research and preservation of books. Two interior light wells will be enclosed with a glass roof to become study courts. The project will enhance circulation to central grounds with a new entrance facing University Avenue.
Our scope includes:
6 levels of CIP slabs for the new addition
A new shear wall in the existing building
Foundations, foundation walls, columns, and framed slabs.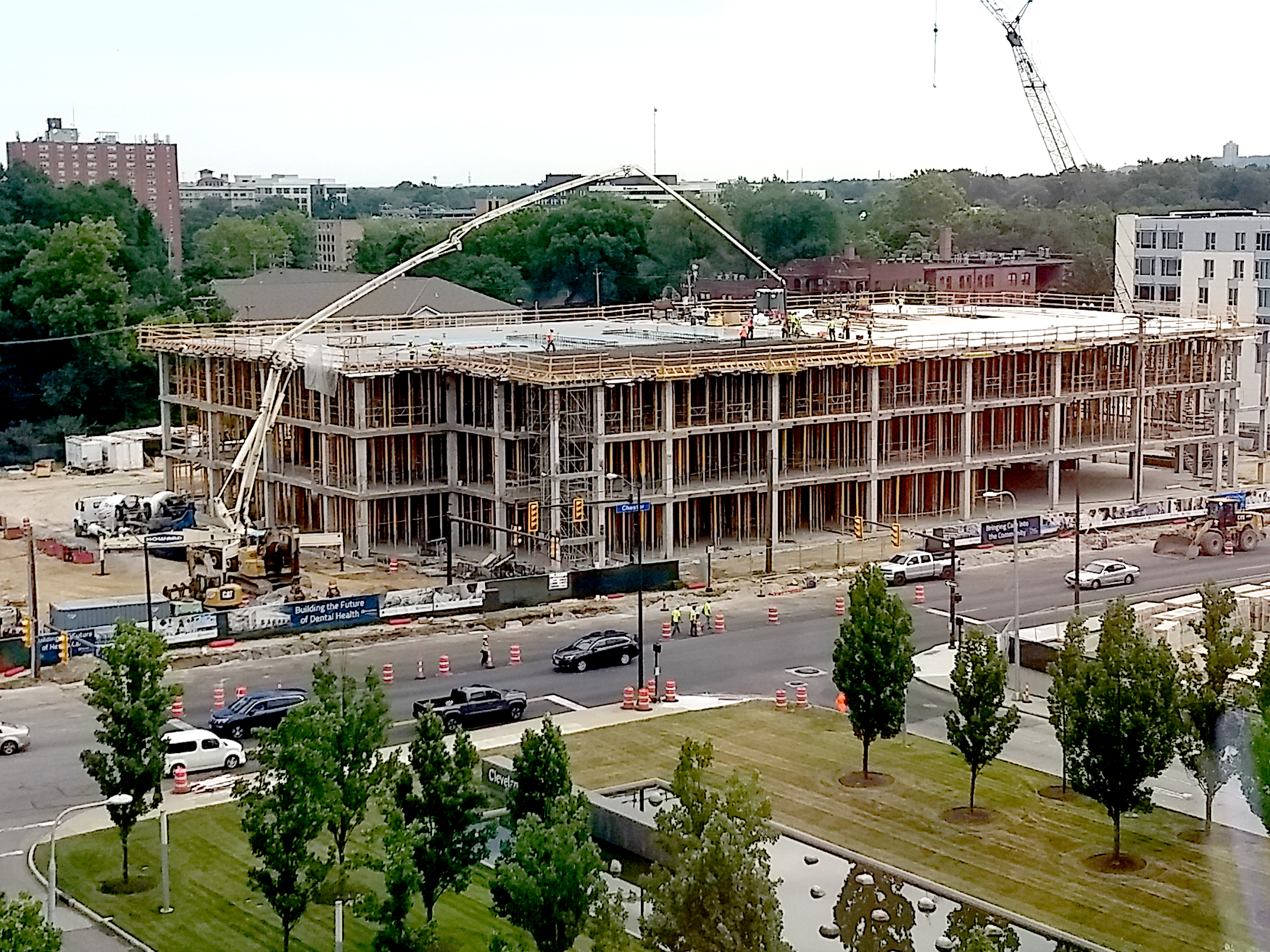 Donley's provided concrete services to Ozanne Construction for the new Case Western Reserve University School of Dental Medicine. The three-story, 126,000 square foot structure provides a space where students can treat patients under dental faculty supervision.
The new school is located directly across the street from the new Health Education Campus.
530 Meeting Street is an approximately 200,000 square foot mid-rise student oriented apartment project located in the Upper King district. The project will boast 5 levels of residences, onsite parking and over and 6,000 square feet of amenity space. Building amenities will include a large pool and courtyard, bike storage, state of the art gym and conference rooms.
DCG is providing cast in place concrete foundations, underground water detention vault, slab on grade and 1 level structural concrete podium.
Expected to be completed by May 2019.
We are pleased to announce the dedication of the recently completed Sheila and Eric Samson Pavilion on the Health Education Campus at Case Western Reserve University and Cleveland Clinic. The state-of-the-future Pavilion combines the education of students from medical, nursing, and dental schools under one roof. We are proud to have provided concrete services on this amazing project.
The Health Education Campus features:
classrooms and lecture halls
teaching labs and virtual anatomy space
 a medical library
 student lounge/study space
 food service
administrative support/office space
building support services
Donley's concrete division's scope of work will include:
basement and tunnel hydraulic mat slabs
basement and tunnel walls
 columns and piers
shear/core walls
structural deck at basement and tunnel lids
core landing and roof slabs
basement interstitial fill and slab on grade
spread footings and grade beams
basement and tunnel waterproofing and joint sealants
The 305,672 sq. ft. Assembly Street Project in Columbia, South Carolina consits of 228 apartment units, housing students from the University of South Carolina.
DCG provided the foundations, retaining walls, columns, sheer walls, SOG, post tension structural decks and amenity deck. There is a total of 15,000 CY's, 811 tons of rebar and 165,000 pounds of post tension cable in the 105,000 square feet of structural deck. Project commenced Winter of 2016 and Donley's portion was completed in the Fall of 2017.
Donley's Concrete Group has begun work on a 9.8-million-dollar project with over 15,000 cyds of concrete. The project will be working for a joint venture team consisting of TA Loving and Barnhill. The finished student union will measure 209,000 sq. ft. and include a 700-space parking deck adjacent to the union. The concrete portion of this project consist of pile caps, foundation walls and elevated cast in place decks.
Donely's Restoration Group completed structural concrete repairs and waterproofing to Cleveland State University's Music Bridge.  Located in the heart of CSU's main campus in downtown Cleveland, crews worked over a main thoroughfare to complete the necessary repairs to the bridge.