Donley's Restoration Group is currently working with the Cleveland Clinic Foundation and the engineering firm GPD on the CIIG Garage Structural Phase II restoration project. Donley's scope of work is for the complete removal and replacement of an existing 65,000.00 square foot eight-inch thick post-tension concrete deck. The project is scheduled to be completed in early fall 2022.
Donley's is currently working with Gilbane Building Company on the Ahuja Medical Center Phase 2 Expansion, a $200 million expansion to the University Hospitals campus. Designed by HKS Architects, the project consists of a 5-story pavilion addition to the existing hospital and a separate 3-story sports medicine center that includes a 45-yard turf field, and a therapy pool. The sports medicine center is the largest rehab complex in Northeast Ohio.
Donley's scope of work for UH Ahuja Phase II includes basement walls, core walls, a connecting tunnel between the two new buildings, columns, slab on grade, and slab on metal deck.
Donley's is currently serving on a team that is restoring part of the tunnel system underneath Cleveland Clinic's main campus.
Our reach on this project includes the removal of the existing roadways, prepping and then waterproofing the tunnel lid, and placing a new concrete cap (roadway) over the tunnel.
Explore some of Donley's other restoration projects:
James A. Garfield Memorial Restoration
Donley's is providing concrete services for the new MetroHealth Glick Center on its West 25th Street main campus. The 11-floor, 270-room hospital is the next major step of MetroHealth's campus transformation and will open to patients in 2023.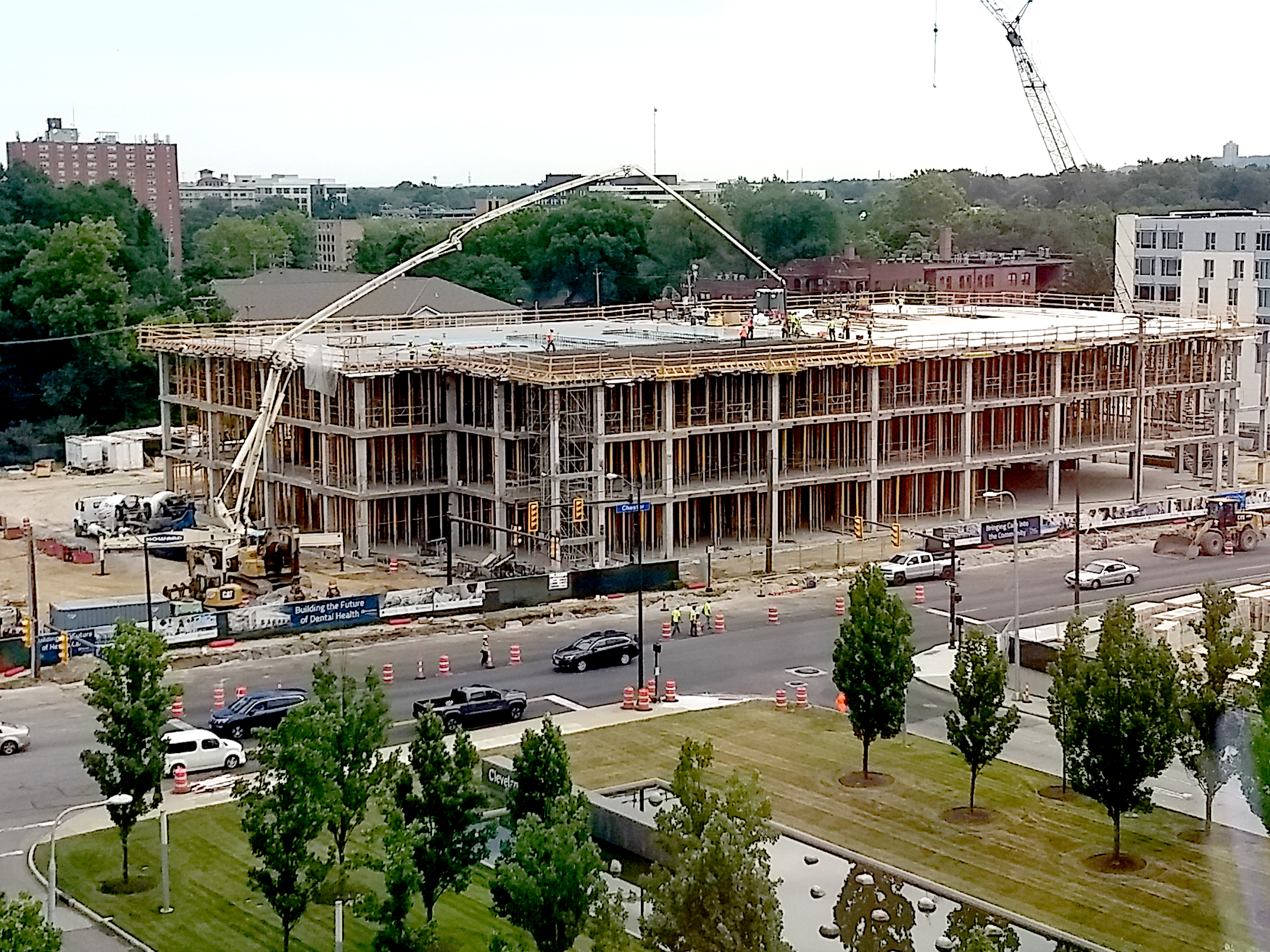 Donley's provided concrete services to Ozanne Construction for the new Case Western Reserve University School of Dental Medicine. The three-story, 126,000 square foot structure provides a space where students can treat patients under dental faculty supervision.
The new school is located directly across the street from the new Health Education Campus.
On this project, Donley's performed the structural concrete for the new six-story west bed tower. The 331,000 sq. ft. tower serves as the hospital's new main entrance and houses two 36-bed medical/surgical units with all private rooms, a breast center, eight new operating rooms, 65 same-day surgery rooms, and a women's health center that includes a 36-bed post-partum unit.
Below is an exciting drone video, courtesy of John Tomsick, that gives you a closer look of this project!
We are pleased to announce the dedication of the recently completed Sheila and Eric Samson Pavilion on the Health Education Campus at Case Western Reserve University and Cleveland Clinic. The state-of-the-future Pavilion combines the education of students from medical, nursing, and dental schools under one roof. We are proud to have provided concrete services on this amazing project.
The Health Education Campus features:
classrooms and lecture halls
teaching labs and virtual anatomy space
 a medical library
 student lounge/study space
 food service
administrative support/office space
building support services
Donley's concrete division's scope of work will include:
basement and tunnel hydraulic mat slabs
basement and tunnel walls
 columns and piers
shear/core walls
structural deck at basement and tunnel lids
core landing and roof slabs
basement interstitial fill and slab on grade
spread footings and grade beams
basement and tunnel waterproofing and joint sealants
Donley's Concrete Group served as concrete contractor for VCU's hospital replacement, sitting on 73.9 acres of land. The new state-of-the-art facility will feature 70 beds, an emergency department, three operating rooms suites and spaces for added services such as cardiac catheterization and obstetrics services. The hospital is to be completed in late 2017.
In order to meet the healthcare needs of an estimated 34,000 veterans in the Piedmont Triad (NC) metro area, the Department of Veterans Affairs has constructed a new four-story Health Care Center in Kernersville. Serving as concrete contractor to Lend Lease, Donley's Concrete Group poured conventional foundations and slabs, as well as structural steel construction with slab on composite decks.
The center opened in the Spring of 2016, and offers veterans enhanced out-patient primary health care and specialty services.
The North Carolina Heart & Vascular Hospital was designed with four archetypes in mind: high-tech, natural, inviting, and clean.  Comprised of a ten-story bed tower with adjacent four-story diagnostic and treatment building connected to the northwest quadrant of the existing hospital, the new 300,000 sq. ft. hospital is now meeting the needs of heart patients through its 114 licensed beds, including 72 step-down/telemetry beds, a 20-bed cardiovascular intensive care unit (CVICU), and 22 acuity-adaptable beds.
Diagnostic and treatment procedure spaces include six cath labs, two electrophysiology labs, two interventional radiology labs, two hybrid ORs, a 10-bed PACU, and a 47-bed prep recovery unit.
Serving as the concrete contractor to Skanska, Donley's Concrete Group's scope of work included:
pile caps
grade beams
foundation walls
shear walls
cores
slab on composite decking