Donley's is working with Rycon Construction on the Pinecrest Student Housing project.
Pinecrest Student Housing is a 509-bed student housing development serving students attending Virginia Commonwealth University in Richmond. The 275,000 square-foot property will offer a mix of one-, two-, three- and four-bedroom units with bed-to-bath parity. Shared amenities within the 16-story community are set to include study spaces; a two-story parking garage with bike parking; a penthouse-level clubhouse; multi-purpose art studio; zen wellness terrace; outdoor courtyard; and a rooftop deck lounge with grills, fire pits and social seating.
Our scope includes 12,400 CUYD of concrete.
Donley's is working with Clancy & Theys Construction Company on the NOVEL Scott's Addition in Richmond, Virginia. This 275-unit apartment community will be a five-story wrap building with a seven-story corner pop-out. The complex also features a pool and pool deck, dining and gathering spaces including a fireside lounge, library, co-working rooms, dog park, spa, garden dining room, sky deck and resident speakeasy.
Our scope of work includes foundations, slab-on-grade, short/site walls, and framed slabs.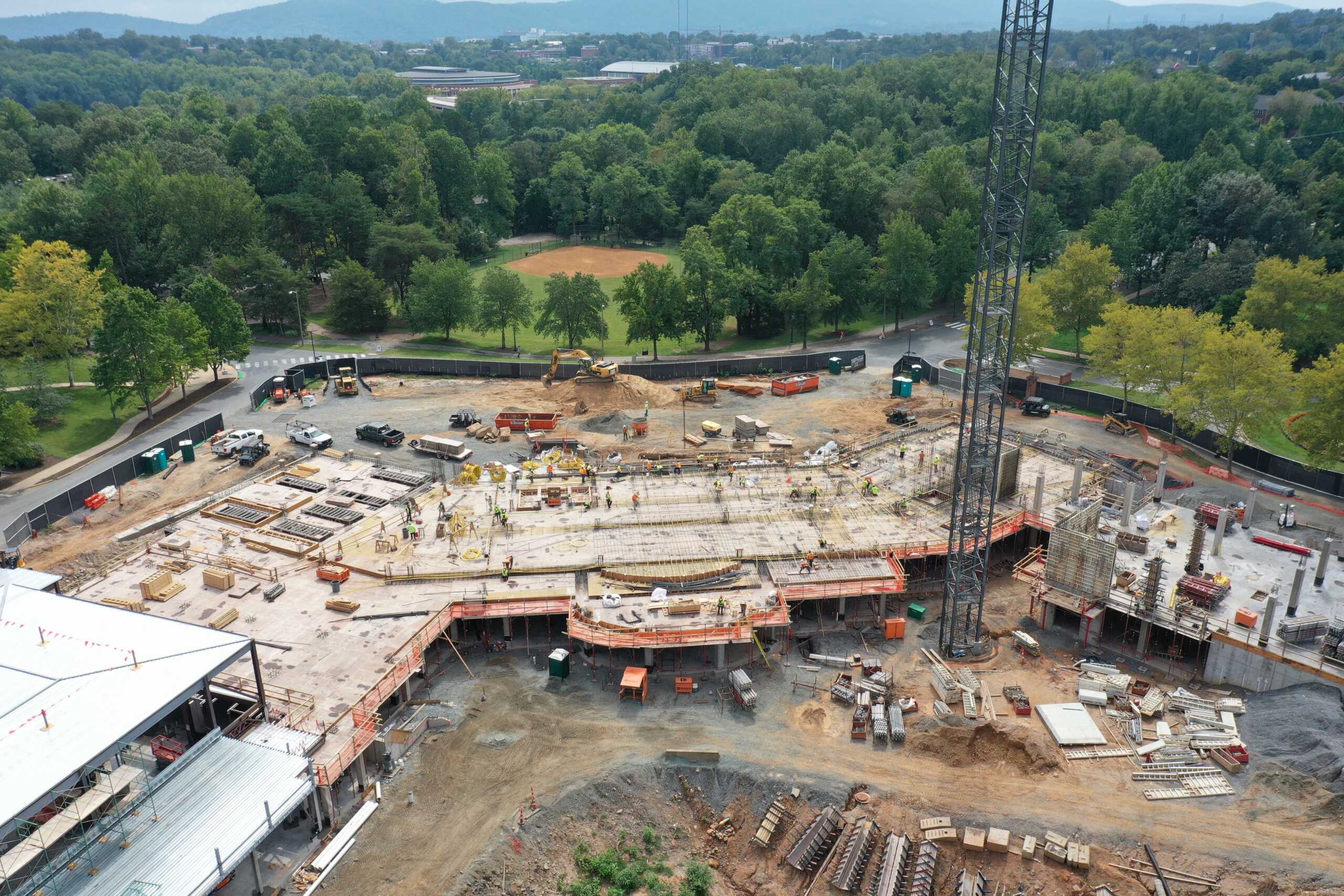 Donley's is currently working on the Darden Inn at the University of Virginia in Charlottesville, VA. Construction is scheduled to be completed in 2023 and will include a landscape-transforming arboretum and botanical gardens that will surround the inn and conference center.
The new facility will feature up to 200 hotel rooms, up to 12,000 square feet of meeting, innovation and learning space, including a ballroom of up to 6,500 square feet, a destination restaurant, a lounge, and a café. Connected to the facility is a beautifully designed outdoor green space and arboretum that will feature outdoor classrooms, specimen trees, natural green spaces, a water feature, and trails that will connect the Darden Grounds, UVA School of Law Grounds and the Rivanna Trail.
The Darden Inn is only a 2 km stay from the campus's stadium and only 900 feet from the UVA campus arena. Donley's is working for Construction Manager W.M. Jordan and Cooper Cary architects on this project.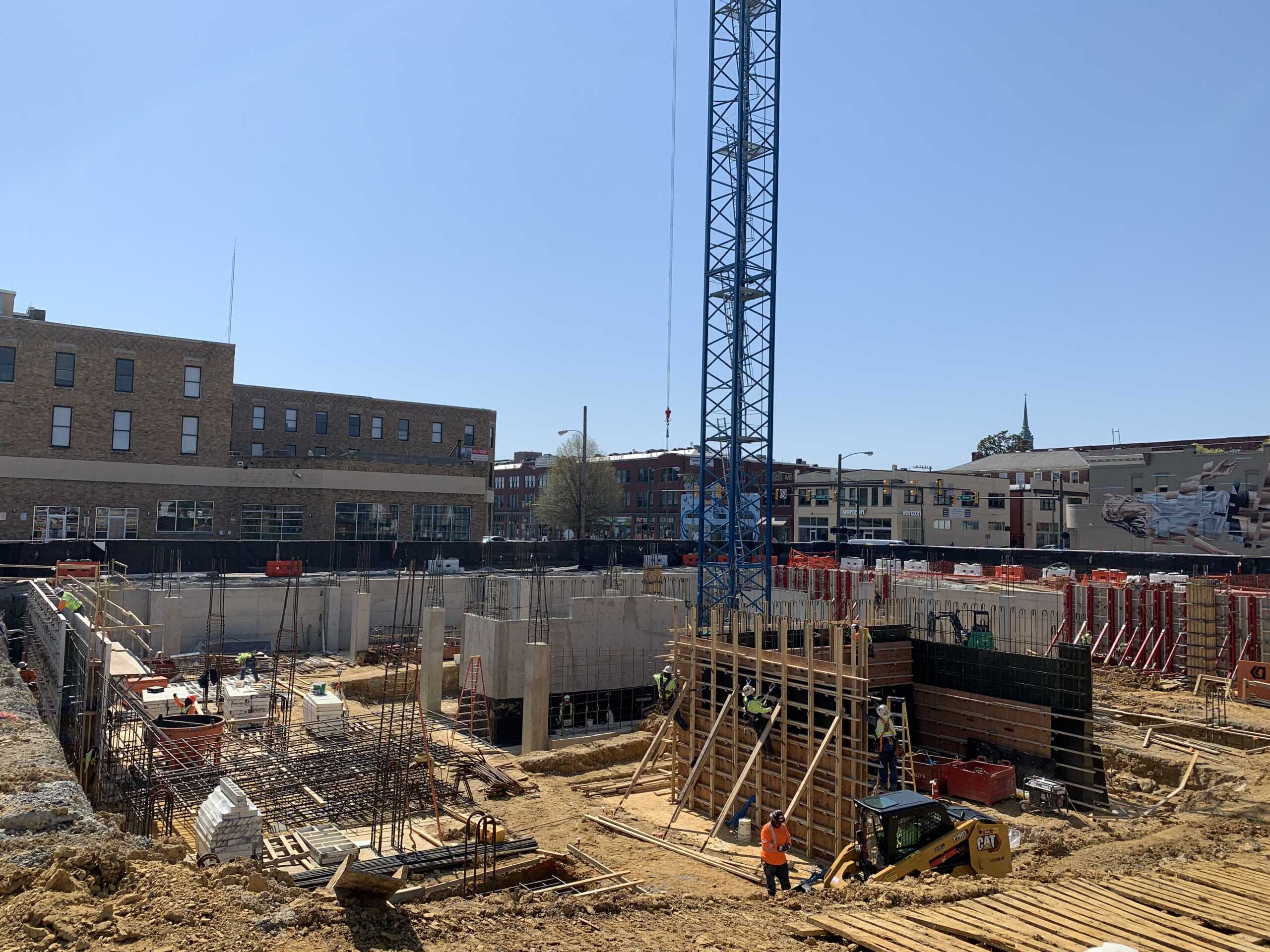 We are currently providing concrete services for the Opus commercial project in Richmond, Virginia for Rabren General Contractors. This project is a 12-story, mixed-use building that will include 168 units with ground-floor retail space as well as studio, one-bedroom, two-bedroom, and four-bedroom apartments. There is also an underground parking deck that will hold 77 vehicle spaces.
The structure of the Opus is a post-tensioned concrete podium with a load bearing prescient metal framing system for floors 2-12. Metal panels, traditional masonry, and EIFS exterior façade. Amenities include pool, club room, sauna, relaxation room, fitness room, and two amenity decks.
Donley's is currently providing concrete services to Clancy & Theys on this six-story, 350-unit apartment and retail complex in the Scott's Addition neighborhood.
Scott's Addition is now the City of Richmond's fastest growing neighborhood. The area is known for its 13+ breweries, cideries, meaderies, and distilleries. Scott's Addition is also home to  nationally-recognized restaurants, rooftop bars, a boutique bowling alley, cinema, shuffleboard bar, retail shops, and more.
Donley's is currently working on the UVA Alderman Library Renewal project for Skanska. The project — expected to be complete in the summer of 2022 — will build a new 130,000-square-foot addition on roughly the same footprint of today's stacks and renovate 100,000 square feet of the historic building. The renovated library will include open shelving for our extensive holdings, study areas, reading rooms, staff work areas and spaces for scholarly research and preservation of books. Two interior light wells will be enclosed with a glass roof to become study courts. The project will enhance circulation to central grounds with a new entrance facing University Avenue.
Our scope includes:
6 levels of CIP slabs for the new addition
A new shear wall in the existing building
Foundations, foundation walls, columns, and framed slabs.
2525 East Main Street Apartments concrete services provided by Donley's.
This new six-story apartment building has 216 units and 241 parking spaces, as well as 7,360 sq. ft. of commercial/retail space.
• CIP Structure Completed May 2019
• 3 Levels of Cast-In-Place Concrete Structure (110,000 SF Total)
• 2 Levels of Elevated Parking with 3rd level Transfer Plate
• 123,000 SF of Slab on Metal Deck (4 Levels)
• Conventionally Reinforced
• 2,300 LF of CIP Walls
• Over 9,500 Cubic Yards of Concrete
• Finished Critical Path 2 weeks early
Donley's provided concrete services for Purcell Construction on the 180-unit apartment building, Shiplock Views. The new building's height is five stories on the Main Street side and nine stories above ground on the river side of the sloped site.
Our work included 2 levels of cast-in-place underground parking and 5 levels of Epicore framed apartments above(slab on decks).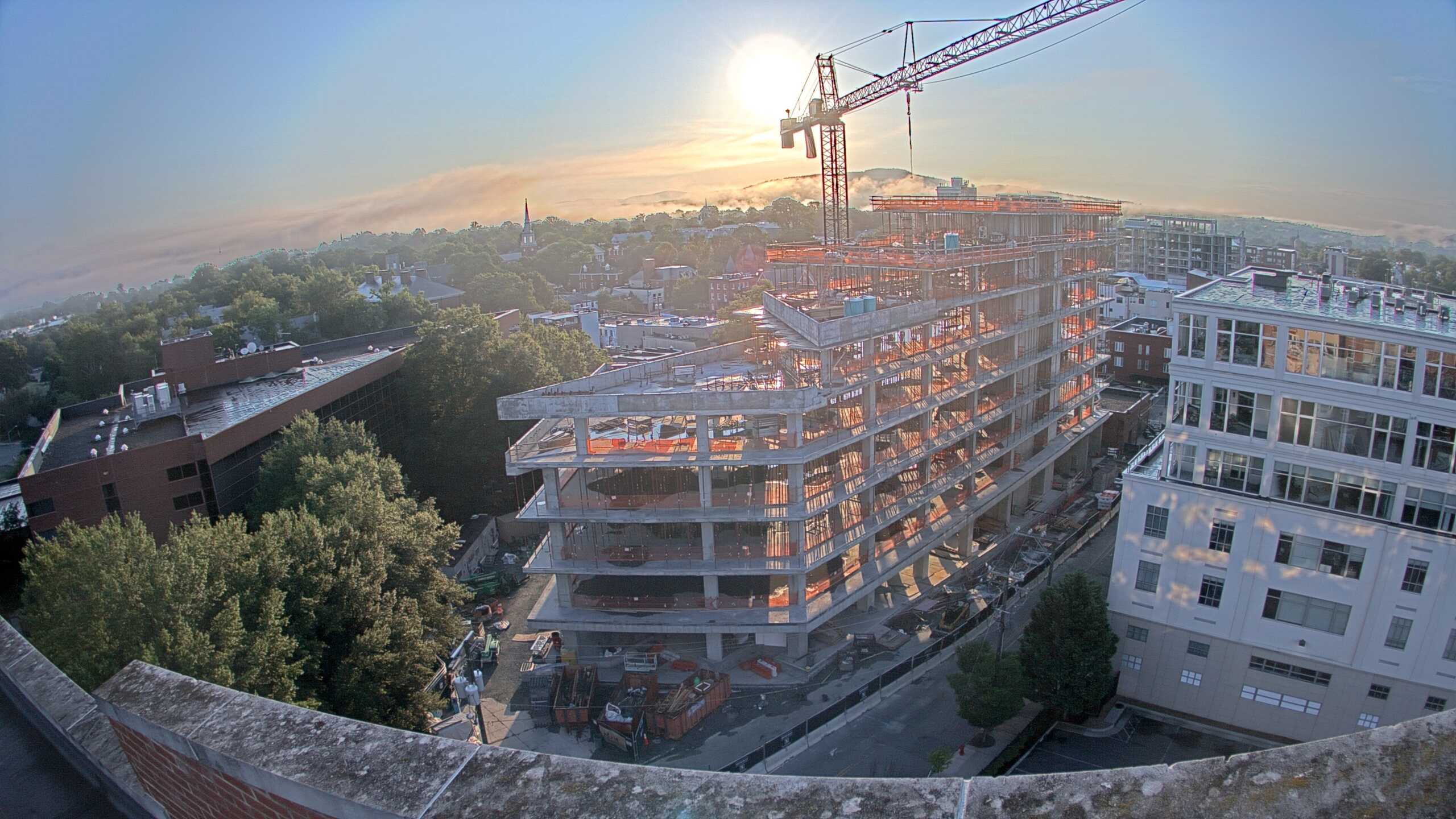 Donley's provided concrete services for Hourigan Construction on the ten-story building CODE Building. The CODE (Center of Developing Entrepreneurs) building is iconic—located on the west end of the Charlottesville Downtown Mall. It will consist of Class A office space, co-working amenities, an auditorium, retail spaces, a green roof outdoor space, and below-grade parking.
The building is a concrete frame with a mat foundation system and will step up from the main entrance on Charlottesville's downtown mall with successive green roof terraces to its highest level parallel to Water Street.
Our services included:
Structural Mat Foundation (41,400 Sq. Ft.) (3′ -0″ To 7′ Thick)
Perimeter Foundation Walls
Columns
Cores
SOMD (19,400 Sq. Ft.)
19,300 Cubic Yards Of Concrete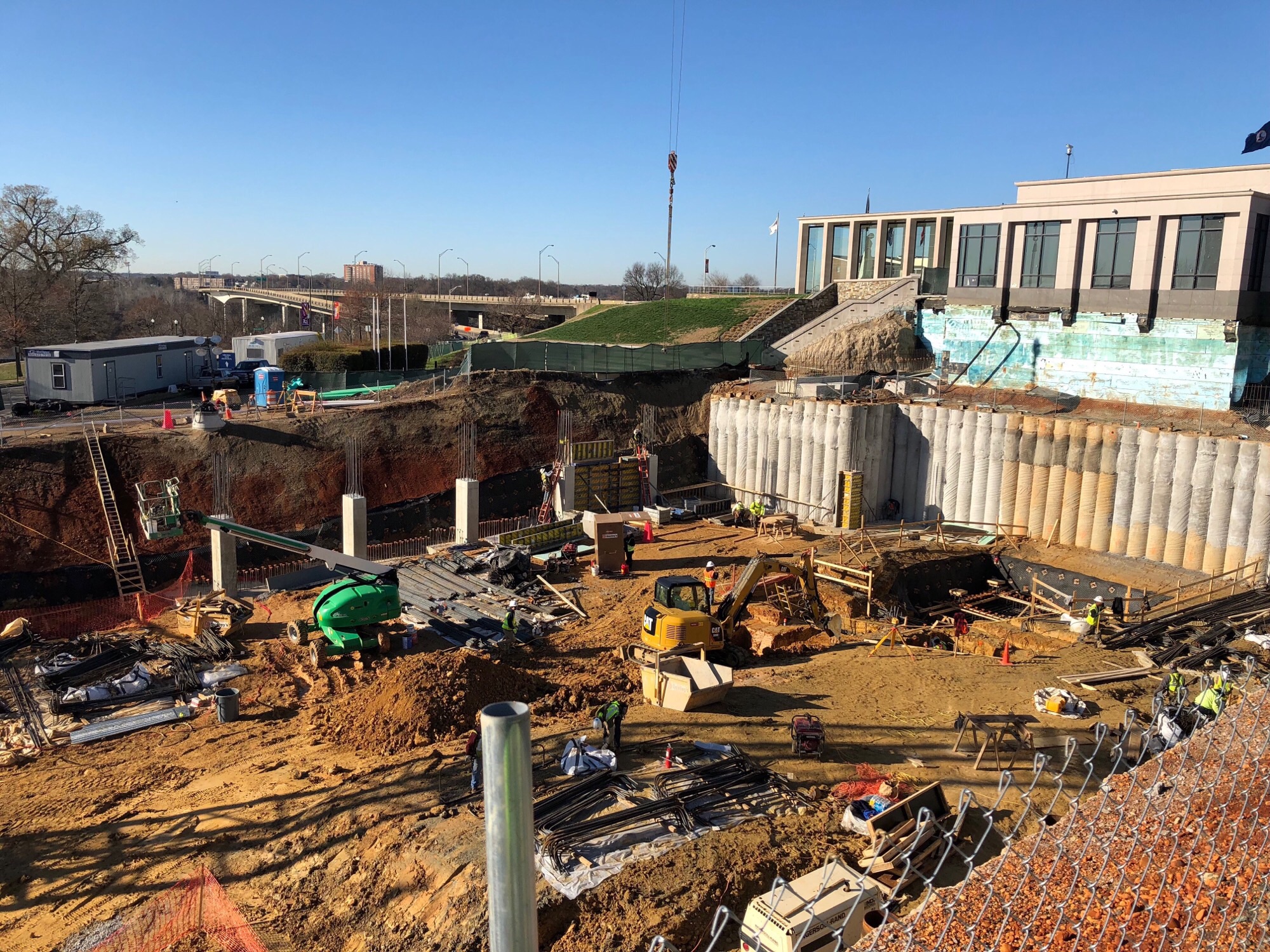 Our Richmond office was awarded the concrete services contract for the Virginia War Memorial expansion project. The $26 million expansion project will add 26,500 square feet in educational facilities, administrative office space and a lecture hall, a second shrine. Donley's scope includes slab-on-metal deck for this building expansion.
The parking deck will add on roughly 170 spaces, more than tripling the memorial's parking capacity, with two underground levels and a third above ground. Donley's scope includes cast-in-place foundations, walls, columns, slab-on-grade, stairs, and post-tension cable elevated decks. The memorials entire expansion is set to finish in late spring or early summer 2019.