This new six-story apartment building has 216 units and 241 parking spaces, as well as 7,360 sq. ft. of commercial/retail space.
• CIP Structure Completed May 2019
• 3 Levels of Cast-In-Place Concrete Structure (110,000 SF Total)
• 2 Levels of Elevated Parking with 3rd level Transfer Plate
• 123,000 SF of Slab on Metal Deck (4 Levels)
• Conventionally Reinforced
• 2,300 LF of CIP Walls
• Over 9,500 Cubic Yards of Concrete
• Finished Critical Path 2 weeks early
Donley's is providing concrete services for Purcell Construction on the 180-unit apartment building, which is under construction at the corner of Main and Pear. The new building's height is five stories on the Main Street side and nine stories above ground on the river side of the sloped site.
Traditional Foundations
3 Levels Cast-In-Place Concrete Structure (54,000 SF Total)
Post-Tension and Traditional Reinforcing
3,200 LF of Exterior Walls
Structure 2 Levels Below Grade
130,000 SF of SOMD
Over 7,000 Cubic Yards of Concrete
Finished Critical Path 3 Weeks Early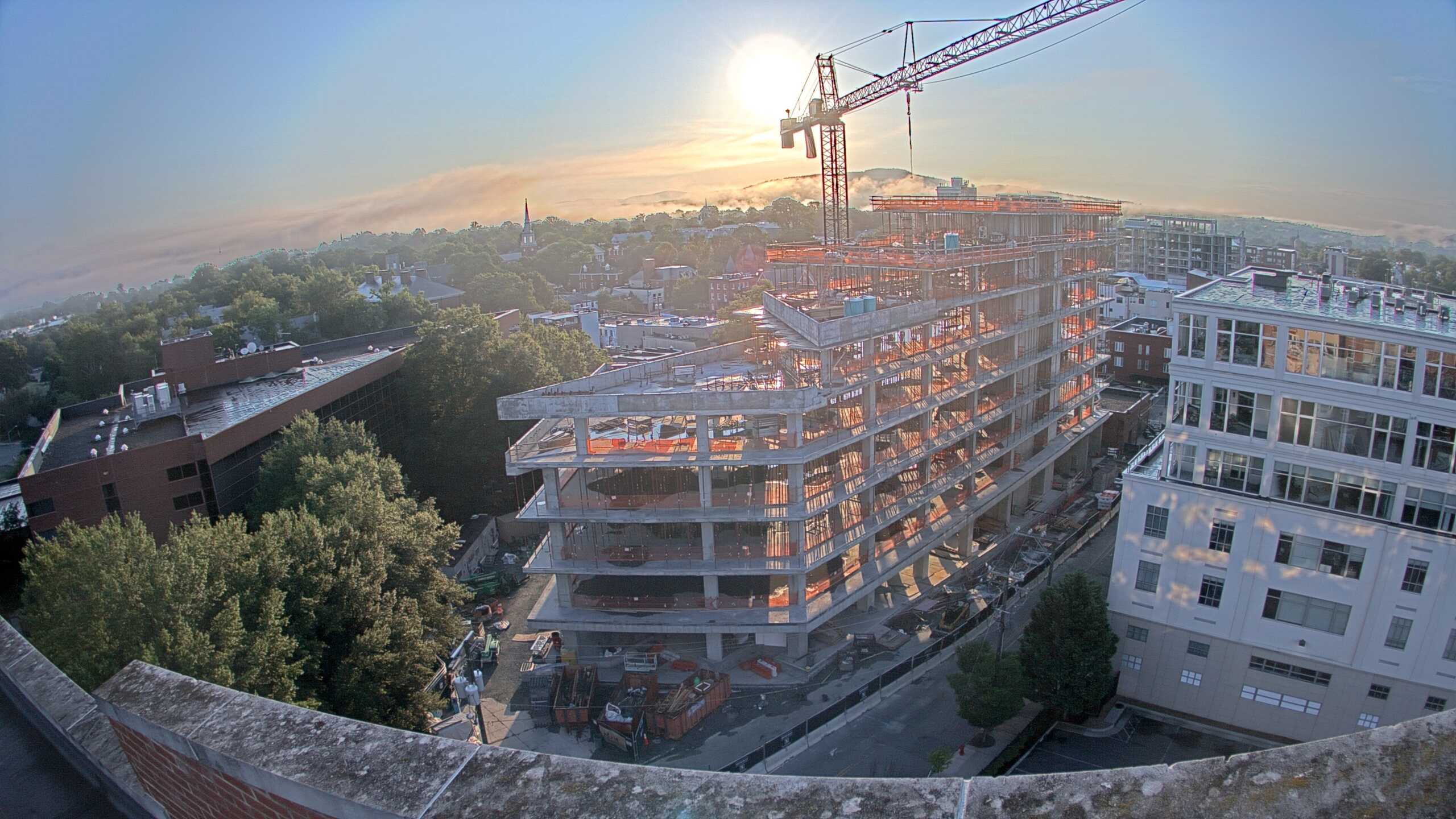 Donley's provided concrete services for Hourigan Construction on the ten-story building CODE Building. The CODE (Center of Developing Entrepreneurs) building is iconic—located on the west end of the Charlottesville Downtown Mall. It will consist of Class A office space, co-working amenities, an auditorium, retail spaces, a green roof outdoor space, and below-grade parking.
The building is a concrete frame with a mat foundation system and will step up from the main entrance on Charlottesville's downtown mall with successive green roof terraces to its highest level parallel to Water Street.
Our services included:
Conventionally-Reinforced
Structural Mat Foundation (41,400 Sq. Ft.) (3′ -0″ To 7′ Thick)
Perimeter Foundation Walls
Columns
Cores
SOMD (19,400 Sq. Ft.)
19,300 Cubic Yards Of Concrete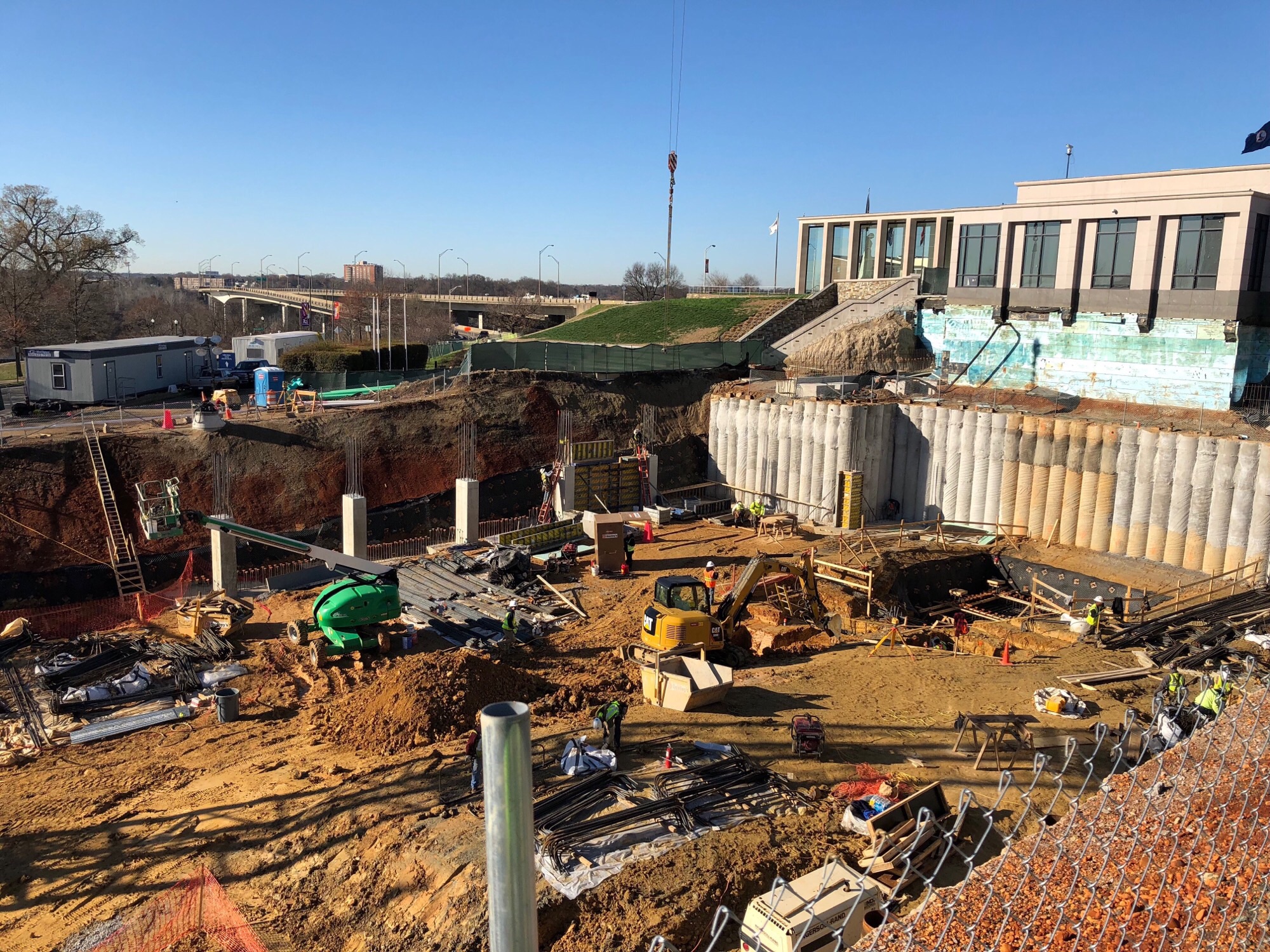 Our Richmond office was awarded the concrete services contract for the Virginia War Memorial expansion project. The $26 million expansion project will add 26,500 square feet in educational facilities, administrative office space and a lecture hall, a second shrine. Donley's scope includes slab-on-metal deck for this building expansion.
The parking deck will add on roughly 170 spaces, more than tripling the memorial's parking capacity, with two underground levels and a third above ground. Donley's scope includes cast-in-place foundations, walls, columns, slab-on-grade, stairs, and post-tension cable elevated decks. The memorials entire expansion is set to finish in late spring or early summer 2019.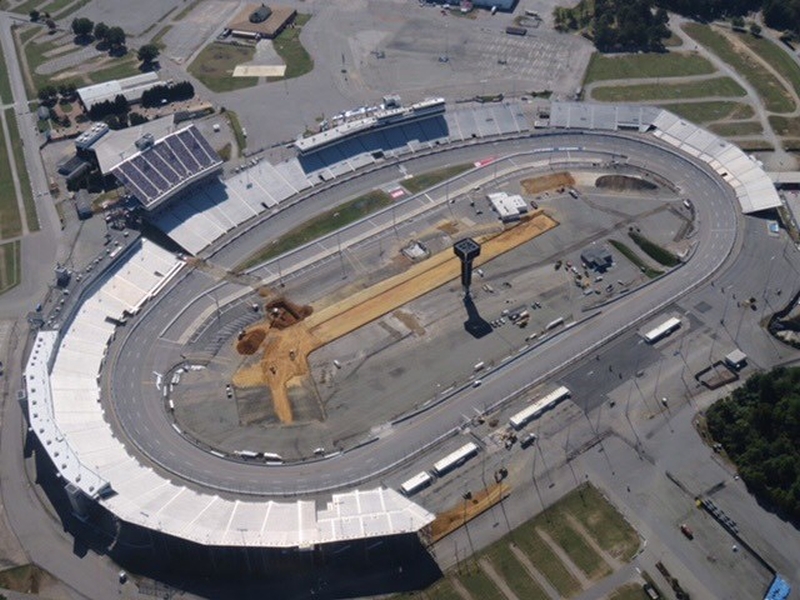 The 70-year-old Richmond Raceway underwent construction by DCG Virginia. The infield expansion and accommodations will help to reach the next generation of fans. Working with Barton Malow, our contract for concrete services was for $3.2M of the $30M expansion to the track. The full expansion project was completed in time to debut the reworked track at the Fall 2018 race.
The Standard, a $4.6 million concrete project, is a six-story apartment building with 644 bedrooms and includes 7,000 square feet of commercial space, as well as a 6-level precast parking structure. Donley's scope includes approximately 406,000 sq. ft. of slab finish area in 6 levels of steel construction.
Donley's Concrete Group served as concrete contractor for VCU's hospital replacement, sitting on 73.9 acres of land. The new state-of-the-art facility will feature 70 beds, an emergency department, three operating rooms suites and spaces for added services such as cardiac catheterization and obstetrics services. The hospital is to be completed in late 2017.
Located at the corner of Mason Street and MLK Way in the University's North Campus area, this new precast parking facility marks the northern gateway to campus and is used for the daily parking of permit holders and for event parking associated with the future hotel and conference center located adjacent to the deck. The five-story structure (ground level plus four elevated levels) accommodates 1,025 vehicles.
The parking deck's collegiate Georgian style of architecture is intended to reference the character and detailing of nearby historic campus buildings.
The project site was surrounded on two sides by high traffic volume streets and on the other two sides by construction sites. This, coupled with a very tight site footprint, required extensive planning by the project team to ensure that obstructions and delays were not felt by the public or the other construction projects. This planning was vital during the precast phase, as the team coordinated the need to keep the crane productive on a quickly shrinking footprint in a congested area.
A space was rented 10 minutes away from the site where the precast could be stored and built up over time. Which enabled a just-in-time delivery of the precast members so that there were always enough trucks on site to keep the crane productive, but saved precious space to ensure movement around the site. This separate space allowed the project team and its subcontractors to coordinate deliveries of the precast between busy class schedules and times of heavy congestion, as well as coordinate with the other construction sites so that we did not block each other with our deliveries. This staging planning was implemented very successfully and was key in completing precast construction two weeks ahead of schedule.
Donley's was the Design/Builder for these two 5-level precast parking decks located on VCU's Monroe Park Campus. The decks encompass approximately 279,400 sq. ft. and provide 761 parking spaces for faculty, staff, and students.
The university accepted the Donley's team's alternate proposal which featured side ramps, versus the RFP's center ramp design. This design offers improved wayfinding for the users of the parking deck while also providing increased capacity over the RFP's stated minimum of 750 spaces – without a noticeable increase in footprint or square footage.
The parking decks utilize thin-set brick, precast elements, entrance canopies, and punched out window openings to give the façades a more building-like appearance, helping it blend in with the campus's existing architecture, as well as the adjoining historic neighborhood. The east parking deck is LEED Silver certified.
Donley's was the Design/Builder for this 297-space parking deck in historic downtown Fredericksburg. The four-level, 97,500-square-foot deck provides parking for the patrons, residents, and visitors to the city. The deck was enabled through the use of the Virginia Public-Private Education Act of 2002, which allows private entities to provide unsolicited proposals for public infrastructure and facilities that benefit the community at large. Donley's was able to find and acquire land for the project as part of the process. The design team was able to please the City, residents, and merchants of Fredericksburg with a final design resembling an 18th-century warehouse that reflects the history of the neighborhood.
Winner of the Design-Build Institute of America's Design-Build Excellence Award, Public Sector Under $15 Million