This project provided much needed space for the School of Architecture's programs, while also serving as a tool to educate students in responsible building and the incorporation of technology with design.
The South Addition was designed by William Sherman, Associate Professor and former Chair of the Department of Architecture and Landscape Architecture. The 7,620 sq. ft. addition provides 26 new faculty offices, as well as conference rooms, review rooms, and a faculty research studio. This portion of the project also included the renovation of a portion of the existing south wing. As part of the renovation, the existing south stairwell was enclosed and a large landing between floors was fitted with an inverted sundial, a sliver of light, measuring the hours and the seasons.
The East Addition was designed by W. G. Clark, Professor of Architecture, and consists of a tall, thin 6,810 sq. ft. mini-tower that serves as the new face of the school. The design incorporated a new lower level entry and reception hall that features review and exhibit areas.
This new four-story building nearly doubles the space previously available to the School of Education, providing badly needed offices, clinics, and common spaces for its diverse array of academic, research, and clinical programs.
Located on a steeply sloped site at the western perimeter of the university's historic Central Grounds, Bavaro Hall features red brick and limestone façades with painted wood trim, six-over-six double-hung windows, and a metal standing-seam roof. Bavaro Hall and the School's former home, Ruffner Hall, are linked by an inviting courtyard garden framed between two open-air colonnades.
The first floor of the new facility accommodates student services, the dean's suite, conference and meeting spaces, a large multipurpose room, a coffee bar, and the Commons, the School's primary indoor social gathering space, which opens directly to the courtyard for indoor/outdoor events. Two generously proportioned naturally-lit stairs lead up to departmental suites, faculty offices, and meeting rooms on the upper two floors. Bavaro Hall houses 55 individual faculty offices, 10 conference rooms, five program area suites, four administrative suites, and a great room lecture hall.
This project is LEED Gold certified.
This 63,365 sq. ft., five-story residence hall for first-year students offers modern amenities in a configuration that fosters intimate, secure, close-knit communities, creates a strong sense of place, and accommodates growing numbers of students. Two faculty apartments are also housed in the new facility. In addition to student rooms, study rooms, and lounges, the entry level floors is oriented to illuminate and animate gathering places housing a variety of program spaces for teaching, meeting, and recreation.
The project also includes a 16,357 sq. ft., two-story, triangular-shaped wing to accommodate the Housing & Residence Life Office.
This project is LEED registered.
This semi-suite style residence hall is located on UR's
Westhampton campus adjacent to the South Court. The façade of the four-story
steel frame structure is primarily brick and limestone. Casement windows,
custom wood doors, and steeply pitched roofs made of slate and copper
punctuated with dormer windows reflect the building's Collegiate Gothic
style of architecture.
The LEED Silver targeted building includes HVAC systems that
can be monitored and controlled by a central control system, plumbing that is
low flow, and an electrical system that can be monitored by the energy
dashboard.
This project is LEED registered.
Located along College Avenue and overlooking Ball Circle, the new university center is a 4-story Jeffersonian-inspired structure that serves as a hub for campus activities.
The first floor houses the kitchen and includes a freight elevator to service the main dining area on the fourth floor. Also located on the first floor is a ballroom for university and community events. The second floor features the campus "living room," retail dining, a small bookstore, information desk, and pool tables. The campus living room is a cozy gathering place for students and features warm colors, fireplaces, and comfortable chairs. The building's third floor is dedicated to student meeting spaces and organizations and includes 600 sq. ft. of workspace with computer banks and multiple meeting rooms for students and clubs to employ and reserve.
The campus' primary dining center is housed on the fourth floor and includes seating for 800, with an additional 150 seats located on the third floor. Dining, buffet style has multiple stations where food is prepared directly in front of students. The fourth floor also features reservable spaces for group functions in the form of two multi-purpose rooms and an all-season balcony opening onto Ball Circle.
This project is LEED registered.
Donley's was the Construction Manager for this mixed-use project's residence hall and pedestrian bridge and the Design/Builder for the parking deck and office/retail facilities.
The residence hall, Eagle Landing, consists of two 5-story structural stud framed buildings with 156 two-bedroom apartments constructed in a 206,000 sq. ft. "U"-shaped complex, fronted by a two-story rotunda. Each unit contains two large bedrooms (designed for two students per room), two full baths, a living room, and a full kitchen with eat-in bar. The facility also features a front garden with patio; a large rear courtyard with a sizable terrace for social activities and an artificial turf area for recreation; a concierge desk for 24-hour security; game lounges on two floors; study lounges on two floors; laundry rooms on each floor; and a meeting room for private student functions.
The remainder of the complex includes a three-story, 38,000 sq. ft. office building over 12,000 sq. ft. of retail space; a 165,000 sq. ft. precast parking garage that includes corrals for 200 bicycles, over 26,000 sq. ft. of retail space; and a 197-foot-long enclosed pedestrian bridge linking the complex to the UMW campus. A total site package was also part of the project and included the development of approximately seven acres.
Wayland Hall–the nation's first residence hall renovation project to achieve LEED Platinum certification–serves as a living-learning community to support the College of Visual and Performing Arts. Catering to the college's disciplines of theater, dance, music, art, and art history, the community offers its residents practice rooms, classrooms, performance space, a gallery, and a studio, enhancing the college experience for those who call Wayland Hall home.
In order to provide students with improved living spaces, the upper floors were reconfigured to provide single, double, and triple bedrooms with community bathrooms. A multipurpose space on the ground floor features impeccable acoustics, retractable stadium seating, and traces of bluestone interior walls. In addition, a recreational and reception lounge, laundry room, public kitchen, large group study space, and the hall director's apartment are located on the ground and first floors.
Some of the key sustainable features incorporated into the project include a rain harvesting system; heat recovery collected from showers to pre-heat water lines; 600 ft. deep geothermal wells; cotton insulation in select locations; wheat board on exterior bedroom walls as a rapid renewable material; window sensors cut off heating and cooling when windows are open; and reclaimed doors used as panels throughout the project.
Wayland Hall is LEED Platinum certified.
This student housing facility, located in the Bluestone section of JMU's Harrisonburg campus, now offers accommodations to approximately 507 students in an apartment-style configuration. The four-story building also features various student life spaces, academic classrooms, seminar space, administrative offices, and other support spaces.
This project is LEED registered.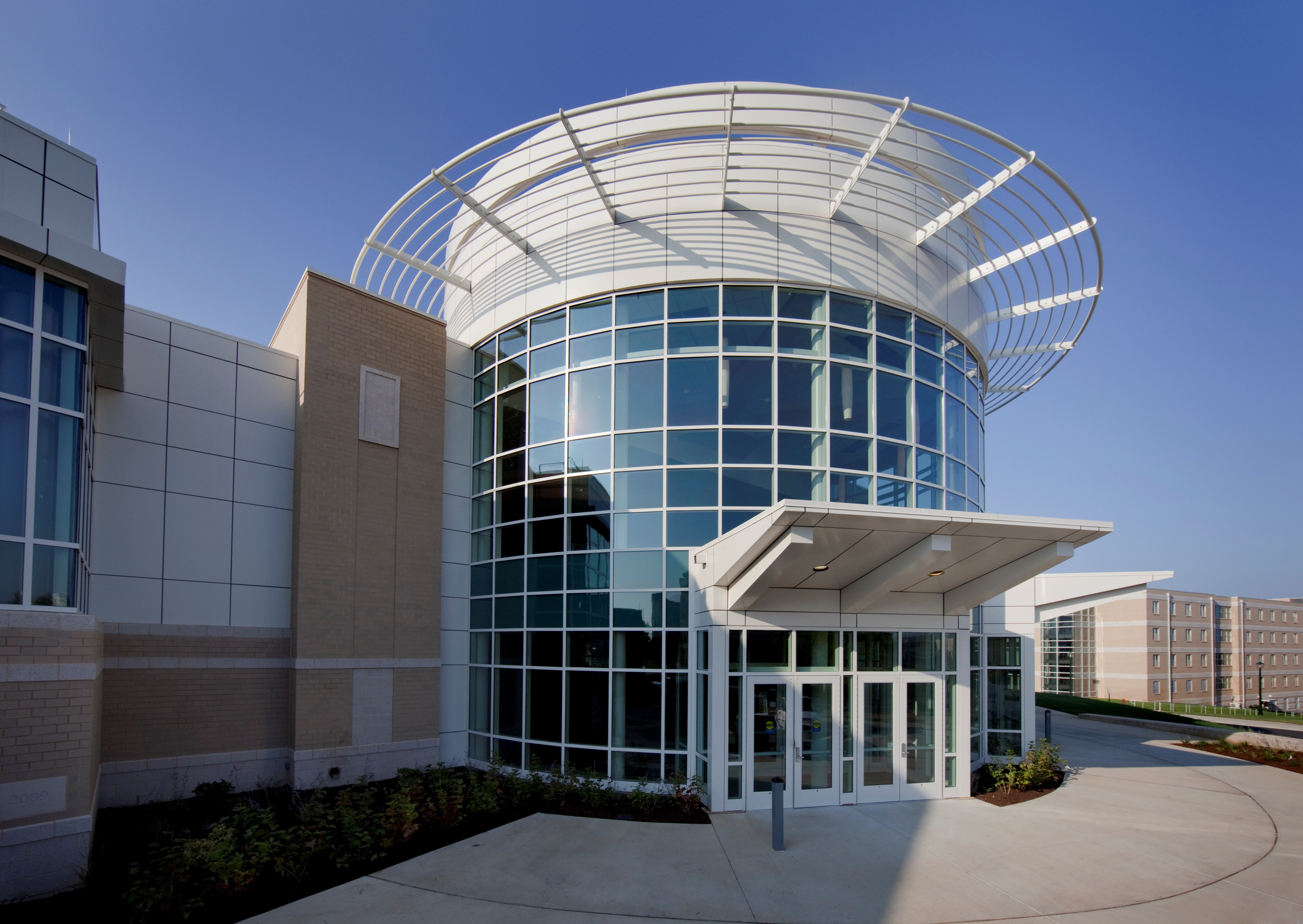 Located in the CISAT section of campus, this two-story dining hall features a large, open indoor dining space with windows on three sides to let the maximum amount of daylight into the space, as well as inviting outdoor seating areas.
The first floor features a central two-story "rotunda" lobby, as well as the main student dining area, which includes seven food venues, associated back-of-house kitchen services (receiving, food preparation, storage, and cleaning spaces), and a small convenience store. The second floor includes an upper lobby in the rotunda; an executive dining room that features a fireplace; an executive dining pantry for food preparation and staging; and an outdoor balcony with views to the south for executive event functions. The executive dining room and balcony also serve the community as a venue for parties and receptions.
Sustainable elements of JMU's first green building include a white membrane that covers 97% of the roof and reflects sunlight; water-efficient plumbing; low emitting materials (paint, carpets, coatings, etc.); controllable lighting systems and daylighting; enhanced refrigerant management; and the use of recycled and regionally manufactured building materials.
This building is LEED Gold certified.
This project encompassed removing the existing West Grandstand and replacing it with a new, two-tiered West Grandstand with approximately 14,000 seats. A new, single-tiered North End Zone Grandstand with approximately 5,400 seats was connected to the new West Grandstand.
The complex's lower concourse level features concessions and a team shop, while the club level consists of an 8,000 sq. ft. club lounge. The suite level houses 15 luxury suites and a president suite. The upper concourse level features concessions, and the upper tier of the West Grandstand houses an approximately 6,500 sq. ft. press box to replace the outdated facility located in the existing East Grandstand. The lower service level of the stadium includes a commercial kitchen and commissary facility, as well as a loading dock.
Originally planned as a three-phase project to be stretched over three off-seasons, the Donley's team completed the project in only two phases and actually beat the very challenging completion date – all without causing disruption to the football schedule over the two years of phased construction.