Donley's Interiors Group (DIG) is currently working on renovations at Cleveland Clinic's WMC Cole Eye and Primary Care facility. This 27,230 sq ft project includes relocation of its Blood Lab and Imaging Suite, renovation of primary care suites to increase capacity by more than 60%, addition of a new Vascular suite, and expansion of Cole Eye Ophthalmology Suite to 25 exam rooms, more than double the current capacity. The work is being performed in three phases to keep adjacent operating rooms and other departments functional throughout renovations with the first phase going live in March and project completion occurring in late August of 2020.
In 2018, Donley's completed a fast paced 17th floor renovation inside the 200 Public Square building for Benesch Law Firm. The project included 8 corner offices throughout approx 9000 square feet. The scope included updated electrical, HVAC, built in filing cabinets and a world class kitchen area.
Donley's is currently serving on a team that is restoring part of the tunnel system underneath Cleveland Clinic's main campus.
Our reach on this project includes the removal of the existing roadways, prepping and then waterproofing the tunnel lid, and placing a new concrete cap (roadway) over the tunnel.
Explore some of Donley's other restoration projects:
James A. Garfield Memorial Restoration
Donley's Restoration Group will be completing this project for AMHA Hilltop House in early 2020. The Hilltop House is used as public housing for elderly community members and Summit County residents who need housing assistance. The six story, 78 unit property was built in 1968.
Our work started with erecting scaffolding so that residents can use their back patios as a front entrance. After, we removed and replaced the existing front entrance concrete balconies using a new steel frame and traditionally reinforced concrete slabs.
This project was design build/public bid.
The Donley's Interiors Group worked with the Cleveland Institute of Art (CIA) to renovate 17,000 square feet in its existing building.  The fast-track summer project was needed to accommodate the growth of CIA's animation program.  Working with JKURTZ Architects, our scope included the removal of an old Henry Ford staircase and the creation of dynamic new studio space for animation students' curriculum.
New Construction
The Geauga County Public Library Bainbridge and Thompson projects will consist of constructing new branches for each location. The Bainbridge branch includes construction of a new 27,900 sq ft single story building with a 2,160 sf lower level. The Thompson branch includes construction of a new 8,596 sf single story building.
Renovations
The Geauga County Public Library Geauga West and Middlefield projects will consist of renovation to both branches.
The Geauga West branch renovation includes a complete renovation of the existing public restrooms along with adding two (2) family restrooms, three (3) new study rooms, infilling of the bond room pit area, and other miscellaneous interior renovations. The exterior patio will also be renovated to include a new concrete patio with an elevated concrete seating area and structural steel trellis over the seating area.
The Middlefield branch will consist of installing new millwork at the circulation and reference desk, two (2) new study rooms, new self-checkouts, new floor coverings, paint throughout the main floor area, along with other miscellaneous renovations.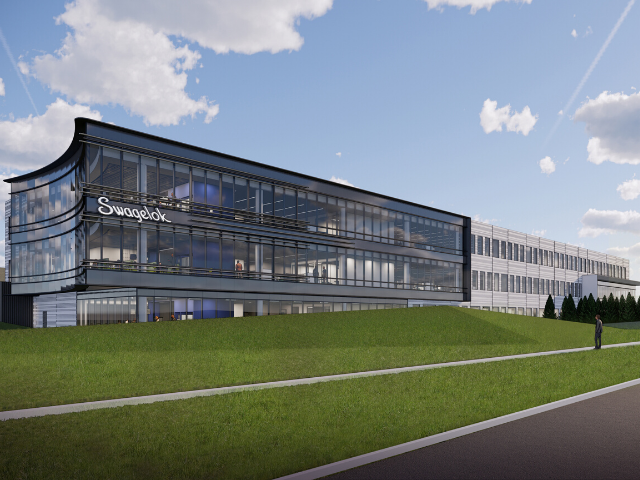 Donley's is serving as construction manager for Swagelok's new Headquarters and Global Innovation Center in Solon, OH. The 130,000 square feet building will be able to accommodate 250 employees. The facility will include areas dedicated to sales support, executive leadership, and corporate engineering. There will also be a Customer Welcome and Innovation Center on-site. The headquarters is expected to be completed in the spring of 2021.
Donley's Interiors Group completed the interior construction of Bellwether Enterprise's new national headquarters on the 24th floor of One Cleveland Center located in Downtown Cleveland. This new space allows their Cleveland staff to work in the same building and increased their office space by twenty-five percent.
The 20,000 square foot space hosts 20 offices and 55 open concept work stations; enough space for 80 employees. Working closely with Bellwether and Vocon, the build-out only took 4.5 months to complete.
Ned Huffman, President of Bellwether Enterprise, shared the following "Billy Painter and Andy Wiatt of the Donley's Interiors Group team were fantastic to work with and very hands on from the first meeting through completion. In addition to being highly experienced and professional, they were always accessible, flexible, prompt, and paid attention to detail."
This inpatient oncology unit, located on the 7th Floor of Horvitz Tower (Rainbow Babies' and Children's Hospital's main facility), will serve infants, children, and young adults for treatment of cancer. The renovation includes a complete interior demolition of all finishes and mechanical infrastructure.
There are 21 individual patient rooms that are protective environment spaces to reduce the need for patients to wear protective clothing. Family gathering areas are protected environments as well. Due to the protected environments and the need for high air change over, a new air handling unit was added to help support the existing building's mechanical infrastructure.
The patient length of stay in the unit varies and may be as long as six months. As such, parents and siblings often stay overnight with their family members who are patients. Support spaces including a kitchen, teen area, and child play area to encourage patients and families to leave their private rooms and interact with others as part of the healing process.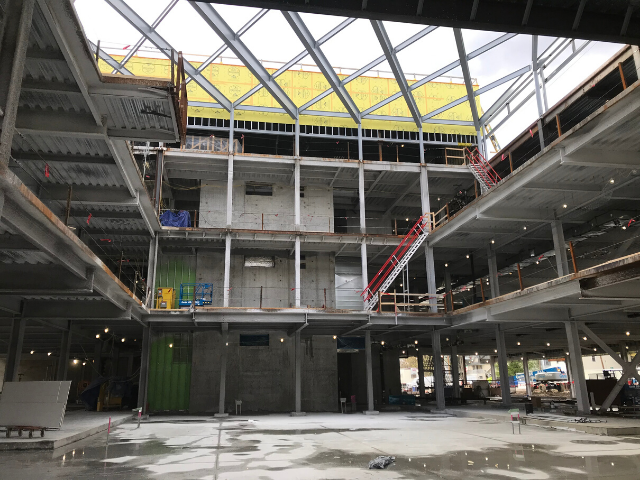 Donley's is providing CM at Risk services on this project—the new home for the Heritage College of Osteopathic Medicine—that will be the first new building on the Union Street Green of Ohio University's Athens Campus. The three-story, 120,000 square foot facility will provide space for medical education, clinical assessment and training, student support spaces, administrative space, space for future growth, and a Learning Resource Center (including a medical library).
The building will promote "active design' by encouraging physical activity within the building with the intent of maintaining student health and academic success. They are aiming to receive the WELL Building Standard certification, which would make the building the first medical education facility in the country to do so. The outdoor spaces will be part of the educational environment, and encourage student and staff connections to the natural environment. Classes are planned to be held here in the spring of 2021.