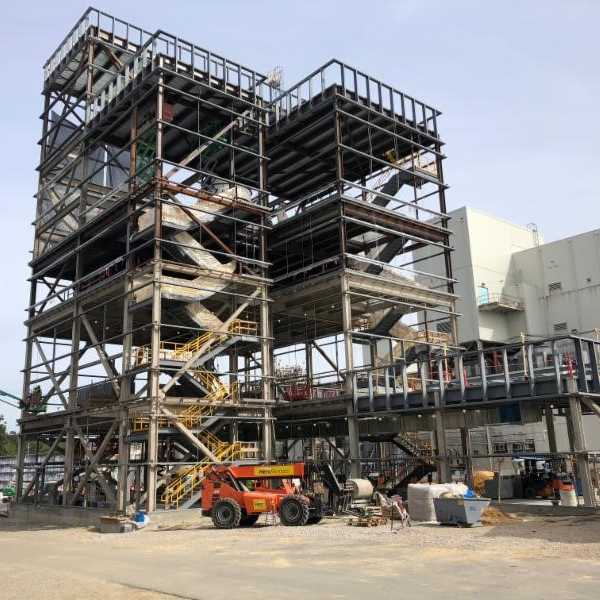 The concrete construction for this manufacturer consisted of deep foundations, spread footings with piers, cast-in-place walls, stem walls, and curbs. The main structure was a heavy structural steel building, supporting a 10" slab on metal deck. The structure was solid enough to allow the construction of two floor to ceiling 18' high x 2' thick blast walls on the second and third levels.
DCG also completed extensive concrete paving around the site for the new dryer structure. We carried the masonry block and complete reinforcing steel package for the building in our concrete scope of work. Ajinomoto manufactures amino acid for several different food manufacturers and applications.
The Fresenius Kabi drug manufacturing facility consists of over 400,000 square feet of foundations, walls, slab-on-grade, and elevated slabs. It also includes a high bay storage unit that houses extensive racking / storage and an automated selection system. The floor slabs in this area required a very high tolerance to accommodate the automated selection system. The high bay area was completed in three separate placements, with a total of 2,300 cubic yards of concrete to create the 30" thick mat slab. All other floor slabs in the facility had a tolerance of Ff50 / Fl30. Donley's team has exceeded all specified floor tolerances on this project.
Donley's construction and safety team created a site specific safety plan that allowed this work to be completed on schedule and in a safe manner. Our team placed 17,880 cubic yards of concrete and over 511 tons of reinforcing steel to complete this project.
Contract: $5.5 M
The cast-in-place concrete for this pharmaceutical company's wastewater treatment facility includes 17′ high cast-in-place radius walls for the bio-reactor digesters and clarifiers.
The bio-reactor cast-in-place 30′ slabs required over 30 placements with an extensive water stop detail at each construction joint. The walls for the bio-reactor were also limited to a maximum 30′ pour break along with water stops at each joint.
Over 30% of the cast-in-place walls were topped with a cast-in-place walkway and work platform. These platforms were completed with a wall-mount flying table system. As a part of Gannet Fleming's team, Donley's placed 8,000 cubic yards of concrete and 750 tons of reinforcing steel to create this state-of-the-art waste water treatment facility.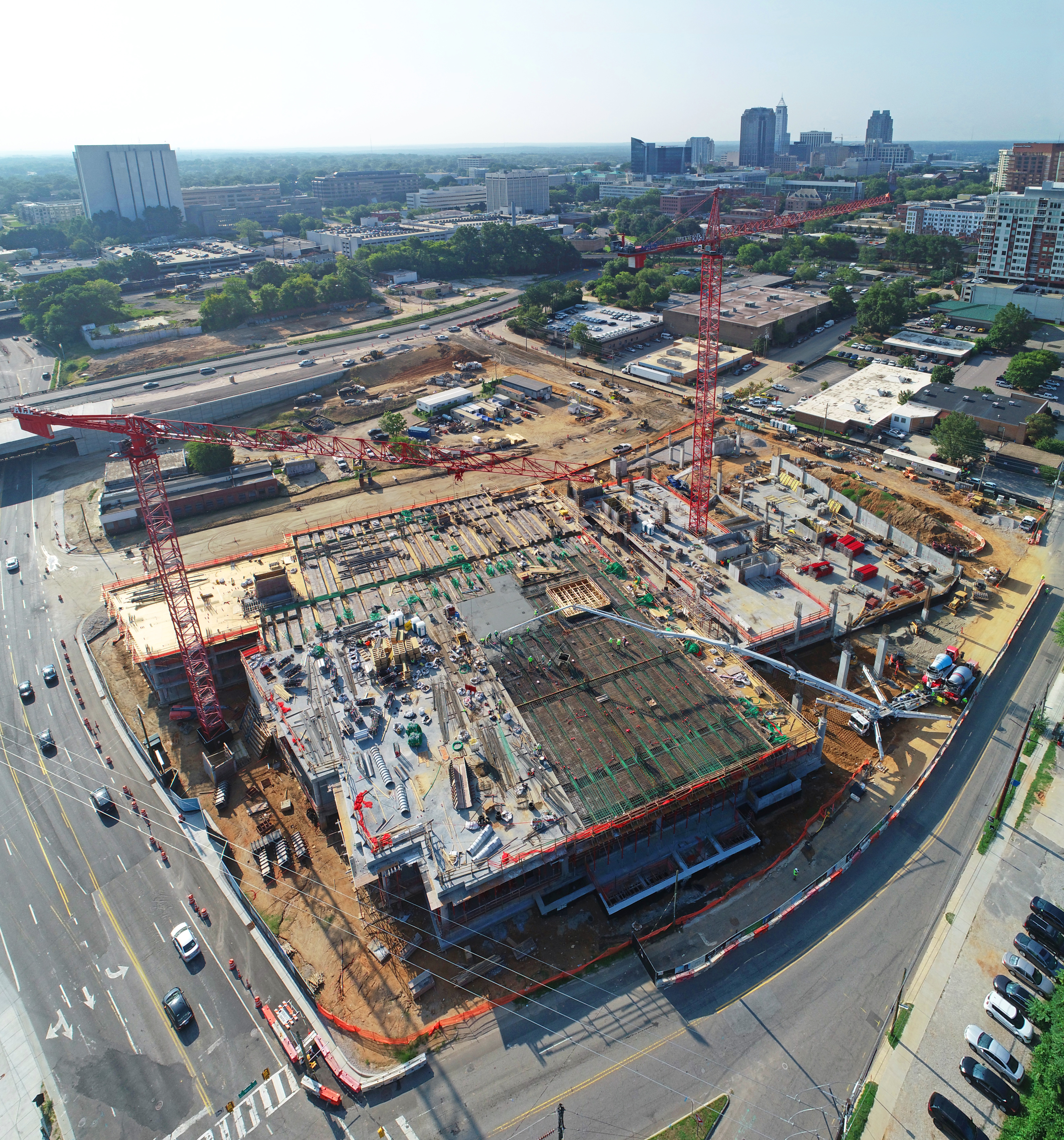 Donley's was hired by Clancy & Theys Construction to provide concrete service for the Peace Development in downtown Raleigh. Located in the old Smokey Hollow neighborhood in downtown Raleigh, this development is a 11-story, urban, mixed-use project anchored by a 45,600 sq ft Publix grocery store. This will be Downtown Raleigh's first grocery store. Above the grocer, this concrete structure will include 417 units of residential apartments with a mix of studio, one-, two- and three-bedroom units averaging 898 sq ft. The project will also have 5,340 sq ft of additional retail and office space, an 83,000 sq ft parking garage underneath the grocer, and a 7-level, 206,000 sq ft post-tensioned parking deck.
Donley's is providing concrete services for Choate Construction on the FNB Tower at 501 Fayetteville, the latest addition to the downtown Raleigh skyline. Pennsylvania-based, First National Bank, anchors the 22-story building with a 40,000-SF regional headquarters.
Designed by Raleigh-based JDavis Architects, the massive 420,000-SF tower is built a-top an existing parking deck. Exterior elements include a striking facade with modern low-emissivity glass, metal skin, and vertical mirror glass fins.  Luxurious features include six floors of Class-A office space, ground-level retail, 239 luxury residential units with a world-class amenity level, and an outdoor Skydeck terrace offering unparalleled views of the downtown skyline.
Our scope of services for the project includes structural concrete totaling 16,600 cubic yards of concrete.
In January 2017, working with Choate Construction / Raleigh as construction manager, DCG finished the Sanderson Farms processing plant and wastewater treatment facility in St.Pauls, N.C. The $8M contract included a turnkey concrete package, consisting of large spread footings, grade beams, pits and trenches for the processing facility, 285,000 sq. ft. of slab on grade and elevated slabs, including 400,000 sq. ft. of exterior concrete paving. The project had 21,000 cubic yards of concrete placed out of an onsite concrete batch plant. Donley's Concrete Group's portion of the project was completed in 11 months and is DCG's second processing facility for Sanderson Farms.
Donley's Concrete Group, LLC was awarded the Durham Police Headquarters Complex, a $1.85M project with LeChase Construction Services, located in Durham, NC. The project consists of two separate structures, one being the headquarters
itself and the other a precast parking deck.  In the winter of 2016 Donley's began construction, the scope of work consists of 60,000 sq. ft. of foundations for the complex, slab on grade, and 90,000 sq. ft. of slab on metal deck.  Donley's Concrete Group is completing the metal deck pours and will finish the Durham Police Headquarters Complex with slab on grade pours to complete the project by the end of summer 2017.
Donley's Concrete Group has begun work on a 9.8-million-dollar project with over 15,000 cyds of concrete. The project will be working for a joint venture team consisting of TA Loving and Barnhill. The finished student union will measure 209,000 sq. ft. and include a 700-space parking deck adjacent to the union. The concrete portion of this project consist of pile caps, foundation walls and elevated cast in place decks.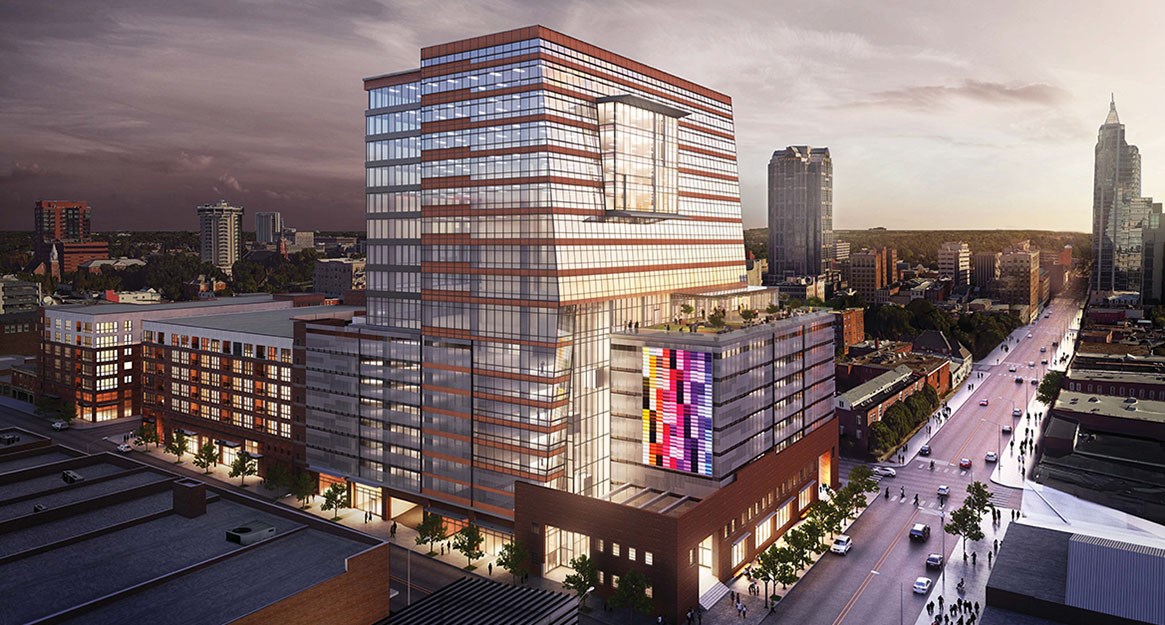 Donley's Concrete Group started its work on the Dillon Supply project in Summer of 2016. The Dillon is the first mixed-use development of its kind in downtown Raleigh's rapidly expanding, vibrant Warehouse District. The project includes an 18-story office tower with retail space and two six-story apartment buildings with an adjoining parking deck. This structure reuses and preserves parts of the original Dillon Supply warehouse building, a 100-year-old Raleigh company (shown in photos). DCG provided turnkey concrete construction services on the project to Barnhill Contracting Company and Clancy & Theys Construction Company. The project was completed in October 2017.
An application for 'The Dillon' was submitted to receive ABC's Excellence in Construction (EIC) Award. Click Here to view the application.
Donley's has been awarded the Spirit AeroSystems Tool Expansion in North Carolina.  The facility manufactures miscellaneous parts for the aeronautical community.
The scope of work for the project includes:
turnkey concrete construction
pile caps
grade beams
tie beams
loading docks
stone base
high floor tolerance slab on grade, including misc. site concrete
"BMCD and Spirit are also very thankful the goal was met and was done safely even in the inclement weather.  Donley's continued working through the rain which was acknowledged by Spirit in addition to our team.  The efforts are very much appreciated and BMCD and Spirit look forward to working with Donley's team in the future."