As Donley's heats up for summer, we wanted to share our current projects that are continuing our growth in the North Carolina market in 2022.

Project Size: 130,000 SQFT
Concrete: 6,416 CY
Status: In-Progress

Project Size: 261,000 SQFT
Concrete: 12,392 CY
Status: In-Progress

Project Size: 715,000 SQFT
Concrete: 28,000 CY
Status: In-Progress

Project Size: 252,701 SQFT
Concrete: 25,000 CY
Status: In-Progress

Project Size: 108,500 SQFT
Concrete: 5,500 CY
Status: In-Progress
Congratulations to Josh Wilder, Will Wilder, John Vallos, and Dylan Skipper on their promotions!
Donley's would not be where it is today without team members like Josh, Will, John, and Dylan. Thank you for going above and beyond every day, and congrats on your well-deserved promotion!
---
Josh has been promoted to Senior Project Manager! Josh began his career in construction in 2009 doing surveying work. In 2016, Josh joined Donley's Concrete Group as an Estimator and served as an Estimator/Project Manager in a dual capacity. By 2018, Josh had transitioned to a full-time Project Manager.
Notable projects that Josh has worked on include: Searstone Retirement Community, Northwest Water Treatment Plant, Link Apartments® Calyx, Fresenius Kabi Plant Expansion, Seqirus Plant Expansion, Durham Police Headquarters, and JMH Hotel.
---
Will has been promoted to Project Manager! Will is an East Carolina University graduate, and he joined Donley's as a Project Engineer in June 2019. By October of 2021, Will was promoted to Project Superintendent.
Will's projects include: The Yield, Northwest Water Treatment Plant, Fresenius Kabi Plant Expansion, Merck Wilson, Merck Durham, and Sanderson Farms.
---
John has been promoted to Assistant Project Manager! After graduating from The Citadel with a degree in Civil Engineering, John began his career at Donley's as a Project Engineer in 2021.
John has worked on 40 Line Street and North Charleston Coliseum Suite Renovation.
---
Dylan has been promoted to Assistant Project Manager! He graduated from the University of South Carolina in 2020 with a degree in Mechanical Engineering. Following his graduation, he began his career as a full-time Mechanical Engineer. In March 2021, Dylan joined Donley's as a Project Engineer.
Dylan's projects include The Cooper Charleston Waterfront Hotel and the University of South Carolina Campus Village.
Donley's April 2022 Service Awards: Jeff Doskocz, Charles Bluhm, Andrew Peyton, and Dustin Allen
Congratulations to Jeff and Charles on their 15-year and Andrew and Dustin on their 5-year work anniversary! Jeff, Charles, and Dustin are a Concrete Finisher, VDC Engineer III, and Laborer, respectively, at our Cleveland location and Andrew is VDC Engineer IV at our Charleston location. The work you all have done does not go unnoticed and we appreciate everything you've accomplished at Donley's. We are proud to share your service with us and look forward to more great years together!
Congratulations!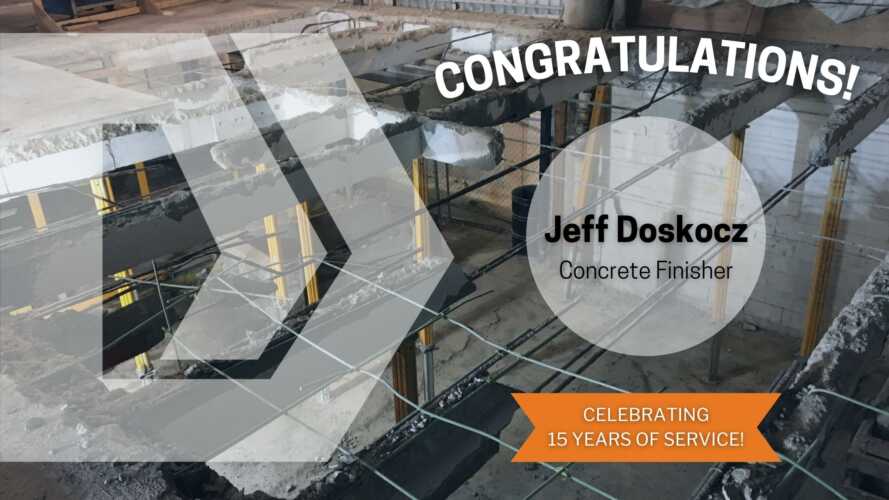 As Donley's springs into 2022, we wanted to share our recently completed and in-progress projects that are continuing our growth in the South Carolina market.

University of

South Carolina Campus Village
Construction Manager: Juneau Construction Company
Donley's has recently completed its work for Juneau Construction Company at the University of South Carolina Campus Village in Columbia, South Carolina. The Campus Village project is multi-phased development that will offer students a unique living-learning experience and it is the largest project in the university's history.
Phase I begins with the razing of two mid-century housing structures and two surface parking lots; making way for more than 1,800 beds of student housing, 315,000 square feet of new surface and structured parking, a campus safety office, as well as a new dining facility with over 3,000 seats.
Donley's scope of work in this phase included the cast-in-place concrete scope for buildings 2, 3, and 4.  We completed 61,000 square feet of SOG; 58,000 square feet of heavy podium slabs with drop heads and 1,300 large embeds; 900 linear feet of 14' foundation and shear walls and placed over 7,100 cubic yards of concrete over 3 separate buildings. 

The Cooper
Construction Manager: BL Harbert
Donley's is currently working with BL Harbert on The Cooper Waterfront Hotel in Charleston, South Carolina. Located on the Charleston peninsula, The Cooper Hotel will be a six-story, 225-key, 288,000-square-foot hotel featuring a ballroom, conference space, service kitchen, a restaurant, 12,000 square feet of ground-floor retail space on Concord Street, rooftop lounge, elevated pool, and sea-wall, plus views of the harbor and downtown skyline. For decades, the site was the location of the State Ports Authority headquarters.
Donley's scope of work on The Cooper includes the use of 14,000 cubic yards of concrete, 18" structural slab on grade, 3 levels of post-tensioned concrete frame, and 4 levels of slab on metal deck. In addition, full-height cast-in-place cores for stairs and elevators.
Click here to view a 360° drone video of the project.

LC Line Street
Construction Manager: Lifestyle Communities
Donley's is currently working with Lifestyle Communities on developing LC Line Street, a new apartment community, in downtown Charleston. LC Line Street is a multi-phased development with the goal to complement the upper peninsula's architectural character and cultural feel by highlighting both the original use of the land and current structures as well as the way the future community will build on that history.
Donley's is working on Phase I of the development. The first phase will include 293 apartment units and 22,000 square feet of community space, including a restaurant with a "community-inspired" menu that will be open to the public, a gym, a coffee shop, and a pool.
Donley's is providing the structural concrete structure for the project which consists of nine stories of apartments and community space wrapped around seven stories of parking structure. The structure goes two stories below the existing grade which is 3' below sea level.
Click here to view a drone video of the project.

Donley's, started in 1941, is celebrating its 80th anniversary this year. To help commemorate this important anniversary, we threw a party at our newly renovated Cleveland office.
The party, with over 100 attendees, was a clambake and barbecue held on our brand-new patio and outdoor area. We had a game area featuring custom Donley's cornhole boards and a giant Jenga game for guest to enjoy. We ate delicious appetizers, clams, and brisket.
Throughout the night, we shared conversation while sipping on our specially made Donley's beer for the celebration. Some of our very own staff brewed and bottled Donley's beer for the occasion. The beers were named "Donley's Post Tension Ale" and "Donley's Farm 1916 Oktoberfest." Pictured below is the brewing of our beers and the final product at the anniversary party.
At the celebration, we honored Dave Bednar (pictured far left) with a special video from all of his co-workers. Dave is retiring this year after working with Donley's for 36 years. We also honored our CEO, Mac Donley (pictured right), with a video of his employees and his family thanking him and congratulating him on his 40 years with Donley's.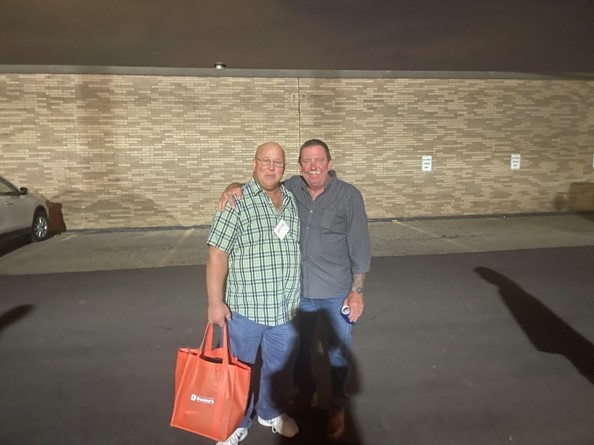 We had a great time gathering with familiar faces and celebrating 80 years together. Thank you to everyone throughout our amazing 80 years who has supported us and worked with us to make this all possible.
We are excited to continue growing.
Happy 80th Anniversary Donley's!
As Donley's celebrates its 80th year of providing concrete services, we wanted to share a few of our recent projects marking the growth in the Pennsylvania market.
The Assembly
Construction Manager: Turner Construction Company
Donley's recently completed its work for Turner Construction on The Assembly Project at 5051 Centre Avenue in Pittsburgh. The Assembly will pioneer Pittsburgh's newest high-tech developments in cancer biomedical research and commercialization, anchored by the University of Pittsburgh. Donley's provided concrete services for the new 5.5-story below grade parking garage and podium slab, including a lower floor addition to the existing building.
The location of the Assembly project with respect to adjacent structures presented unique logistical challenges that the team was able to overcome through extensive planning and coordination efforts with Turner's operations team.  An earth retention system consisting of steel soldier piles with wood lagging and tie-backs extends more than 50′ below street level to create the west and south boundaries of the project. At the same time, the existing century-old Ford Building intersects the new underground garage along its north side.
Donley's engineering team utilized state-of-the-art laser scanning technology to map out conflicts between the as-built earth retention system and the proposed structural concrete framing of the garage. Detailed drawings and reports were then provided to the design team in advance of garage framing, resulting in design modifications of the garage to accommodate the as-built conditions without any delay to the project's schedule.
Working closely with Turner, Donley's delivered the project safely and successfully on time over an aggressive 10-month schedule during the COVID-19 pandemic.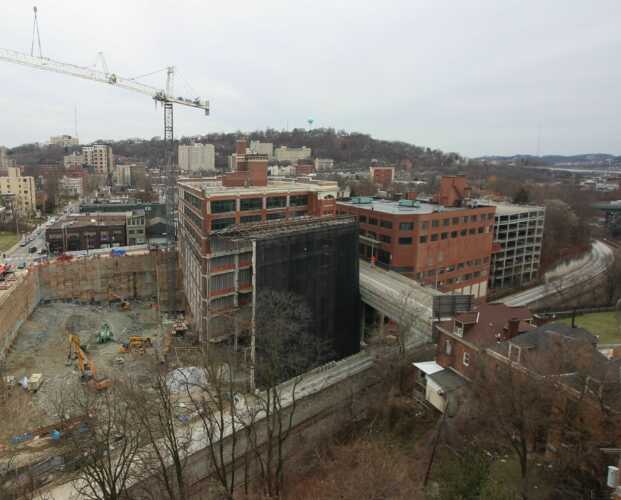 Connection at South Side
Construction Manager: TWG Construction
Donley's also recently completed our work for TWG on Connection at South Side Apartments in Pittsburgh. South Side Flats is one of two neighborhoods that make up Pittsburgh's dynamic South Side. The primarily residential neighborhood is located at the base of Mount Washington, South Side's enormous hill. We are providing concrete services for the residential podium. The site is a 123-acre riverfront development with a 142,750 square foot podium (2-level) structure and 6,800 cubic yards of concrete.
This mixed-use project includes residential and commercial space, a marina, a riverfront park, and 5 miles of new multi-use trails.

Glasshouse at Station Square
Construction Manager: Rycon Construction
Donley's work for Rycon Construction on The Glasshouse was recently featured in Breaking Ground Magazine.   Glasshouse is located on the former site of Pittsburgh's historic glass-making factories, on the bank of the Monongahela River, overlooking the city's central business district. Our scope included structural excavation, foundations, basement walls, core walls, slab on grade, and podium deck slabs.
The community provides 319 residential units, including studio, one, one den and two-bedroom apartments, ranging in size between 665 and 1,200 square feet. Ground-floor retail and 335 indoor parking spaces broaden the variety of facilities on the property. Read more about Glasshouse here.
Read the Breaking Ground Magazine Feature here on page 35.
See our entire portfolio here.

www.donleyinc.com
Friday, February 14, 1941, started out as a normal day for Bill and Philip Donley. They were lathing a house near Harvard Avenue and Lee Road for Donley Brothers Co. But after lunch, the brothers would make history.
As the story goes, their father, Ernest F. Donley, lent them and their brother Don $25,000 to purchase the construction division of Donley Brothers.
The United States was gearing up for World War II and Donley Brothers won some defense contracts, causing the need to expand. This gave Ernest's three sons a chance to buy the construction division from their uncles. 
"After lunch it came time to go sign the papers," Bill recalls. "We went to an office—a bank or lawyer. Then it was back to work." 
The new company was incorporated as Ernest F. Donley's Sons and has evolved over the last 80 years to our company today. Known as Donley's now, we are proud to still be a successful concrete business.
We now have multiple locations across the country and continue to provide exceptional work in various states. Thank you to everyone who has been a part of our last 80 incredible years. 
Happy 80th Anniversary, Donley's!
Check out our blog for more Donley's news updates.