Donley's is working on the Naples Beach Club with Suffolk in Naples, Florida. Naples Beach Club, formerly known as Naples Beach Hotel & Golf Club, will be a Four Seasons Resort and will offer 216 hotel rooms and more than 150 condos. The upscale development will include the renovation and improvement of HB's on the Gulf, the Sunset Beach Bar, the conference center, and the golf course. The resort will also feature a "Market Square" for its guests, residents and neighbors that will include a cinema, a kids' club, a restaurant with bowling lanes, and the resort's spa and fitness facilities.
Our scope includes the turnkey construction of a seven-level beachfront hotel. The turnkey scope includes over 350,000 SF of CIP Framed Slabs.
Donley's is currently working with Williams Building on The Acorn in Raleigh, North Carolina. The Acorn will be a 7-story apartment building with amenities such as a fitness center, clubhouse, and a pool on the fourth floor with views of southern Raleigh. The apartment building features four stories of apartments over three stories of shared structured parking.
Our scope of work includes: Foundations, Foundation Walls, Structural Columns, SOG, Elevated CIP Decks for Parking, Top Floor Elevated Podium for Framing, and Misc site work.
Donley's Restoration Group completed the work at 55 Public Square in Downtown Cleveland, OH. The property consists of a 300-foot tower was completed in 1958, that was the first new skyscraper built in downtown Cleveland since the Terminal Tower was finished in 1930 and its attached eight (8.00) level parking garage. Donley's design build work consisted of the complete structural restoration of the garage followed by traffic membrane application across all levels.
Lifestyle Communities is developing a new apartment community in downtown Charleston called LC Line Street. The first phase of the development will include 293 apartment units and 22,000 sqft of community space.  Our scope includes 450,000 square feet and over 20,000 cubic yards of concrete.
Located in the historic city of downtown Raleigh, Seaboard Station sits between the historic Seaboard Railroad Station and William Peace University. Donley's is providing concrete services for the Seaboard Station development for Clancy & Theys Construction.
Currently under construction, the first phase will integrate 300 apartment residences and around 30,000 square feet of retail and open spaces for gathering and activity. The entire expansion will feature more than 600 residencies and roughly 130,000 square feet of retail and open space. This area will bring together Raleigh residents and visitors who seek a lifestyle rooted in connection.
When the 6-story development is completed, it will be about 375,662 square feet total, with 504 parking spaces. The Developer is Hoffman & Associates.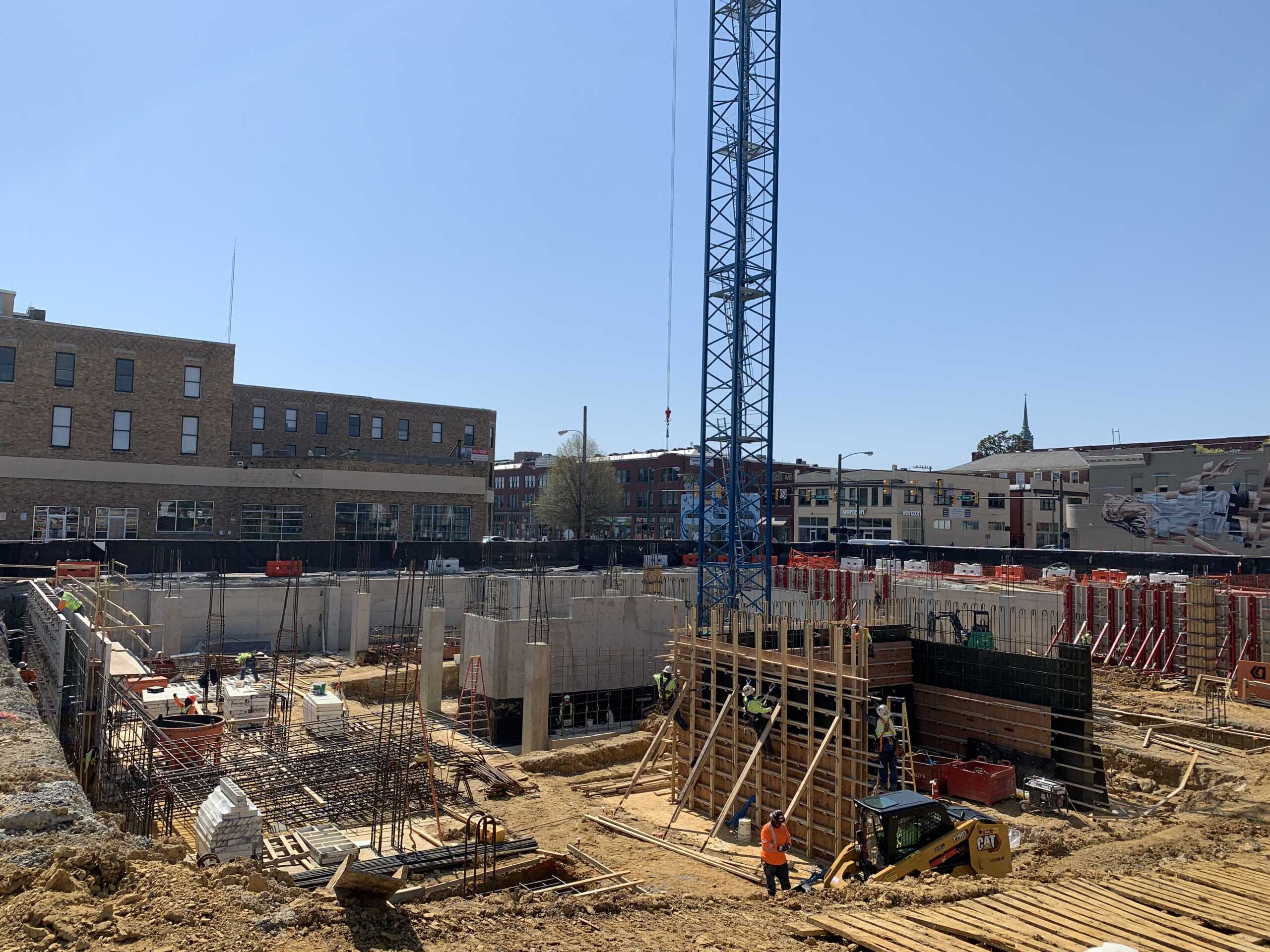 We are currently providing concrete services for the Opus commercial project in Richmond, Virginia for Rabren General Contractors. This project is a 12-story, mixed-use building that will include 168 units with ground-floor retail space as well as studio, one-bedroom, two-bedroom, and four-bedroom apartments. There is also an underground parking deck that will hold 77 vehicle spaces.
The structure of the Opus is a post-tensioned concrete podium with a load bearing prescient metal framing system for floors 2-12. Metal panels, traditional masonry, and EIFS exterior façade. Amenities include pool, club room, sauna, relaxation room, fitness room, and two amenity decks.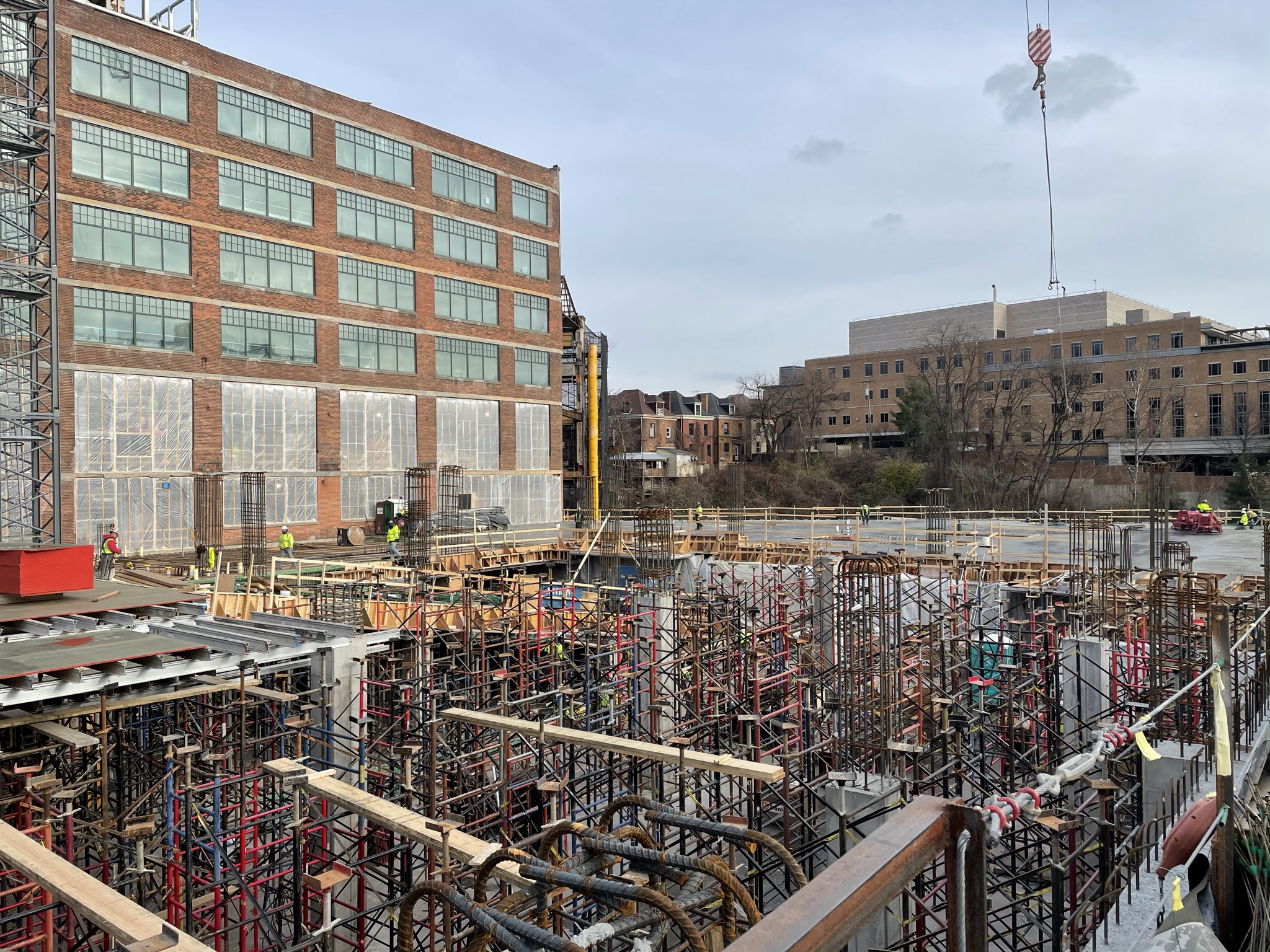 Donley's recently completed its work for Turner Construction on The Assembly Project at 5051 Centre Avenue in Pittsburgh. The Assembly will pioneer Pittsburgh's newest high-tech developments in cancer biomedical research and commercialization, anchored by the University of Pittsburgh. Donley's provided concrete services for the new three-tiered parking garage and lower floor next to the building.
The location of the Assembly project with respect to adjacent structures presented unique logistical challenges that the team was able to overcome through extensive planning and coordination efforts with Turner's operations team.  An earth retention system consisting of steel soldier piles with wood lagging and tie-backs extends more than 50' below street level to create the west and south boundaries of the project. At the same time, the existing century-old Ford Building intersects the new underground garage along its north side.
Donley's engineering team utilized state-of-the-art laser scanning technology to map out conflicts between the as-built earth retention system and the proposed structural concrete framing of the garage. Detailed drawings and reports were then provided to the design team in advance of garage framing, resulting in design modifications of the garage to accommodate the as-built conditions without any delay to the project's schedule.
Donley's delivered the project safely and successfully on time over an aggressive 10-month schedule during the COVID-19 pandemic.
Donley's is currently providing concrete services to Clancy & Theys on this six-story, 350-unit apartment and retail complex in the Scott's Addition neighborhood.
Scott's Addition is now the City of Richmond's fastest growing neighborhood. The area is known for its 13+ breweries, cideries, meaderies, and distilleries. Scott's Addition is also home to  nationally-recognized restaurants, rooftop bars, a boutique bowling alley, cinema, shuffleboard bar, retail shops, and more.
Donley's provided concrete services to Landmark Construction on The Standard at Raleigh.  This is the second Standard project with Landmark.  We completed a similar project in Charlottesville, Virginia.  BKV Group.  The building provided student housing right off the North Carolina State Campus. The mixed-use student housing project is comprised of 707 beds (233 units) and ±3,461 SF of ground-floor retail and restaurant opportunities.
We are currently providing concrete services to Samet Corporation on the new Fenton Mixed-Use Development project in Cary, North Carolina.  The development will offer 2.5 million square feet of retail, office, restaurant, hotel, and multifamily. The initial phase will consist of 348,000 square feet of specialty and experiential retail, including a 102,000 square-foot Wegmans store and high-end movie theater; 195,000 square feet of Class A office; 357 apartment units; and a 175-key hotel.