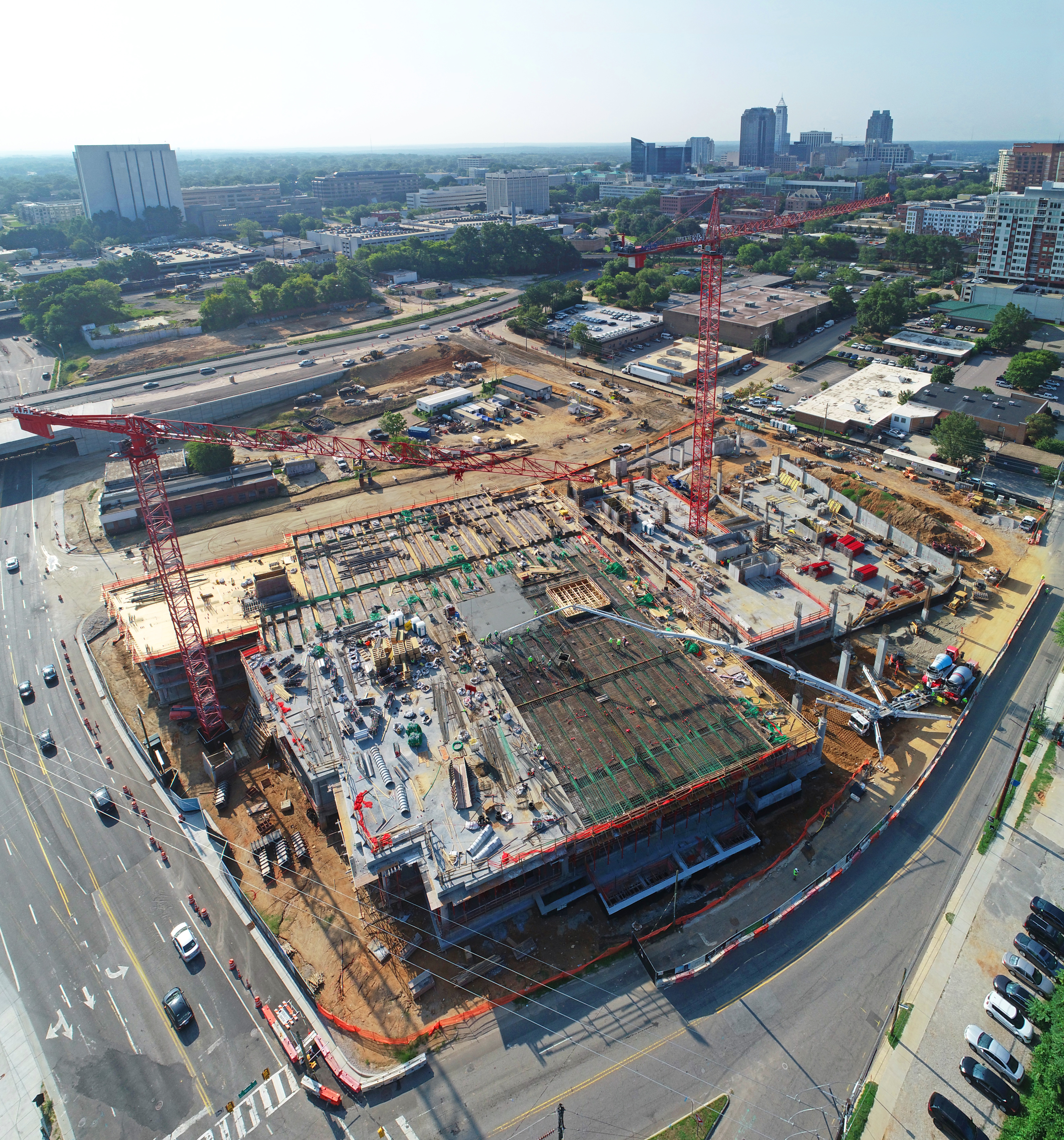 Donley's was hired by Clancy & Theys Construction to provide concrete service for the Peace Development in downtown Raleigh. Located in the old Smokey Hollow neighborhood in downtown Raleigh, this development is a 11-story, urban, mixed-use project anchored by a 45,600 sq ft Publix grocery store. This will be Downtown Raleigh's first grocery store. Above the grocer, this concrete structure will include 417 units of residential apartments with a mix of studio, one-, two- and three-bedroom units averaging 898 sq ft. The project will also have 5,340 sq ft of additional retail and office space, an 83,000 sq ft parking garage underneath the grocer, and a 7-level, 206,000 sq ft post-tensioned parking deck.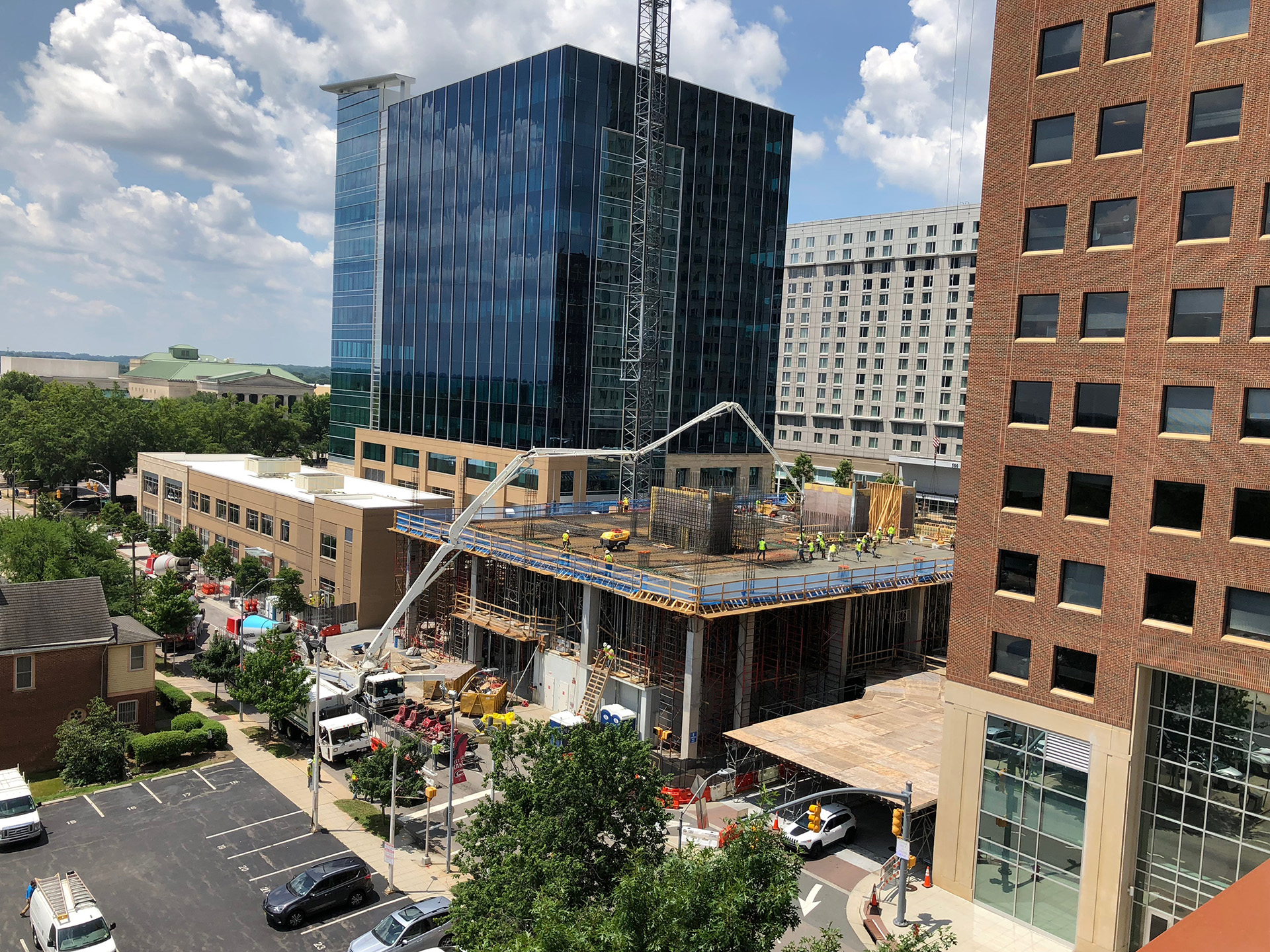 Donley's is excited to be providing concrete services for Choate Construction on the FNB Tower at 501 Fayetteville, the latest addition to the downtown Raleigh skyline. Pennsylvania-based First National Bank anchors the 22-story building with a 40,000-SF regional headquarters.
Designed by Raleigh-based JDavis Architects, the massive 420,000-SF tower is built atop an existing parking deck. Exterior elements include a striking facade with modern low-emissivity glass, metal skin, and vertical mirror glass fins.  Luxurious features include six floors of Class-A office space, ground-level retail, 239 luxury residential units with a world-class amenity level, and an outdoor Skydeck terrace offering unparalleled views of the downtown skyline.
Our scope of services for the  project included structural concrete totaling 16,600 cubic yards of concrete.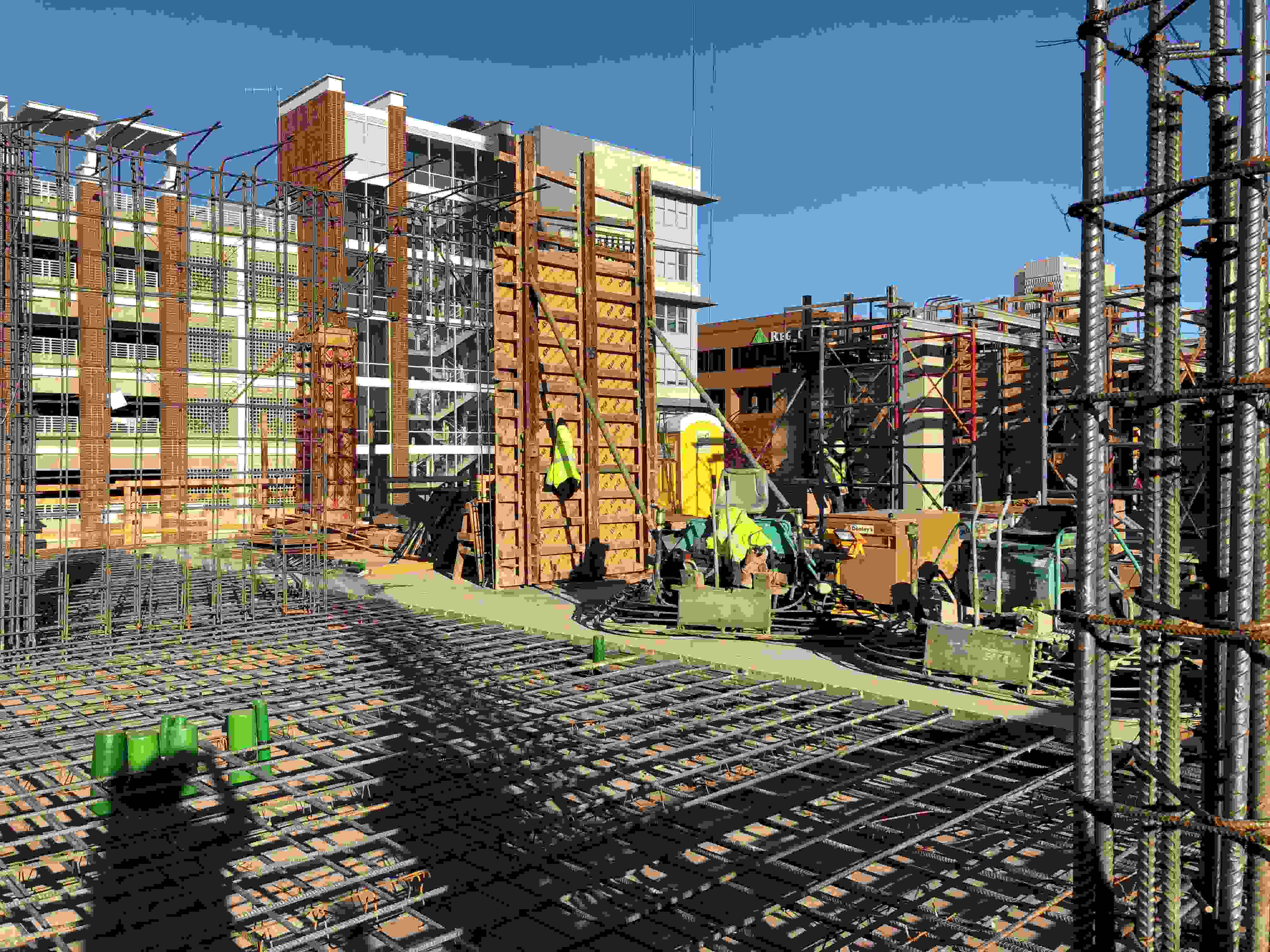 This is a dual brand hotel complex that will provide 286 rooms with an underground parking garage to fit 103 spaces in the heart of downtown Greenville, South Carolina.
DCG is providing cast in place concrete foundations, retaining wall, slab on grade, 3 levels structural concrete podium and 4 floors plus roof level of slab on metal deck.
Expected to be completed by August 2018.
The Standard, a $4.6 million concrete project, is planned as a six-story apartment building with 644 bedrooms and includes 7,000 square feet of commercial space, as well as a 6-level precast parking structure. Donley's scope includes approximately 406,000 sq. ft. of slab finish area in 6 levels of steel construction.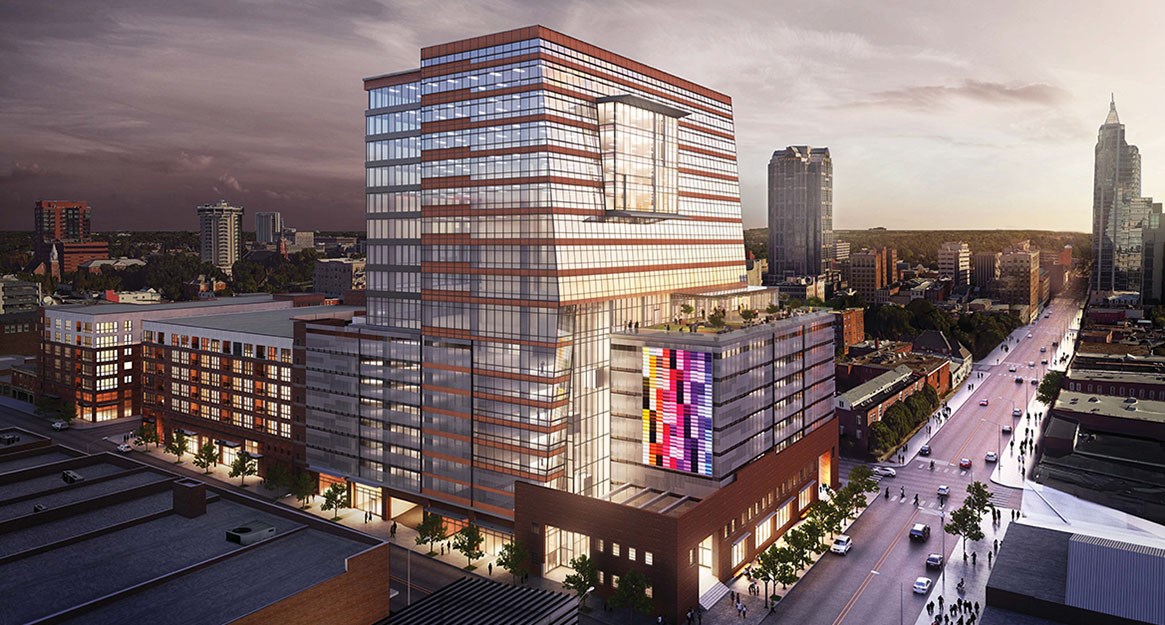 Donley's Concrete Group started its work on the Dillon Supply
project in the summer of 2016.  The Dillon is the first mixed-use
development of its kind in downtown Raleigh's rapidly expanding, vibrant
Warehouse District.  Scheduled for completion in 2018, the project
includes an 18-story office tower with retail space and two six-story apartment
buildings with an adjoining parking deck. This structure reuses and preserves
parts of the original Dillon Supply warehouse building, a 100-year-old Raleigh
company (shown in photos).   DCG is providing turnkey concrete
construction services on the project to Barnhill Contracting Company and
Clancy & Theys Construction Company.  The project is scheduled for
completion in 2018
Donley's is serving as a concrete contractor in the development of the Pinecrest Building Complex in North East Ohio's East Side. Scheduled to open in the spring of 2018, the finished project will be a sub-urban downtown, with a mix of retail, offices, luxury apartments and a hotel. The 58 acre development site will have 400,000 square feet of retail space.
Donley's has been awarded the Spirit AeroSystems Tool Expansion in North Carolina.  The facility manufactures miscellaneous parts for the aeronautical community.
The scope of work for the project includes:
turnkey concrete construction
pile caps
grade beams
tie beams
loading docks
stone base
high floor tolerance slab on grade, including misc. site concrete
"BMCD and Spirit are also very thankful the goal was met and was done safely even in the inclement weather.  Donley's continued working through the rain which was acknowledged by Spirit in addition to our team.  The efforts are very much appreciated and BMCD and Spirit look forward to working with Donley's team in the future."
GlaxoSmithKline awarded Donley's Concrete Group a contract for the Ellipta Phase III Project, located in Zebulon, North Carolina. The new 65,000 sq. ft. pharmaceutical manufacturing facility is for GSK's Advair inhalers.
Donley's scope of work included turnkey concrete package in the form of two new additions to the existing facilities. Concrete work was highlighted by the high tolerance Ff 80/Fl 40 floor slabs which support specialized automated bin retrieval system.
The 427,000 sq. ft.  project is comprised of two seperate office buildings to house MetLife's new Global Technology and Operations Hub.  It includes two, seven-story office buildings, a four-level, 934-space precast parking garage, a four-level, 1,020-space precast parking deck, and 170 surface parking spaces.
Donley's Concrete Group's scope of work includes:
Conventional foundations
Large retaining walls up to 35 feet high
Structural steel construction with slab on composite decks
This project was designed to achieve LEED Certification.
Donley's served as the concrete contractor to Turner Construction, on the new Hilton Cleveland Convention Center Hotel, located in downtown Cleveland.
The hotel was completed in time for the 2016 Republican National Convention, held July 18-21, 2016.
Donley's scope of work included:
Structural concrete design-assist services
Foundations
Basement walls
Elevator core walls
Podium slab on metal decks
Podium beam & slab decks
Tower flat plate post tensioned decks
Tower structural stairs