Donley's Restoration Group completed the work at 55 Public Square in Downtown Cleveland, OH. The property consists of a 300-foot tower was completed in 1958, that was the first new skyscraper built in downtown Cleveland since the Terminal Tower was finished in 1930 and its attached eight (8.00) level parking garage. Donley's design build work consisted of the complete structural restoration of the garage followed by traffic membrane application across all levels.
This TREO mixed-use, green building includes 194 luxury apartments and over 30,000 square feet of commercial space including a grocery store, dry cleaner, and a music school. This state-of-the-art five-story, 270,400 square foot mixed-use housing/retail development is situated on two acres on the corner of West 25th and Detroit in Cleveland, OH.  
Our scope includes 138,500 square feet and 6,100 cubic yards of concrete.
Donley's is currently working with Gilbane Building Company on the Ahuja Medical Center Phase 2 Expansion, a $200 million expansion to the University Hospitals campus. Designed by HKS Architects, the project consists of a 5-story pavilion addition to the existing hospital and a separate 3-story sports medicine center that includes a 45-yard turf field, and a therapy pool. The sports medicine center is the largest rehab complex in Northeast Ohio.
Donley's scope of work for UH Ahuja Phase II includes basement walls, core walls, a connecting tunnel between the two new buildings, columns, slab on grade, and slab on metal deck.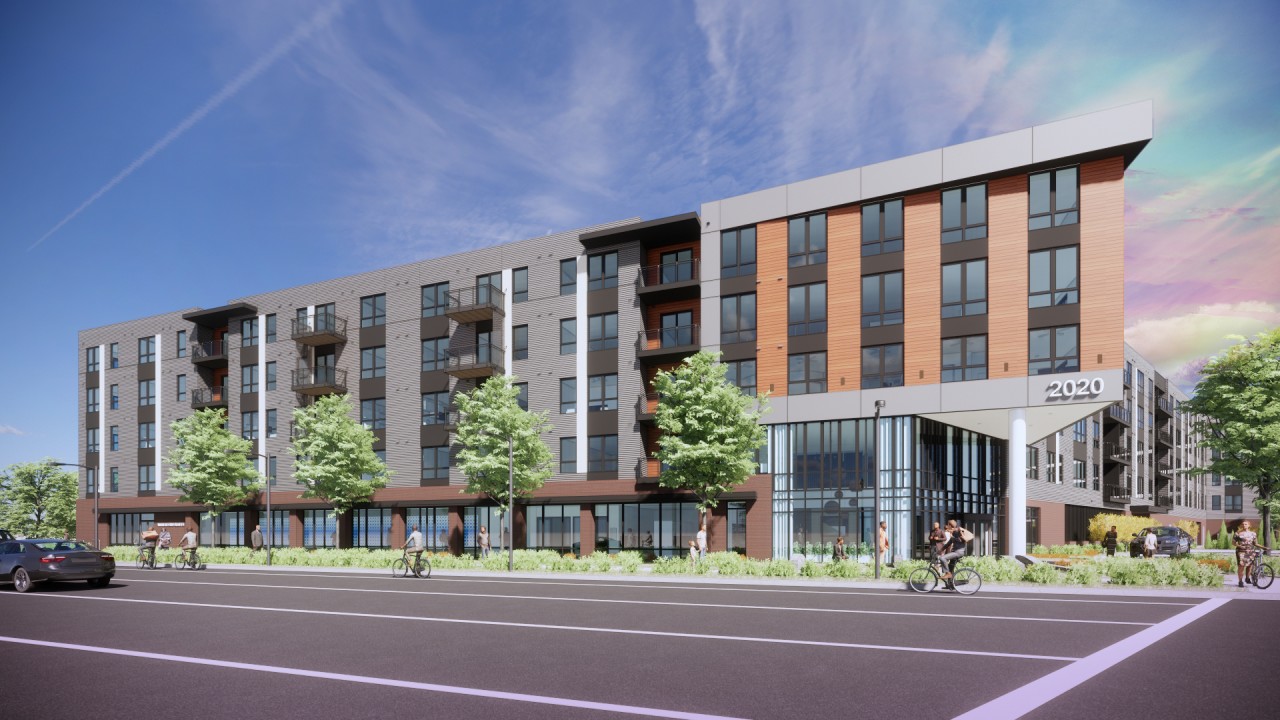 Waterford Bluffs Apartments will offer 241 Class A luxury apartments consisting of studio, one, and two-bedroom apartment homes. We are excited to be working on this wonderful project for Marous Brothers in Cleveland's Ohio City neighborhood.
Donley's is currently working with Turner Construction and Smoot Construction on the Columbus Hilton Downtown Expansion. Designed by Cooper Carry, the $220 million project consists of a 30-story post-tensioned concrete frame tower and a 7-story structural steel frame podium. The project structural engineer is WSP USA. Rising to a height of 357' above its lowest level, it will be the 12th tallest building in Columbus and the tallest building constructed in Columbus in 30 years. Upon completion, it will become the largest hotel in Ohio with 1,000 rooms shared between the existing Columbus Hilton.
Downtown and the new tower. Donley's scope of work includes basement walls, core & shear walls, columns, slab on grade, tower post-tensioned slabs, and podium slab on metal deck. Unique components of the Columbus Hilton Downtown Expansion project include:
10' deep transfer girders on Level 05
Rooftop restaurant and bar with outdoor terraces providing unobstructed views of the downtown skyline
Interior connections to the existing Columbus Convention Center and Columbus Hilton Downtown
Donley's provided concrete construction services for this new four-level Amazon Fulfillment Center facility on the former Rolling Acres Mall site. Donley's placed 72,000 cubic yards of concrete in just eight months. 
Our scope of work included:
Building foundations (approx. 18,000 cubic yards of concrete)

Slab on grade (650,000 sq. ft. footprint) with stringent quality requirements for floor flatness (FF 50) and floor levelness (FL 34.5)

Three levels of slab on metal deck (approx. 36,000 cubic yards of concrete) with tolerance requirements FF 30 and FL 15

60 loading docks with dock leveler pits
Working with the owner and Engineer, we devised a restoration plan to add another 15 to 20 years of serviceable life to the structure for ¼ of the cost to replace it. Donley's Restoration Group worked with construction engineers, Barber & Hoffman, to provide:
▪Full and partial slab repair
▪Full joist replacement
▪Beam and column repair
▪Curb removal
▪Membrane removal and new membrane application
▪Drain replacement
▪Supplemental reinforcing steel
▪Full deck replacement
▪Construction of a new ramp reaching the top floor
Project Duration: 15 months
Working in conjunction with the Akron infrastructure firm of HM Miller, Donley's constructed a 2.0 MGal combined sewer overflow structure basin on the north side of the Little Cuyahoga River, across from the existing CSO Rack 14 facility.  The basin is equipped with a combination manual and automated flushing/washdown system.
Financed jointly between the City, the US EPA and the Ohio EPA, the CSO Rack 14 project is a key element in an $800 million, multi-year initiative to improve Akron's sewer system by achieving zero untreated overflows in a typical year and improving water quality in nearby streams and rivers.
Project scope also includes:
140′ truss pipe bridge
Operations building
Site lighting, fencing, and site utilities
Cleaning and lining the existing 15-inch and 48-inch combined sewer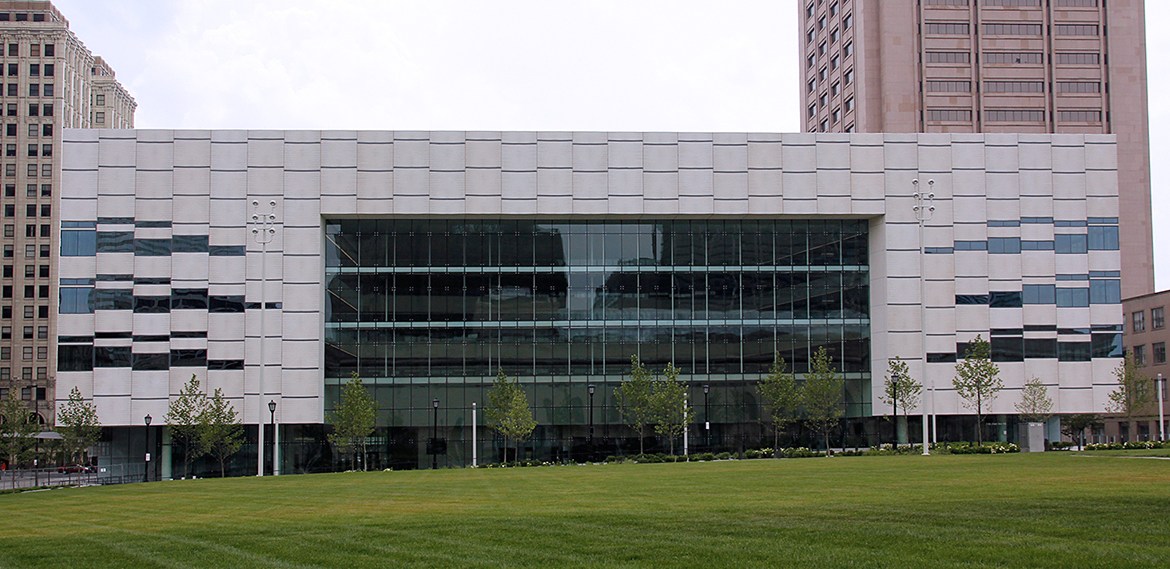 The Global Center for Health Innovation & Convention Center project is the first of its kind to integrate the convenience of a modern convention center in a downtown urban setting with a state-of-the-art facility designed to showcase new technical medical equipment that can be purchased by medical convention attendees.
The 375,000 sq. ft. Global Center for Health Innovation & Convention Center houses 120,000 sq. ft. of medical showrooms, an 11,000 sq. ft. junior ballroom, and meeting rooms. The newly configured 270,000 sq. ft. convention center was constructed on the former convention center site and features 225,000 sq. ft. of Class A exhibit space housed under the existing mall, as well as 35 meeting rooms, an expansive truck loading dock, and a 32,000 sq. ft. grand ballroom.
Total turnkey concrete construction encompassed:
42,500 cubic yards of concrete
2,500 tons of reinforcing steel
44,500 tons of aggregate fill
Donley's scope of work included:
2 new mat foundations totaling 65,000 sq. ft. supporting the new medical mart facility
1,300+ linear feet of 35 ft. tall x 3 ft. thick perimeter foundation walls and interior shear walls
83,000 sq. ft. of elevated decks including traditional beam and slab decks
a pan joist structural deck with 15 ft. wide post-tensioned beams
This project is LEED registered.