Located in the historic city of downtown Raleigh, Seaboard Station sits between the historic Seaboard Railroad Station and William Peace University. Donley's is providing concrete services for the Seaboard Station development for Clancy & Theys Construction.
Currently under construction, the first phase will integrate 300 apartment residences and around 30,000 square feet of retail and open spaces for gathering and activity. The entire expansion will feature more than 600 residencies and roughly 130,000 square feet of retail and open space. This area will bring together Raleigh residents and visitors who seek a lifestyle rooted in connection.
When the 6-story development is completed, it will be about 375,662 square feet total, with 504 parking spaces. The Developer is Hoffman & Associates.
Donley's is currently working for DiMarco Constructors on this new six-story 510 East Pettigrew Apartments building project in Durham.  When complete, the building will include 240 apartments and a 114,000-square-foot parking garage with room for 480 parking spaces.  The 2-acre parcel of land is near several other apartment projects and is within walking distance of the downtown core and the Durham Bulls Athletic Park.
We are currently working with Clancy & Theys on Phase 1 of the Raleigh Crossing project which will include a 19-story commercial tower with ground-level retail, 7-stories of parking, and 11 additional stories with over 280,000 square feet of office space. Our scope includes 24,000 CY of concrete.
The concrete construction for the Ajinomoto expansion, the pharmaceutical manufacturer, consisted of deep foundations, spread footings with piers, cast-in-place walls, stem walls, and curbs. The main structure was a heavy structural steel building, supporting a 10″ slab on metal deck. The structure was solid enough to allow the construction of two floor to ceiling 18′ high x 2′ thick blast walls on the second and third levels.
DCG also completed extensive concrete paving around the site for the new dryer structure. We carried the masonry block and complete reinforcing steel package for the building in our concrete scope of work. Ajinomoto manufactures amino acid for several different food manufacturers and applications.
Value: $1.2M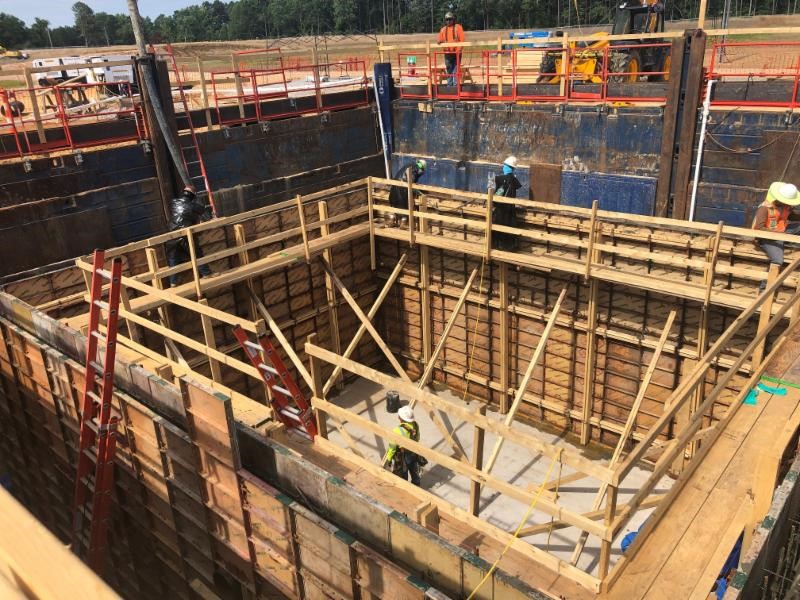 The Fresenius Kabi drug manufacturing facility consists of over 400,000 square feet of foundations, walls, slab-on-grade, and elevated slabs. It also includes a high bay storage unit that houses extensive racking / storage and an automated selection system. The floor slabs in this area required a very high tolerance to accommodate the automated selection system. The high bay area was completed in three separate placements, with a total of 2,300 cubic yards of concrete to create the 30" thick mat slab. All other floor slabs in the facility had a tolerance of Ff50 / Fl30. Donley's team has exceeded all specified floor tolerances on this project.
Donley's construction and safety team created a site specific safety plan that allowed this work to be completed on schedule and in a safe manner. Our team placed 17,880 cubic yards of concrete and over 511 tons of reinforcing steel to complete Fresenius Kabi.
The cast-in-place concrete for this pharmaceutical company's (NOVO Nordisk)  wastewater treatment facility includes 17′ high cast-in-place radius walls for the bio-reactor digesters and clarifiers.
The bio-reactor cast-in-place 30′ slabs required over 30 placements with an extensive water stop detail at each construction joint. The walls for the bio-reactor were also limited to a maximum 30′ pour break along with water stops at each joint.
Over 30% of the cast-in-place walls were topped with a cast-in-place walkway and work platform. These platforms were completed with a wall-mount flying table system. As a part of Gannet Fleming's team, Donley's placed 8,000 cubic yards of concrete and 750 tons of reinforcing steel to create this state-of-the-art NOVO Nordisk wastewater treatment facility.
Donley's Concrete Group, LLC was awarded the Durham Police Headquarters Complex, a $1.85M project with LeChase Construction Services, located in Durham, NC. The project consists of two separate structures, one being the headquarters
itself and the other a precast parking deck.  In the winter of 2016 Donley's began construction, the scope of work consists of 60,000 sq. ft. of foundations for the complex, slab on grade, and 90,000 sq. ft. of slab on metal deck.  Donley's Concrete Group is completing the metal deck pours and will finish the Durham Police Headquarters Complex with slab on grade pours to complete the project by the end of summer 2017.
Donley's Concrete Group started its work on the Dillon Supply Tower project in Summer of 2016. The Dillon Supply Tower is the first mixed-use development of its kind in downtown Raleigh's rapidly expanding, vibrant Warehouse District. The project includes an 18-story office tower with retail space and two six-story apartment buildings with an adjoining parking deck. This structure reuses and preserves parts of the original Dillon Supply warehouse building, a 100-year-old Raleigh company (shown in photos). DCG provided turnkey concrete construction services on the project to Barnhill Contracting Company and Clancy & Theys Construction Company. The project was completed in October 2017.
An application for 'The Dillon' was submitted to receive ABC's Excellence in Construction (EIC) Award. Click Here to view the application.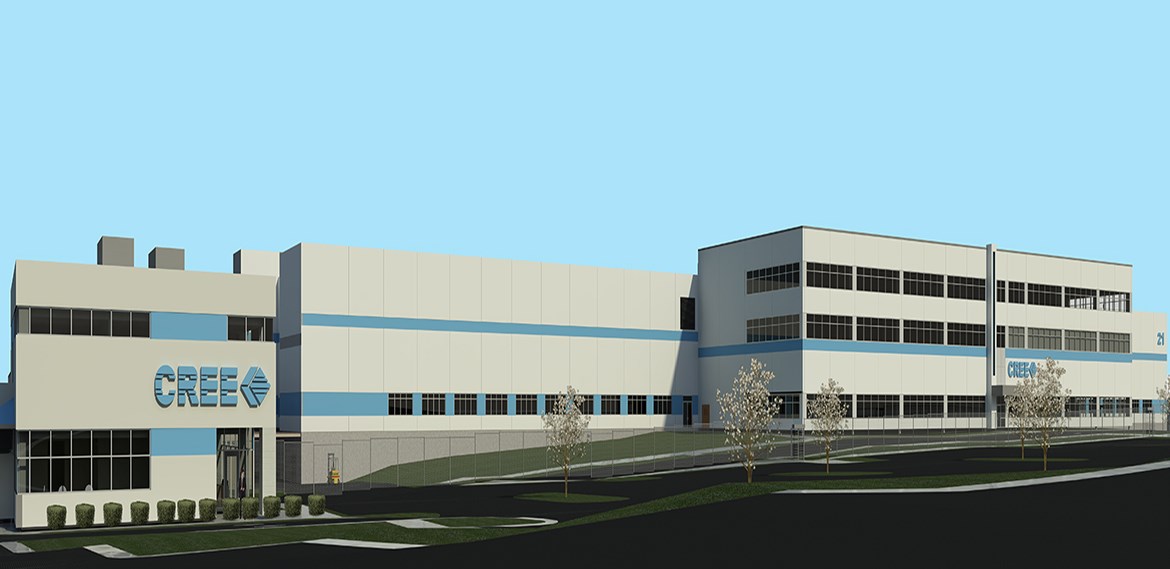 Donley's Concrete Group served as concrete contractor to DPR Construction on a facility expansion project for Cree, Inc. (Cree NCE Expansion), located in Durham, North Carolina.
Cree, Inc. is a market-leading innovator of lighting-class LED's, LED Lighting, and semiconductor solutions for wireless and power applications.
Donley's scope of work included:
light demolition of existing mud slabs
installation of typical pier foundations, wall footings, and retaining walls
slab-on-grade consisting of 90,000 sq. ft. of 14″ thick mat slab
80,000 sq. ft. of cast-in-place elevated flat plate decks
80,000 sq. ft. of elevated composite decks on structural steel
The North Carolina Central Prison Regional Medical Center and Mental Health Facility is a fully-operating hospital within the perimeter of a maximum-security, all-male correctional facility. The hospital was construction as two separate buildings, one building provides Health Care services including an emergency room, operating rooms, pre-op/post-op, dialysis, radiation, and chemotherapy. The other building is dedicated to Mental Health services. Donley's Concrete Group (formerly known as Blair Concrete) provided turnkey concrete construction services to Balfour Beatty Construction, LLC on this $180M project for the North Carolina Department of Public Safety.
The scope of work for the Central Prison Regional Medical Center project included:
foundations constructed over auger cast piles
mat slabs
shear walls
cores for the elevator and stair wells
cast columns for the multiple structural levels above
elevated decks
The decks were constructed utilizing metal-pan-type construction in order to maximize the load capacity of the prison floors and the heavy loads of the precast cell blocks. Creating a unique challenge for Donley's Concrete Group crews was the requirement that both buildings be constructed simultaneously. In order to maintain the critical path, two separate crews—one for each building—were enlisted. Adding an additional layer to the challenge came in managing documents, RFIs, submittals, and change orders as each building had a separate structural engineer.
Both buildings of the new Regional Medical Center and Mental Health Facility are five stories tall. The Health Care building has a full basement, and 120 single-patient medical cells and connects via court yard to the Mental Health building which has been designed for both short and long-term housing, including 216 single-patient mental health cells, with significant program space.