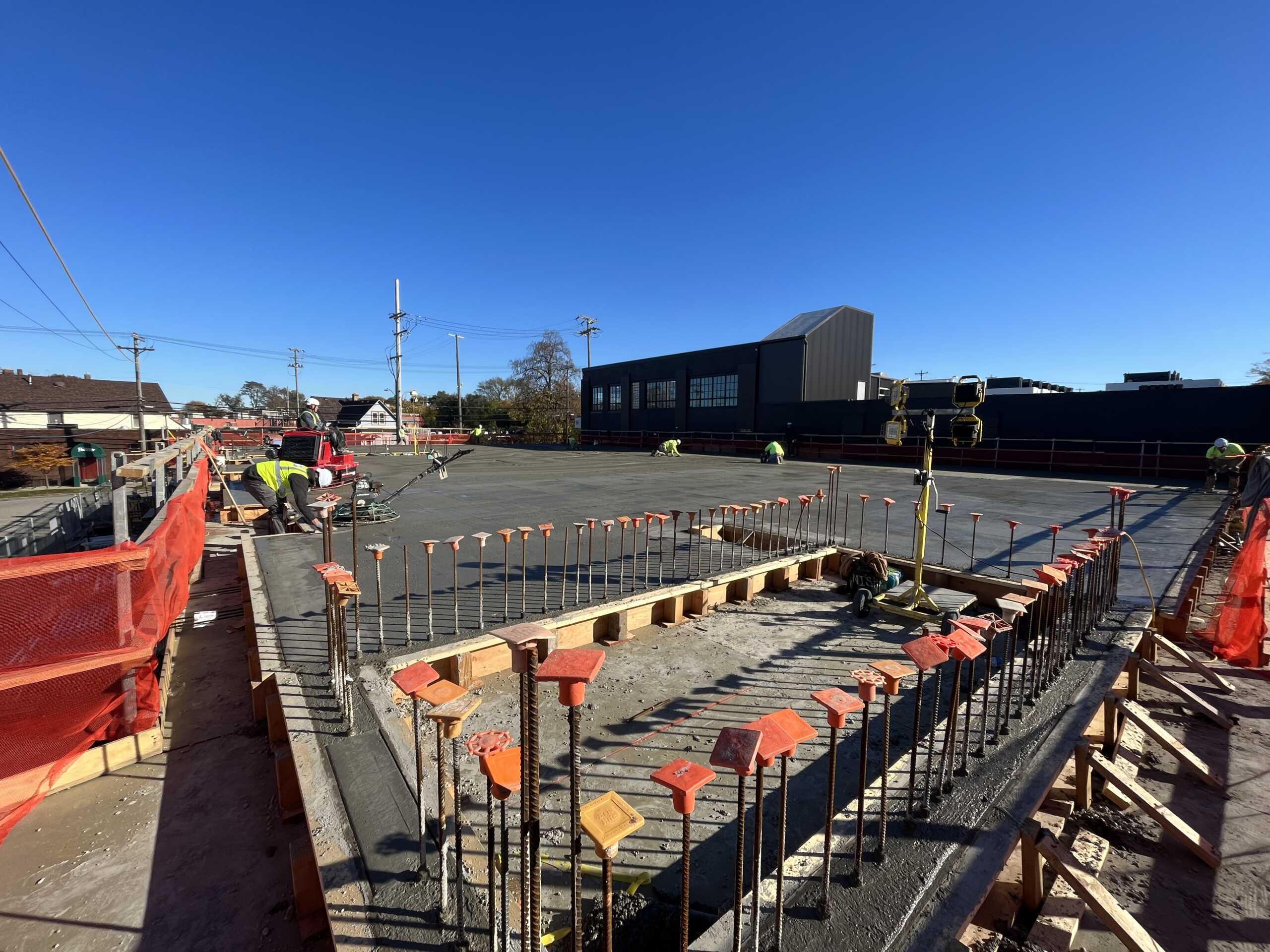 Donley's is working with The Krueger Group on the Breakwater Lofts project, an apartment building in the Gordon Square neighborhood of Cleveland, Ohio. This 4-story building will include a parking garage, 26 residential units, a fitness room, and a co-working lounge.
Donley's scope includes shallow foundations, foundation walls, slab on grade, PT deck, site paving, retaining wall, and frost slabs.
Donley's Restoration Group completed the work at 55 Public Square in Downtown Cleveland, OH. The property consists of a 300-foot tower was completed in 1958, that was the first new skyscraper built in downtown Cleveland since the Terminal Tower was finished in 1930 and its attached eight (8.00) level parking garage. Donley's design build work consisted of the complete structural restoration of the garage followed by traffic membrane application across all levels.
This TREO mixed-use, green building includes 194 luxury apartments and over 30,000 square feet of commercial space including a grocery store, dry cleaner, and a music school. This state-of-the-art five-story, 270,400 square foot mixed-use housing/retail development is situated on two acres on the corner of West 25th and Detroit in Cleveland, OH.  
Our scope includes 138,500 square feet and 6,100 cubic yards of concrete.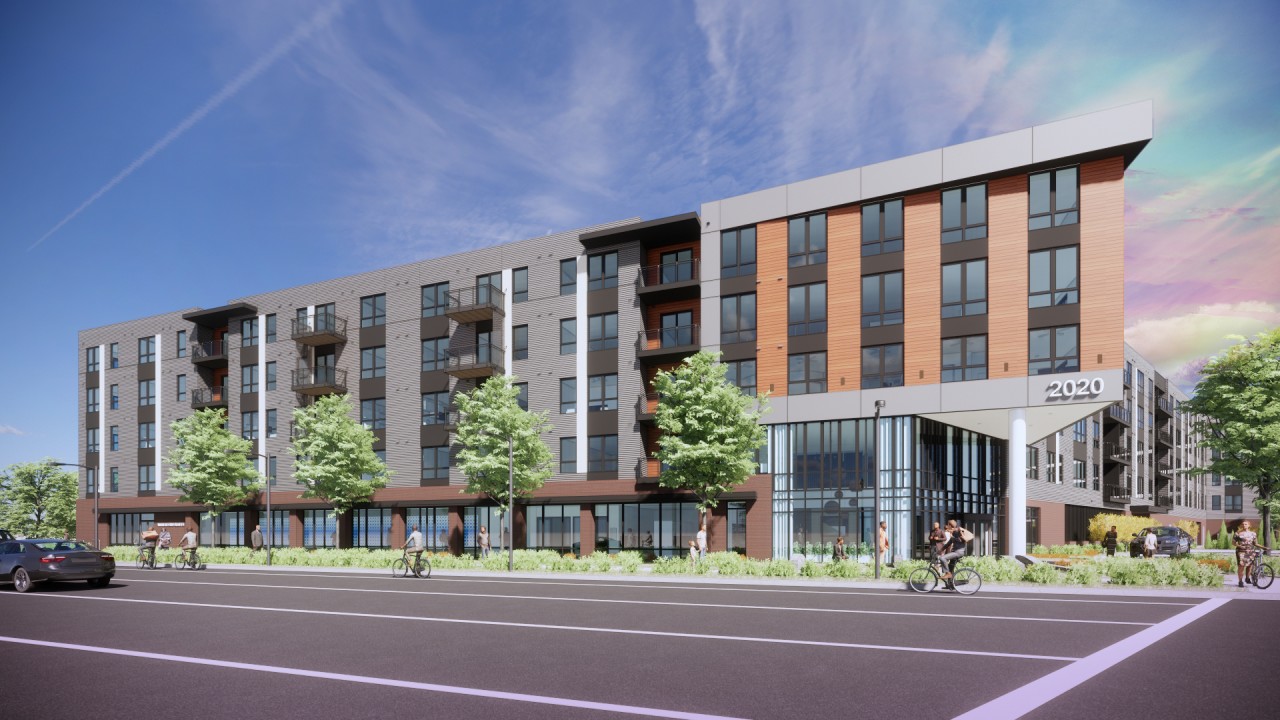 Waterford Bluffs Apartments will offer 241 Class A luxury apartments consisting of studio, one, and two-bedroom apartment homes. We are excited to be working on this wonderful project for Marous Brothers in Cleveland's Ohio City neighborhood.
Donley's is currently serving on a team that is restoring part of the tunnel system underneath Cleveland Clinic's main campus.
Our reach on this project includes the removal of the existing roadways, prepping and then waterproofing the tunnel lid, and placing a new concrete cap (roadway) over the tunnel.
Explore some of Donley's other restoration projects:
James A. Garfield Memorial Restoration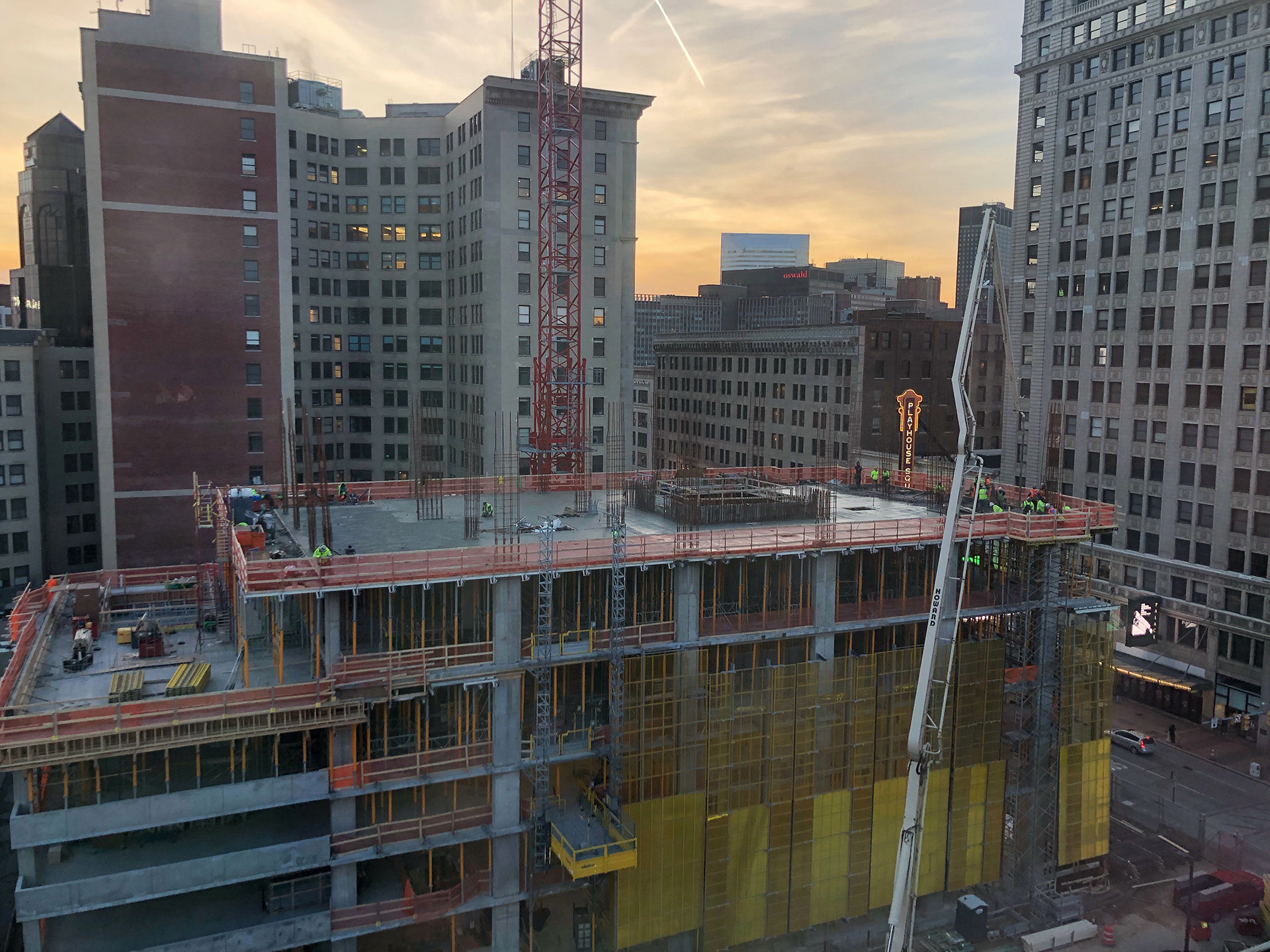 Destined to become an icon of the Cleveland skyline, The Lumen will add to the distinct identity of the Playhouse Square District in 2020. Donley's Concrete Group started its work for Gilbane Building Company on The Lumen project in the Fall of 2018. Situated on a one-acre site at the corner of Euclid Avenue and East 17th Street – replacing the parking lot across from the Connor Palace – the 34-story tower will host 318 apartments, 550 parking spaces and 22,000 square feet for resident amenities.
Our scope of the project included:
36 story structural concrete post-tensioned decks
5 story garage under and next to the main tower
10,000 to 11,000 square foot "typical" decks
structural mat foundation 5′ to 8′ thick
32,000 cubic yards of concrete
2,600 tons of rebar
270 tons of post tension cables
Below is a time lapse from the first pour. Click Here to view more time lapses of this project.
Dealer Tire's new Headquarters Parking Deck project in the Midtown area of Cleveland kicked off in the Summer of 2016 and was completed in March 2017. Donley's completed the 650-car parking deck that will be part of the company's relocation.
Working with the owner and Engineer, we devised a restoration plan to add another 15 to 20 years of serviceable life to the structure for ¼ of the cost to replace it. Donley's Restoration Group worked with construction engineers, Barber & Hoffman, to provide:
▪Full and partial slab repair
▪Full joist replacement
▪Beam and column repair
▪Curb removal
▪Membrane removal and new membrane application
▪Drain replacement
▪Supplemental reinforcing steel
▪Full deck replacement
▪Construction of a new ramp reaching the top floor
Project Duration: 15 months
Encompassing an entire city block, the parking deck is located on the southeast corner of the Cleveland Clinic's Main Campus. With the development of the Opportunity Corridor along East 105th Street, the parking deck serves as an icon and introduction to the campus at its southern portal.
The façade of the deck utilizes a combination of concrete guard and vehicular crash rails, upturned beams, storefront glazing, and grilles to express its architectural form. An expansive elevator lobby to house four elevators and stairs is located on the northwest corner of the building and will be clad in glass curtainwall. A stair tower clad in glass curtainwall will be located at each of the remaining three corners of the parking deck.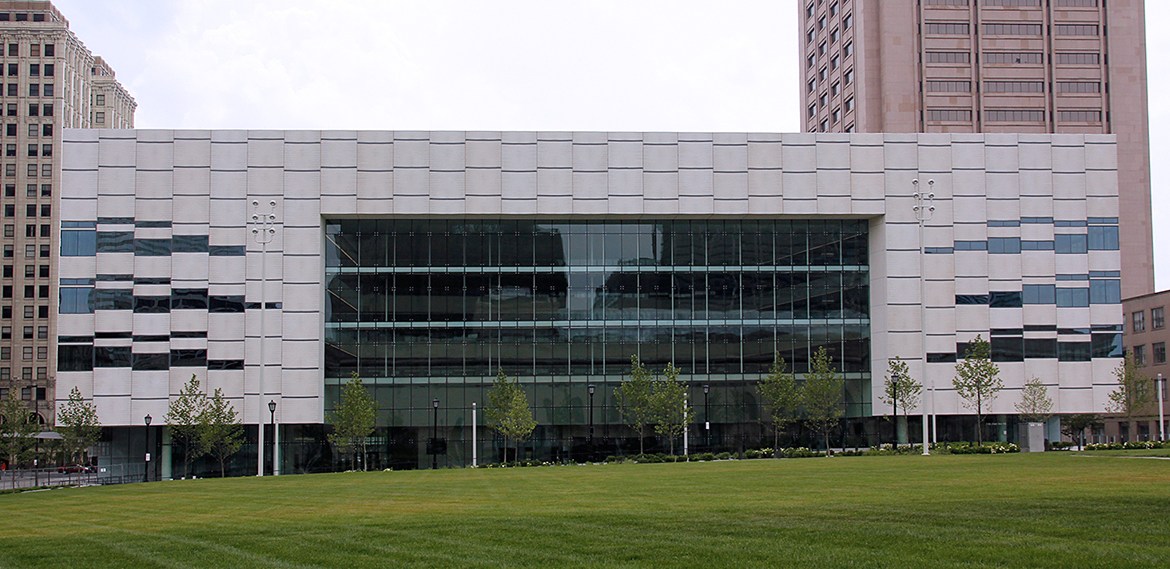 The Global Center for Health Innovation & Convention Center project is the first of its kind to integrate the convenience of a modern convention center in a downtown urban setting with a state-of-the-art facility designed to showcase new technical medical equipment that can be purchased by medical convention attendees.
The 375,000 sq. ft. Global Center for Health Innovation & Convention Center houses 120,000 sq. ft. of medical showrooms, an 11,000 sq. ft. junior ballroom, and meeting rooms. The newly configured 270,000 sq. ft. convention center was constructed on the former convention center site and features 225,000 sq. ft. of Class A exhibit space housed under the existing mall, as well as 35 meeting rooms, an expansive truck loading dock, and a 32,000 sq. ft. grand ballroom.
Total turnkey concrete construction encompassed:
42,500 cubic yards of concrete
2,500 tons of reinforcing steel
44,500 tons of aggregate fill
Donley's scope of work included:
2 new mat foundations totaling 65,000 sq. ft. supporting the new medical mart facility
1,300+ linear feet of 35 ft. tall x 3 ft. thick perimeter foundation walls and interior shear walls
83,000 sq. ft. of elevated decks including traditional beam and slab decks
a pan joist structural deck with 15 ft. wide post-tensioned beams
This project is LEED registered.