Donley's CM team and Donley's Concrete Group in Virginia are celebrating multiple project wins!
The UVA Musculoskeletal Center project is a $7.1M contract for Whiting-Turner. This project marks the largest concrete project in VA since we launched concrete services in 2016. It includes the new UVA facility plus enabling work for a precast parking deck. This is a big wall job—there is almost a mile of various types of walls on this project. In addition, this project marks our first job with Whiting-Turner since the Cleveland Clinic Heart Center over a decade ago.
The 2525 Project for Purcell Construction in Richmond is a $5.9M contract. This project includes a structural concrete multi-level parking garage and podium supporting 4 levels of slab-on-metal deck (Epicore Deck). This is our first project with Purcell Construction.
The Donley's CM team was awarded the 27,000 sq. ft. Cole Eye Primary Care Expansion at the Cleveland Clinic Westlake Family Health Center!
Congrats to all those involved! We are very excited to get our start on these projects!
The Health Education Campus project team's presentation was named in the top five presentations at the Lean Construction Institute Conference. The presentation "Delivering the future of health education on time, on budget, with the highest quality using lean tools" included John Berkebile and John Clark from Donley's, along with representatives from the Cleveland Clinic, Turner Construction, and DLR Group.
Over the weekend, Donley's Northeast Ohio Concrete Group worked through the night on the first (of two) mat placement pours at the Playhouse Square The Lumen Project in Cleveland, Ohio.  Thank you to all those who were a part of this 18.5 hour pour. Your dedication and hard work are the reason this pour was a success! Keep up the great work!
Fun Facts The Pour Was Serviced From 3 Separate Ready-Mix Plants.
4 Active Pump Trucks With 1 Stand-By Pump Were Utilized.
52 Concrete Trucks Were Used, Running Round Trips To Maintain The Pace Of Installation.
Placement Lasted 10.5 Hours (2:00 A.M. To 12:30 P.M.), With The Final Finishing Lasting An Additional 8 Hours (12:30 P.M. To 8:30 P.M.). Total Duration Of The Pour Lasted 18.5 Hours!
Average Placement Of 408 CY/Hour. Peak Placement Hours Surpassed 700 CY/Hour.

Donley's Concrete Group (DCG) recently submitted a project to the Associated Builders and Contractors, INC (ABC) Excellence in Construction (EIC) awards program. This award program is the industry's premier competition, with hundreds of projects vying to be named the best in North Carolina in up to 50 categories. Of the 69 projects submitted for judging in this year's ABC Carolinas Chapter EIC Awards Program, DCG will receive a Merit Award for The Dillon project.
The ABC EIC award application requires detailed descriptions of the project's scope, a narrative of the construction process, and discussing challenges and how they were overcome. These in-depth descriptions present to the judges why The Dillon ranks on top, which also challenges our team to take a more comprehensive look at the project and the story it conveys to the community.

The Dillon Supply project is the first mixed-use development of its kind in downtown Raleigh's rapidly expanding, vibrant Warehouse District. Completed in January 2018, the project included an 18-story office tower with retail space and two six-story apartment buildings with an adjoining parking deck. This structure reuses and preserves parts of the original Dillon Supply warehouse building, a 100-year-old Raleigh company. Donley's provided turnkey concrete construction services on the project to Barnhill Contracting Company and Theys Construction Company.
The ABC award application requires detailed descriptions over-viewing the scope of the overall project, a narrative that tells the story, presents to the judges why The Dillon ranks on top, along with a look into some challenges and solutions that occurred during the construction process. It is also important that the application remains creative but does not take any attention away from the overall project.
"Through the rigorous quality control and schedule management, The Dillon Project was completed several weeks early."
Click Here to view The Dillon award submission and learn more about why we feel this project represents Excellence In Construction.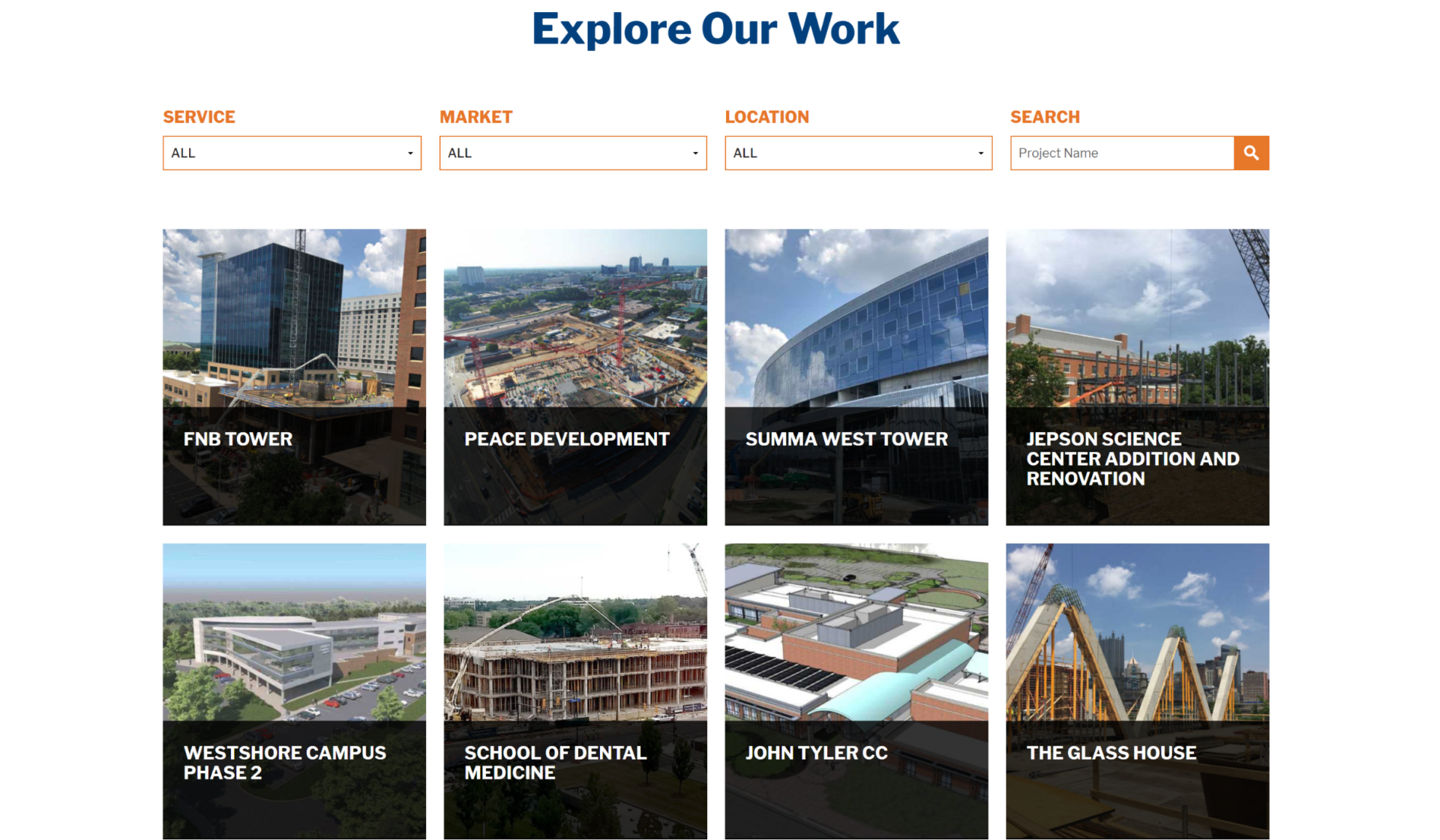 We are excited to announce the launch of the newly designed digital home for Donley's. The new website is designed to engage you in learning about our culture, history, projects, job opportunities, and news offerings as effortlessly as possible.
Our goal was to bring you a simple and modernized platform. With this, we think it better represents our genuine people, family culture and focus on delivering and sustaining our clients' vision. It is our hope that you will immediately take advantage of everything the website has to offer including our compelling and interactive interface, upgraded navigation tabs, engaging numbers, stats and information, a careers section that can be translated to Spanish along with our easy to customize project gallery.
Thank you for visiting and we look forward to hearing from you soon.
Ohio University Heritage College of Osteopathic Medicine (OU HCOM)
The CM Group won the $50.7 million Ohio University Heritage College of Osteopathic Medicine (OU HCOM) project! The new building will be on the Athens, Ohio, campus. Our team previously completed a project for OU HCOM at South Pointe Hospital in Cleveland.
Fresenius Kabi Wilson Expansion
Last week, Donley's Concrete Group in Raleigh was awarded the $5.5 million Fresenius Kabi Wilson Expansion project with Gilbane Construction. The plant expansion is 350,000 sq. ft. on the pharmaceutical company's campus in Wilson, North Carolina.
Two staff members from the United Cerebral Palsy organization (UCP) visited Jeff Loyall, EVP of the Donley's-Turner Team, at the Cleveland Clinic / Case Western Reserve University Health Education Campus Project, to discuss and thank a few construction workers for taking the time to talk to one of their children that was outside the site. The UCP staff said that the conversation and visit was all the child talked about for the rest of that day.
After the Donley's-Turner team heard about this interaction, the HEC team collectively thought it would be a great experience for the child to visit the jobsite. Three construction workers on the HEC site, Jon Centofanti and Joe Principe, Carpenters for Giorgi Interiors, and Anthony Nail, Carpenter for OCP, took the child for a tour. Anthony Nail gave him shirts from the Carpenters Union and Donley's outfitted him in a Donley's-Turner hard hat, hi-vis vest and safety glasses.
UCP and the child's mother were overwhelmed with the genuine kindness from the construction trades and the unique opportunity this child was given to get out and explore the project site. This visit helps remind us that random acts of kindness can go far and mean so much, like it did to this child and his family.
"They gave us more than a percentage, they gave us a dream" – Ariane Kirkpatrick, Owner of AKA Waterproofing, on Donley's vital role in the company's growth.
A few years ago, Donley's Restoration Group and AKA formed a waterproofing joint venture which enabled AKA to expand its business operation. This opened the door for AKA to qualify for a full-range of construction projects within the industry. Last week, AKA Team, a minority, woman-owned business, announced that it had purchased the joint venture outright. We are so glad to have been a part of AKA's growth and look forward to many partnerships in the future.
If your health care provider believes a prescription opioid such as hydrocodone, oxycodone or codeine is the most effective way to manage your pain, it's important to understand that these medications are highly addictive. In 2015, overdose deaths from prescription opioids killed more than 20,000 people in the U.S. alone.
As you should with any new medication, if your health care provider wants to prescribe an opioid, it's important to ask questions before you get it filled.
QUESTIONS YOU SHOULD ASK:
Why do I need this medication? Ask if there are non-opioid options you could take instead.
What if I have a history of addiction? Make sure your health care provider knows if you have had issues with drugs or alcohol and if you have a history of smoking. This could change your treatment plan.
How long should I take this medication? Ask for the lowest effective dose in the smallest quantity so you don't have leftover medication.
How can I reduce the risk of side effects? Take your medication as prescribed and make sure you are aware of potential side effects such as excessive sleepiness or craving more of the medication. Alert your health care provider immediately if you experience them.
What if I am taking other medications? You can reduce your risk for dangerous interactions by making sure your health care provider is aware of all the prescription and over-the-counter medications and supplements you take.
Write your questions down ahead of time and write down necessary information during your visit. If you think of something else after your appointment is over, don't be afraid to call back. Most medical offices have staff on hand who can help if your health care provider is not available and you need answers right away. Your pharmacist can also be a valuable resource.
Don't assume your health care provider will automatically tell you everything you should know about an opioid medication or any other treatment. Not asking questions can have serious consequences on your health and your life.
USE OF OPIOID MEDICATION
Where should I keep my opioid medication? If you have children at home, including teenagers, store it where it cannot be seen or reached.
What if I have unused opioid medication? Don't keep it. Leftover opioids can be found and used by others. Ask your pharmacist how best to dispose of leftover medication – the answer may depend on the specific medication. Further information on safe drug disposal is available from the Food and Drug Administration at www.fda.gov/Drugs/ResourcesForYou/Consumers.
Should I have naloxone in my house? Naloxone can reverse the effects of an opioid overdose. Naloxone is available over-the-counter in many states and in all of Canada. Your health care provider can also prescribe naloxone if you want it in your home and live in a place where a prescription is required.
Information taken from material originally written by Janet Lubman Rathner of the Laborers' Health & Safety Fund of North America