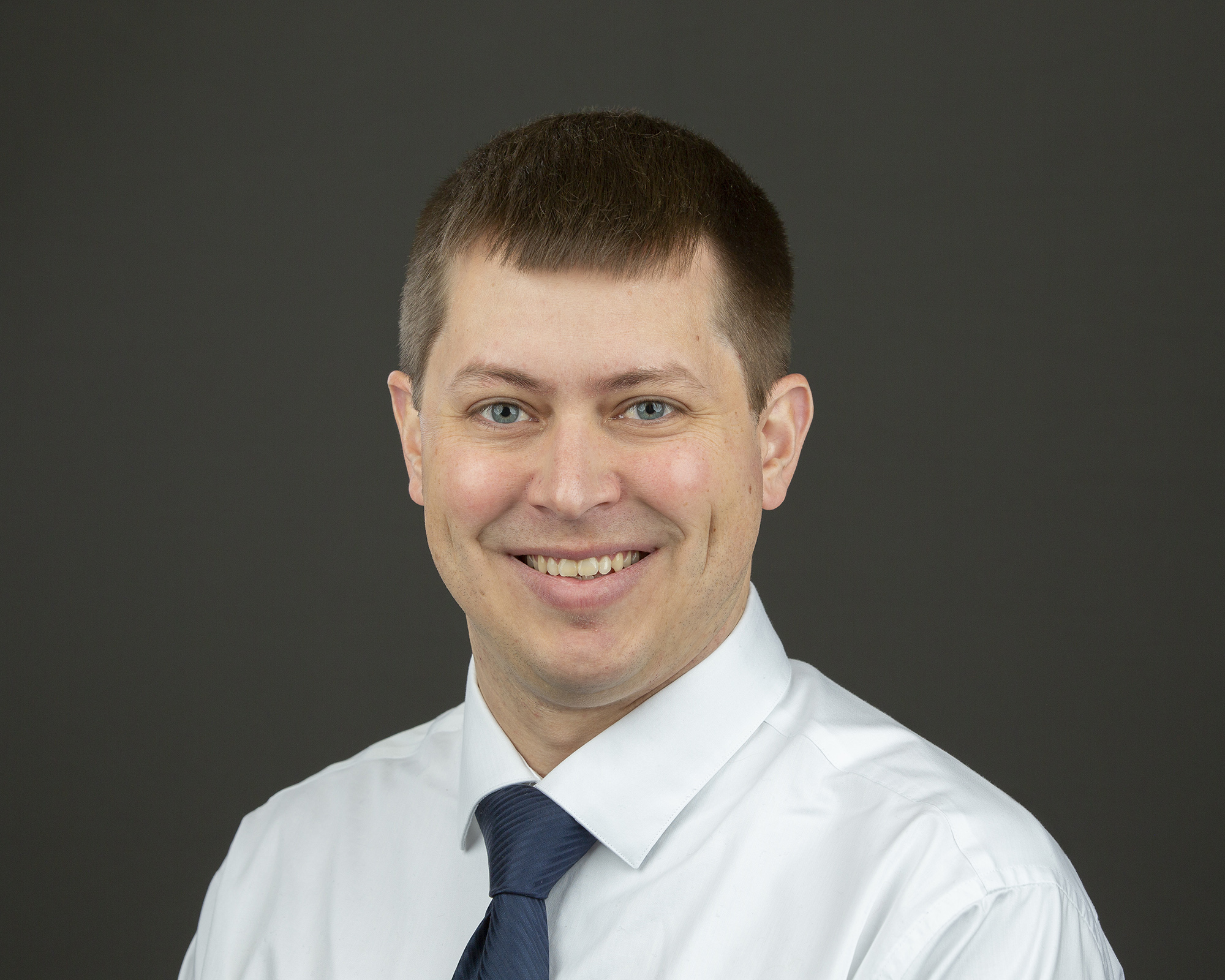 We are pleased to announce the promotion of three of our employees, John March to Project Executive of the Columbus Hilton Hotel project, James Nadzam to Project Manager, and Mason Ruby to Superintendent. Here is some background information on them!
John Marchi: John graduated from the University of Akron with a Bachelor of Science in Civil Engineering in 2009 and joined Donley's in 2010 as an Estimator. John has a great deal of experience collaborating with clients and helping lead in the successful delivery of some of Donley's most significant projects. He recently worked on The Hilton Cleveland Downtown and The Lumen at Playhouse Square.
---
James Nadzam: James participated in a co-op program with Donley's NEO concrete team in 2015 and officially joined the firm in 2017 as a Project Engineer. James graduated from Bowling Green State University with a Bachelor of Science in Construction Management Technology. Some of his recent projects include the Lumen at Cleveland's Playhouse Square and the MetroHealth Parking Garage at their main campus.  
---
Mason Ruby: Mason graduated from Kent State University with a Bachelor of Science in Construction Management in 2016. He participated in a co-op program with Donley's NEO concrete team in 2016 and was hired on full-time as a Project Engineer in early 2017. Most recently, Mason has worked on the Lumen project at Cleveland's Playhouse Square and the Connection at Southside project in Pittsburgh.
At the FNB job site in Raleigh, NC, Donley's crew member, Emersson Molina, and a team saved a window washer when they noticed, on a building adjacent to the site, the widow washer slipped off his chair and was dangling from his harness. Molina contacted The Choate Construction crane operator who was able to swing the crane around to the dangling washer, hooking it onto his harness. From there they brought the man down to safety. Emersson and the crane operator were honored by Choate at a safety stand down.
DCG Raleigh was awarded a $2 million in concrete services for a pharmaceutical manufacturing facility with BE&K in Holly Springs, NC (just five miles from our new office). In 2005 and 2006, Blair Concrete completed four of the five original facility structures (Novartis). The owner's rep was there in 2005 and they are excited to have us back for our start this December.
DCG Virginia was recently awarded the $9.3 million Garrett Street Mixed Use Office Building Project (aka Apex Clean Energy Building) for Whiting-Turner. Since expanding our concrete services in Virginia, this has been the largest concrete project won.
This project is located in Charlottesville, VA. It will consist of three frames levels of  parking/podium 11 levels of concrete cores surrounded by heavy timber framing. It will have 40,000 sq. ft. of slab on grade and 165,000 sq. ft. of structural slab. The project will most likely start around April/May 2019.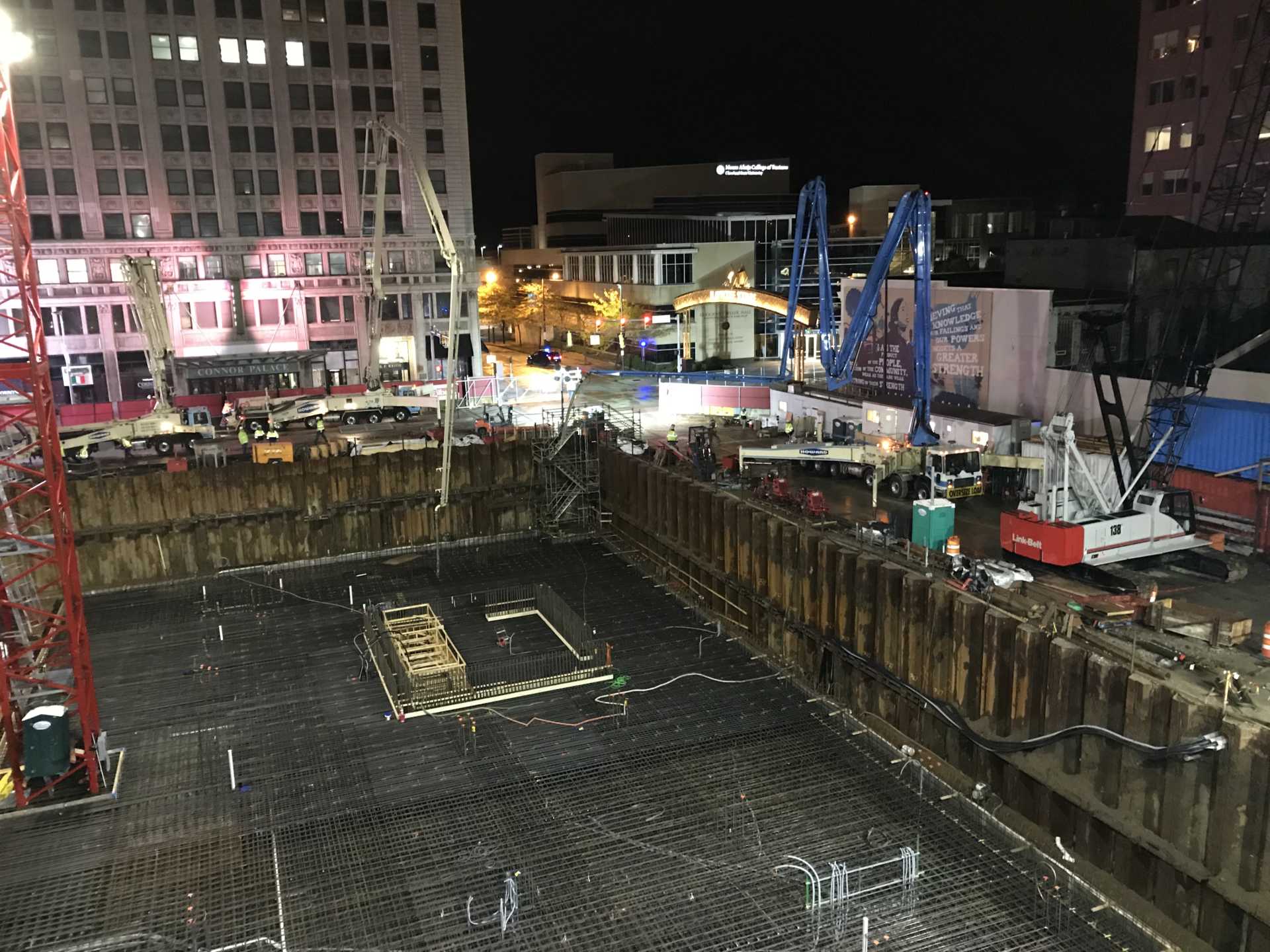 Over the weekend, Donley's Northeast Ohio Concrete Group worked through the night on the first (of two) mat placement pours at the Playhouse Square The Lumen Project in Cleveland, Ohio.  Thank you to all those who were a part of this 18.5 hour pour. Your dedication and hard work are the reason this pour was a success! Keep up the great work!
Fun Facts The Pour Was Serviced From 3 Separate Ready-Mix Plants.
4 Active Pump Trucks With 1 Stand-By Pump Were Utilized.
52 Concrete Trucks Were Used, Running Round Trips To Maintain The Pace Of Installation.
Placement Lasted 10.5 Hours (2:00 A.M. To 12:30 P.M.), With The Final Finishing Lasting An Additional 8 Hours (12:30 P.M. To 8:30 P.M.). Total Duration Of The Pour Lasted 18.5 Hours!
Average Placement Of 408 CY/Hour. Peak Placement Hours Surpassed 700 CY/Hour.
Donley's Concrete Group (DCG) recently submitted a project to the Associated Builders and Contractors, INC (ABC) Excellence in Construction (EIC) awards program. This award program is the industry's premier competition, with hundreds of projects vying to be named the best in North Carolina in up to 50 categories. Of the 69 projects submitted for judging in this year's ABC Carolinas Chapter EIC Awards Program, DCG will receive a Merit Award for The Dillon project.
The ABC EIC award application requires detailed descriptions of the project's scope, a narrative of the construction process, and discussing challenges and how they were overcome. These in-depth descriptions present to the judges why The Dillon ranks on top, which also challenges our team to take a more comprehensive look at the project and the story it conveys to the community.
The Dillon Supply project is the first mixed-use development of its kind in downtown Raleigh's rapidly expanding, vibrant Warehouse District. Completed in January 2018, the project included an 18-story office tower with retail space and two six-story apartment buildings with an adjoining parking deck. This structure reuses and preserves parts of the original Dillon Supply warehouse building, a 100-year-old Raleigh company. Donley's provided turnkey concrete construction services on the project to Barnhill Contracting Company and Theys Construction Company.
The ABC award application requires detailed descriptions over-viewing the scope of the overall project, a narrative that tells the story, presents to the judges why The Dillon ranks on top, along with a look into some challenges and solutions that occurred during the construction process. It is also important that the application remains creative but does not take any attention away from the overall project.
"Through the rigorous quality control and schedule management, The Dillon Project was completed several weeks early."
Click Here to view The Dillon award submission and learn more about why we feel this project represents Excellence In Construction.
BEHAVIORIAL STANDARD:
Mutual understanding is essential in the construction environment. Elevated work, heavy equipment and ever changing environments are just part of the construction environment. The ability to most effectively communicate to co-workers is a must. In order to ensure good messaging the responsibility for proper communication is primarily that of the originator or sender who must verify the receiver understands the message as intended. Each message that is directive in nature must use three-way communication and begins when:
The sender gets the attention of the intended receiver by using the person's name and speaks the message
The receiver repeats the message in a paraphrased form which helps the sender verify the receiver heard and understood the message
The sender acknowledges the receiver heard and understood the message.
When the receiver paraphrases the message inclusive of, specific equipment, precise intended actions, or information these are to be repeated back exactly as spoken.
The third leg of the communication is often the weakest link, since the sender is tempted to pay attention to the receiver's statement and assumes the person heard their message. This is a big assumption. If the receiver does not receive acknowledgement from the send, he/she should be assertive and ask the sender to complete the third leg. Feedback is necessary for verification of understanding of each spoken message.
WHEN TO USE THE TOOL:
Verbal Information that is directive in nature is exchanged between people via face-to-face, telephone or radio regarding one or more of the following:
Status of situation, equipment, structure, or components
Direction to perform actions
Work instructions
COMMUNICATION BEHAVIORS TO AVOID:
Using slang terms instead of specific or standard terms
Sender not taking responsibility for what is said and heard
Not stating his/her name and work location (sender or receiver) when using a telephone/radio
Receiver's name not used by the sender to get receiver's attention
Attempting to communicate with someone already engaged in another conversation
Failing to verify receiver accepted and understood the message
Message not stated clearly (such as not loud enough or poor enunciation)
Receiver not verifying understanding with sender, reluctance to ask questions in group
Speaking from behind the person intended to receive the message
Receiver does not write down message if more than two items are to be remembered
Conflict between what is said (content of message) and the nonverbal cues of the sender
Beautiful day in Greenville for our first deck pour on the JHM Hotel project with our CM, BE&K Building Group.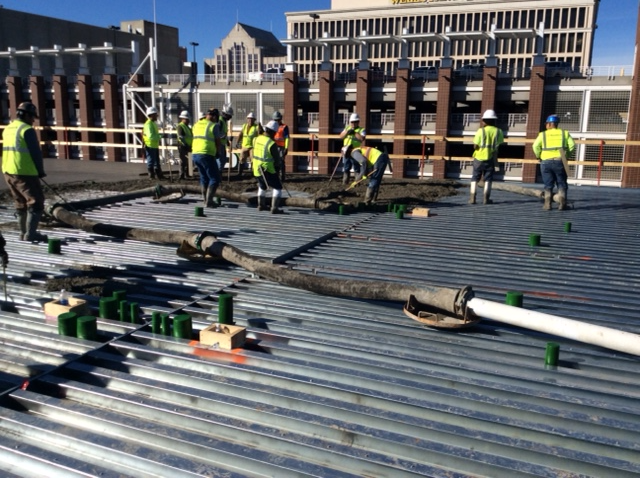 Over 80% of all workplace injury arises from worker behavior. We make mistakes, errors in judgment or simply do not have our full attention on the job and something happens. There is also a tendency to get so focused on getting the job done that we do not recognize the obvious.
A few years ago in the main shops there was an incident where a fairly new worker fell into a hole in the floor and required several stitches in his leg. The opening was well flagged off and the whole affair seemed a mystery. The post incident interview went something like this: So, you saw the caution tape? "Yes". And you
do understand what caution tape means? "Oh, yes." And you stepped over the caution tape and fell into the hole? "Yes, that is pretty much what happened." Either this guy was a complete moron or there was some other explanation.
On further questioning, it turned out that he was on the end of a tag line at the time. He was so focused on keeping the plate steady that the consequences of stepping over the caution tape did not register. At first this seemed unbelievable. However, some recent research on workplace injury confirmed that focused concentration on a task reduces the capacity to recognize obvious hazards. And a significant number of workplace injuries result from this kind of inattention.
This applies directly to vehicle operation such as forklifts or even pickup trucks. There is a felt sense of pressure to get something done, we are driving totally wrapped up in the job and do not even seen the person walking in the path of travel. Every year there are countless incidents like this.
Are there pressures and intense focus in our jobs? You bet. But it is how we deal with the pressure, how we handle the intense focus that is important. Now and again we have talked about the four second reset as a way of attuning ourselves to the hazards around us. Sometimes all it takes is a big breath when we sit behind the wheel of a vehicle. In truth, it is some conscious act of getting outside of the pressure or job focus that prevents this type of incident. How we do this is our individual preference or way of psychologically handling the job demands here.
There is an old story about a man who is riding a very fast horse. As he gallops past a bystander the person shouts, "Where are you going in such a hurry?" The man answers, "I don't know. Ask the horse." The very same situation happens with many of us at work. We get caught up in the busy day. Direct the horse once in a while and you won't ride over one of your co-workers or fall into a hole.

Pre-Task Planning Basics:
Pre-task Planning (STA) is a great way to focus your team. The STA is a living document that helps everyone to focus on their tasks for the day. Here are a few things to keep in mind when using this tool:
Everyone has input
Done in your work area by individual crews
Identify your task for the day
Identify what hazards you see with those hazards no matter how trivial they may seem
Identify other trades working around you and ask the question "Can I safely work around them?"
Identify how to abate the hazards you identified by asking yourself "Do I have the right training,equipment and or material?"
If you job task changes then start over with the STA and ask yourself these simple questions
The piece of paper you are writing the information down on will not save your life, but the focus you are placing on your work will. We never know what we have prevented only what we didn't prevent.
The Charleston office has its first Tower Crane under DCG contract with AHP Construction, LLC. for the structural concrete package at 530 Meeting Street. It will be used for the podium deck and the construction of the building shell through the end of 2018.
Attitude, Behavior, and Control. A safe attitude means staying alert and focused on the job at hand. Safe behavior means taking safety guidelines and practices seriously. Control means taking responsibility and keeping your work area clean and orderly.
Safety is more than just following your company's guidelines or what OSHA says while you work. Safety is actually a combination of a safe attitude, behavior, and control both on and off the job. Attitude means your frame of mind and the way in which you approach a given situation. Behavior means what you do about it and how you react to a situation. Control refers to making your surroundings, where and what you do, safe. Safe attitude, behavior, and control add up to a safer more productive you.
Attitude
When it comes to safety, attitude isn't exactly everything, but it's darn close. A safe attitude means staying alert and focused on the job a hand, taking safety guidelines and practices seriously, never horsing around on the job, and not letting emotions like anger and frustration get in the way of job performance.
Behavior
How you react to a situation is an important part of being safe. Following established safety guidelines and procedures, refusing to take "shortcuts," using personal protective equipment, asking questions when you need more information and the task at hand are all safe behaviors. Safe behavior also means helping friends, coworkers, and family members understand the importance of safe practices and work, home or play.
Control
Control means taking responsibility for making your work site, home, or recreational facility a safe place. You can help keep your surroundings safe from potential hazards by keeping them clean and orderly. Keep machines in good repair, clean up spills and debris (or report them to the appropriate person), and make sure that walkways are free from obstacles. Store chemicals properly (both at home and on the job) and never switch containers. At work, be sure to report faulty equipment ventilation, or any potential hazards to your supervisor.
ABC'S – EASY AS 1-2-3
Attitude, behavior, and control are the three most important (and perhaps the simplest) aspects of personal safety both on and off the job. Take a moment to review your safety ABC's to see if you're doing all you can to protect yourself, your coworkers, and your loves ones from careless, needless, injury.