Donley's, started in 1941, is celebrating its 80th anniversary this year. To help commemorate this important anniversary, we threw a party at our newly renovated Cleveland office.
The party, with over 100 attendees, was a clambake and barbecue held on our brand-new patio and outdoor area. We had a game area featuring custom Donley's cornhole boards and a giant Jenga game for guest to enjoy. We ate delicious appetizers, clams, and brisket.
Throughout the night, we shared conversation while sipping on our specially made Donley's beer for the celebration. Some of our very own staff brewed and bottled Donley's beer for the occasion. The beers were named "Donley's Post Tension Ale" and "Donley's Farm 1916 Oktoberfest." Pictured below is the brewing of our beers and the final product at the anniversary party.
At the celebration, we honored Dave Bednar (pictured far left) with a special video from all of his co-workers. Dave is retiring this year after working with Donley's for 36 years. We also honored our CEO, Mac Donley (pictured right), with a video of his employees and his family thanking him and congratulating him on his 40 years with Donley's.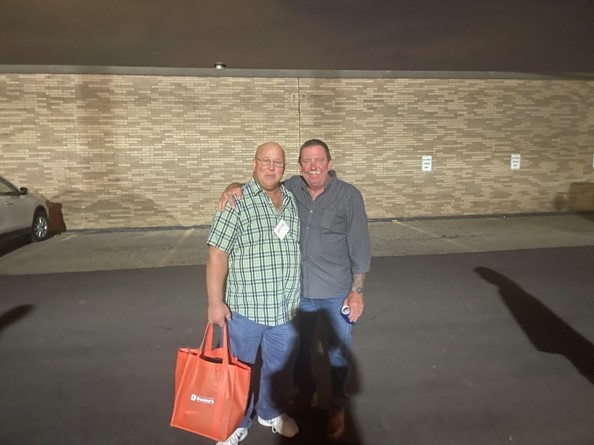 We had a great time gathering with familiar faces and celebrating 80 years together. Thank you to everyone throughout our amazing 80 years who has supported us and worked with us to make this all possible.
We are excited to continue growing.
Happy 80th Anniversary Donley's!
Friday, February 14, 1941, started out as a normal day for Bill and Philip Donley. They were lathing a house near Harvard Avenue and Lee Road for Donley Brothers Co. But after lunch, the brothers would make history.
As the story goes, their father, Ernest F. Donley, lent them and their brother Don $25,000 to purchase the construction division of Donley Brothers.
The United States was gearing up for World War II and Donley Brothers won some defense contracts, causing the need to expand. This gave Ernest's three sons a chance to buy the construction division from their uncles. 
"After lunch it came time to go sign the papers," Bill recalls. "We went to an office—a bank or lawyer. Then it was back to work." 
The new company was incorporated as Ernest F. Donley's Sons and has evolved over the last 80 years to our company today. Known as Donley's now, we are proud to still be a successful concrete business.
We now have multiple locations across the country and continue to provide exceptional work in various states. Thank you to everyone who has been a part of our last 80 incredible years. 
Happy 80th Anniversary, Donley's!
Check out our blog for more Donley's news updates.