The floor tolerances for this Merck Pharmaceutical manufacturing facility were specified at Ff60 Fl40. The Donley's Concrete Group finishing team exceeded the specified slab tolerance and ended up with Ff 78 Fl 47.
The structure houses the main switchgear for the entire Merck facility. The high tolerance floors were installed to allow massive transformers to be replaced with an air pallet system that utilizes a cushion of air to lift and float the transformers across the floor to the desired location.
The concrete construction for the Ajinomoto expansion, the pharmaceutical manufacturer, consisted of deep foundations, spread footings with piers, cast-in-place walls, stem walls, and curbs. The main structure was a heavy structural steel building, supporting a 10″ slab on metal deck. The structure was solid enough to allow the construction of two floor to ceiling 18′ high x 2′ thick blast walls on the second and third levels.
DCG also completed extensive concrete paving around the site for the new dryer structure. We carried the masonry block and complete reinforcing steel package for the building in our concrete scope of work. Ajinomoto manufactures amino acid for several different food manufacturers and applications.
Value: $1.2M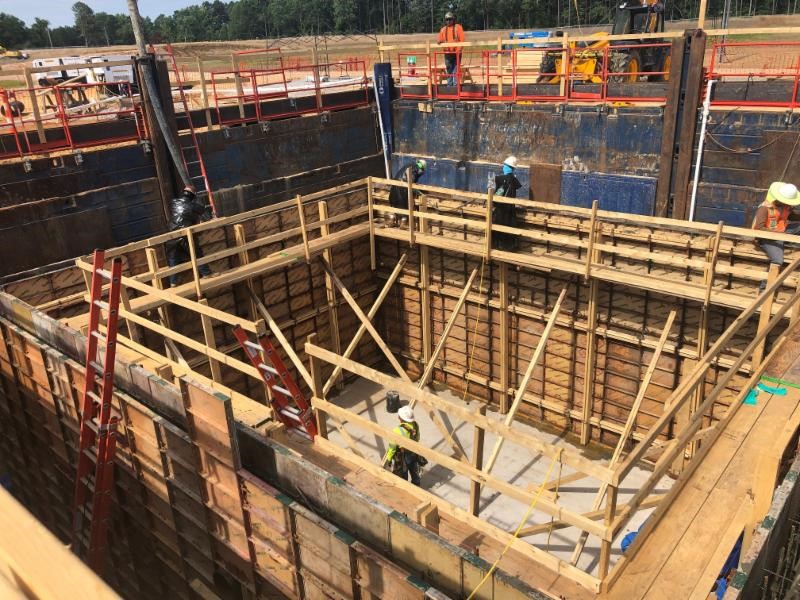 The Fresenius Kabi drug manufacturing facility consists of over 400,000 square feet of foundations, walls, slab-on-grade, and elevated slabs. It also includes a high bay storage unit that houses extensive racking / storage and an automated selection system. The floor slabs in this area required a very high tolerance to accommodate the automated selection system. The high bay area was completed in three separate placements, with a total of 2,300 cubic yards of concrete to create the 30" thick mat slab. All other floor slabs in the facility had a tolerance of Ff50 / Fl30. Donley's team has exceeded all specified floor tolerances on this project.
Donley's construction and safety team created a site specific safety plan that allowed this work to be completed on schedule and in a safe manner. Our team placed 17,880 cubic yards of concrete and over 511 tons of reinforcing steel to complete Fresenius Kabi.
The cast-in-place concrete for this pharmaceutical company's (NOVO Nordisk)  wastewater treatment facility includes 17′ high cast-in-place radius walls for the bio-reactor digesters and clarifiers.
The bio-reactor cast-in-place 30′ slabs required over 30 placements with an extensive water stop detail at each construction joint. The walls for the bio-reactor were also limited to a maximum 30′ pour break along with water stops at each joint.
Over 30% of the cast-in-place walls were topped with a cast-in-place walkway and work platform. These platforms were completed with a wall-mount flying table system. As a part of Gannet Fleming's team, Donley's placed 8,000 cubic yards of concrete and 750 tons of reinforcing steel to create this state-of-the-art NOVO Nordisk wastewater treatment facility.