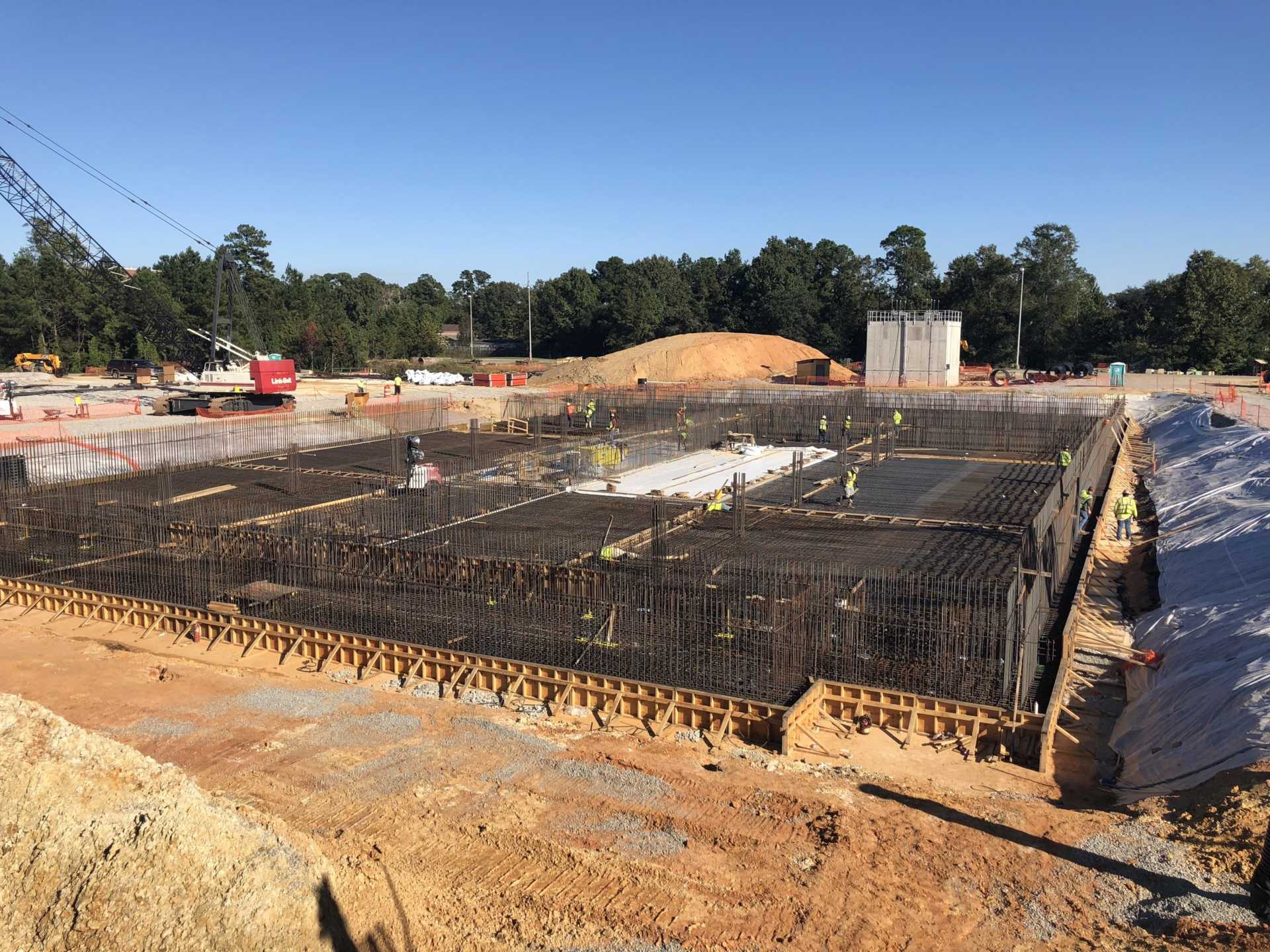 The Hanahan Water Treatment Plant currently provides clean drinking water for about 400,000 area residents in Charleston, NC. Donley's Concrete Group is providing form-work labor and concrete placement to PC Construction (GC) and Charleston Water System (Owner) for construction of the Sedimentation Basins 9& 11 and the Settled Water Effluent Flume.
The project consists of 37,000 SF 2.5' thick mat foundations, 10,500 SF of framed slabs and 2,400 LF of 20' tall walls. The concrete and all materials must be placed in strict accordance with NSF 61 requirements governing the construction of drinking/potable water structures adding a level of technical complexity for the team. These new structures are part of a $42 million modernization project to the 100 year old Hanahan Water Treatment Plant which can treat over 100 million gallons of water per day serving customers throughout the greater Charleston area. Donley's started the project in October 2018 and is projected to finish in March 2019.
This project included the addition of a wastewater treatment facility to an existing 2,390 mega watt coal fired generating facility which is owned and operated by Santee Cooper. The new facility enables the plant to treat coal ash water to meet more stringent EPA regulations.
Donley's Concrete Group scope included the following which totaled nearly 33,000 cubic yards of concrete placed on the project.
–36″ thick matt slabs and foundations
—–Cast in place pits placed within sheeting / shoring and slide rail boxes up to 16 feet deep
–Slab on grade, sloping clarifier slabs
–26 foot high push walls
–Piers, columns, and beams
–Stem walls and curbs, with trench drains and embedded angle
–Massive tank and pump pads which included anchor bolts up to 3.5" in diameter and set to a tolerance of 1/32 of an inch
–Topping slabs and trench infill for over two dozen separate structures
In January 2017, working with Choate Construction / Raleigh as construction manager, DCG finished the Sanderson Farms processing plant and wastewater treatment facility in St.Pauls, N.C. The $8M contract included a turnkey concrete package, consisting of large spread footings, grade beams, pits and trenches for the processing facility, 285,000 sq. ft. of slab on grade and elevated slabs, including 400,000 sq. ft. of exterior concrete paving. The project had 21,000 cubic yards of concrete placed out of an onsite concrete batch plant. Donley's Concrete Group's portion of the project was completed in 11 months and is DCG's second processing facility for Sanderson Farms.
Donley's has been awarded the Spirit AeroSystems Tool Expansion in North Carolina.  The facility manufactures miscellaneous parts for the aeronautical community.
The scope of work for the project includes:
turnkey concrete construction
pile caps
grade beams
tie beams
loading docks
stone base
high floor tolerance slab on grade, including misc. site concrete
"BMCD and Spirit are also very thankful the goal was met and was done safely even in the inclement weather.  Donley's continued working through the rain which was acknowledged by Spirit in addition to our team.  The efforts are very much appreciated and BMCD and Spirit look forward to working with Donley's team in the future."
Donley's Concrete Group served as concrete contractor to DPR Construction on a facility expansion project for Cree, Inc. located in Durham, North Carolina.
Cree, Inc. is a market-leading innovator of lighting-class LED's, LED Lighting, and semiconductor solutions for wireless and power applications.
Donley's scope of work included:
light demolition of existing mud slabs
installation of typical pier foundations, wall footings, and retaining walls
slab-on-grade consisting of 90,000 sq. ft. of 14″ thick mat slab
80,000 sq. ft. of cast-in-place elevated flat plate decks
80,000 sq. ft. of elevated composite decks on structural steel
Syngenta Biotechnology's Growth Environment 1 is a 130,000 sq. ft. testing facility for soil and plants. The building includes a 41,000 sq. ft. insulated glass greenhouse constructed above a 64,000 sq. ft. cast-in-place basement.
Performing turnkey concrete construction services, Donley's Concrete Group excavated the heavy foundations and placed the pile caps, columns, shear walls, and 2 ft. thick cast-in-place pan deck. All placements of the elevated decks were made by hand-screeding and non-mechanical methods in order to accommodate the required tolerance of Ff 50.