Donley's is currently working for DiMarco Constructors on this new six-story 510 East Pettigrew Apartments building project in Durham.  When complete, the building will include 240 apartments and a 114,000-square-foot parking garage with room for 480 parking spaces.  The 2-acre parcel of land is near several other apartment projects and is within walking distance of the downtown core and the Durham Bulls Athletic Park.
Donley's Concrete Group, LLC was awarded the Durham Police Headquarters Complex, a $1.85M project with LeChase Construction Services, located in Durham, NC. The project consists of two separate structures, one being the headquarters
itself and the other a precast parking deck.  In the winter of 2016 Donley's began construction, the scope of work consists of 60,000 sq. ft. of foundations for the complex, slab on grade, and 90,000 sq. ft. of slab on metal deck.  Donley's Concrete Group is completing the metal deck pours and will finish the Durham Police Headquarters Complex with slab on grade pours to complete the project by the end of summer 2017.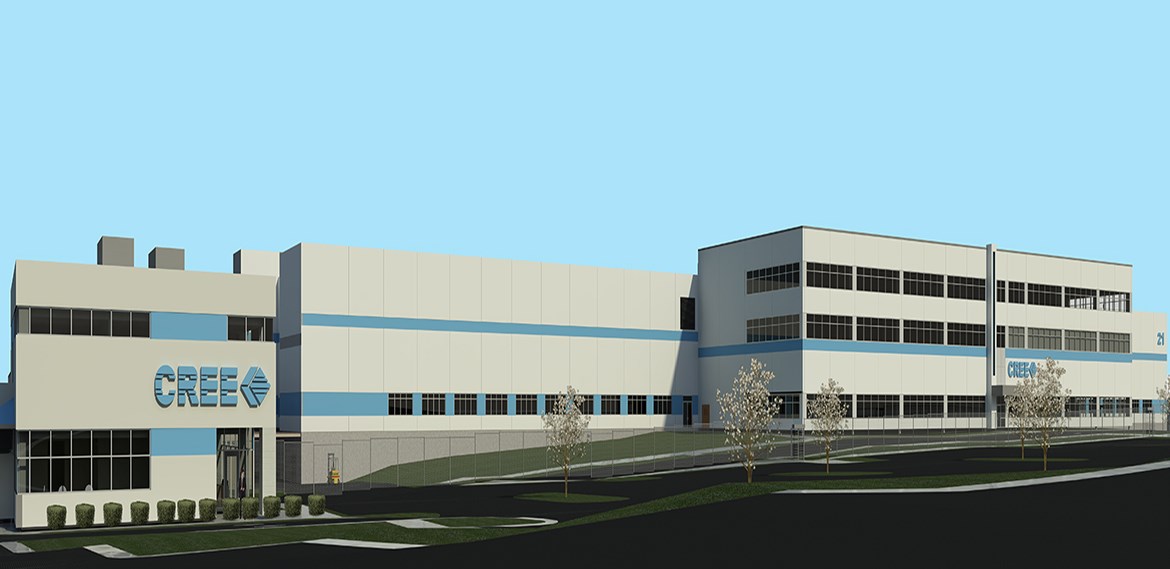 Donley's Concrete Group served as concrete contractor to DPR Construction on a facility expansion project for Cree, Inc. (Cree NCE Expansion), located in Durham, North Carolina.
Cree, Inc. is a market-leading innovator of lighting-class LED's, LED Lighting, and semiconductor solutions for wireless and power applications.
Donley's scope of work included:
light demolition of existing mud slabs
installation of typical pier foundations, wall footings, and retaining walls
slab-on-grade consisting of 90,000 sq. ft. of 14″ thick mat slab
80,000 sq. ft. of cast-in-place elevated flat plate decks
80,000 sq. ft. of elevated composite decks on structural steel
The Duke Cameron Science Center parking deck would have been a very challenging project for any concrete contractor. Through rigorous pre-planning, scheduling and a lean concrete construction approach Donley's Concrete Group stepped up to the challenge and succeed. Walker Parking was the engineer of record for the project and their design created a very challenging structural concrete 2,000 car parking structure.
The schedule was a very tight, with many different trades overlapping each other. Donley's Concrete Group's work started below grade with the foundations in the summer 2015 and quickly transitioned into the main structure, going through the winter months into the spring of 2016.Donley's Concrete Groupdaily planning and first run study reviews became the key to the safety, scheduling and success of this project.
The finished product for the Duke Cameron Parking Garage met or exceeded plans and specifications. The underside of the concrete decking was a class A finish, tolerance not to exceed 1/8 of an inch. The top side concrete deck was a rough broom finish with a sloped floor tolerance that had to exceed plus or minus a fraction of inch per foot of sloped floor. The overall finish was accepted and approved by Walker Parking, the Engineer of record and Duke University the owner and completed three weeks ahead of schedule.
The Syngenta Biotechnology Growth Environment & Greenhouse is a 130,000 sq. ft. testing facility for soil and plants. The building includes a 41,000 sq. ft. insulated glass greenhouse constructed above a 64,000 sq. ft. cast-in-place basement.
Performing turnkey concrete construction services, Donley's Concrete Group excavated the heavy foundations and placed the pile caps, columns, shear walls, and 2 ft. thick cast-in-place pan deck. All placements of the elevated decks were made by hand-screeding and non-mechanical methods in order to accommodate the required tolerance of Ff 50.