Charleston South Carolina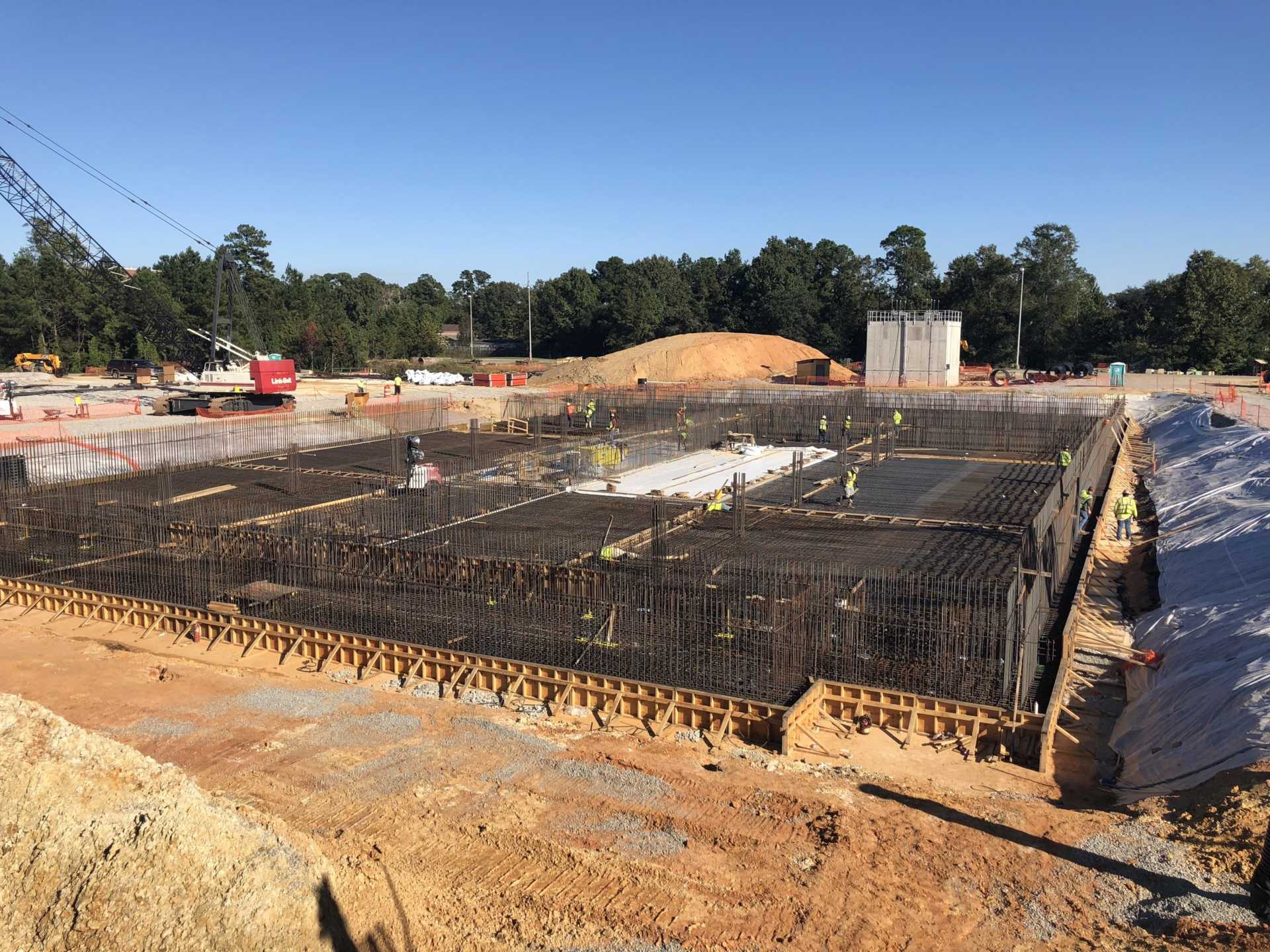 The Hanahan Water Treatment Plant currently provides clean drinking water for about 400,000 area residents in Charleston, NC. Donley's Concrete Group is providing form-work labor and concrete placement to PC Construction (GC) and Charleston Water System (Owner) for construction of the Sedimentation Basins 9& 11 and the Settled Water Effluent Flume.
The project consists of 37,000 SF 2.5' thick mat foundations, 10,500 SF of framed slabs and 2,400 LF of 20' tall walls. The concrete and all materials must be placed in strict accordance with NSF 61 requirements governing the construction of drinking/potable water structures adding a level of technical complexity for the team. These new structures are part of a $42 million modernization project to the 100 year old Hanahan Water Treatment Plant which can treat over 100 million gallons of water per day serving customers throughout the greater Charleston area. Donley's started the project in October 2018 and is projected to finish in March 2019.
530 Meeting Street is an approximately 200,000 square foot mid-rise student oriented apartment project located in the Upper King district. The project will boast 5 levels of residences, onsite parking and over and 6,000 square feet of amenity space. Building amenities will include a large pool and courtyard, bike storage, state of the art gym and conference rooms.
DCG is providing cast in place concrete foundations, underground water detention vault, slab on grade and 1 level structural concrete podium.
Expected to be completed by May 2019.
DCG has recently been awarded a contract for the College of Charleston-Rita Hollings Science Center Build-Out. The project is an up-fit to the existing facility; with construction start in December 2015 and completion in May 2016.
Donley's Concrete Group scope of work includes:
new pile caps
grade beams
seismic beams over micro piles
slab on grade
elevated structural composite concrete decks
topping slabs in the existing facility
Donley's Concrete Group served as concrete contractor to Lend Lease on a three building expansion of Bishop Gadsden's retirement community in Charleston, South Carolina.  The new 4-story buildings will add 45 residential flats to the community.
Donley's scope of work included:
typical pile cap foundations
grade beams
retaining and shear walls
cast-in-place post-tensioned elevated decks supporting frame construction
The Quay is the latest addition to the Bishop Gadsden Episcopal Retirement Community, a thriving continuing care retirement community, which offers apartment and cottage living, assisted living and healthcare. Bishop Gadsden is located just 10 minutes from downtown Charleston. Nationally recognized for its architectural design and community service commitment, Bishop Gadsden offers the amenities, support and freedom to a community of more than 450 residents.