Articles by:
Kristyn Smith

We recently held our annual Donley's retiree luncheon. Many of our former employees that have retired over the years were able to come and attend the luncheon. It was held at our Cleveland office so that retirees were able to see how much things have changed over the years and visit with former co-workers as well. It is always great to see smiling familiar faces! Pictured below are some of the retirees with our current Donley's employees.
We had a slideshow showing our retirees recent and current projects that Donley's has been working on. The slideshow also introduced new retirees and remembered and honored those who have passed. The luncheon, with a Thanksgiving theme, was catered with delicious food and desserts for our retirees to enjoy. Our CEO, Mac Donley, spoke to the retirees about our growing company and shared how thankful he was to have them back at Donley's for the day.
Prior to leaving, retirees received a Donley's gift bag featuring our very own Donley's beer and a special 80th anniversary Donley's Carhartt jacket. It was our way of showing them how much they are appreciated.

Donley's, started in 1941, is celebrating its 80th anniversary this year. To help commemorate this important anniversary, we threw a party at our newly renovated Cleveland office.
The party, with over 100 attendees, was a clambake and barbecue held on our brand-new patio and outdoor area. We had a game area featuring custom Donley's cornhole boards and a giant Jenga game for guest to enjoy. We ate delicious appetizers, clams, and brisket.
Throughout the night, we shared conversation while sipping on our specially made Donley's beer for the celebration. Some of our very own staff brewed and bottled Donley's beer for the occasion. The beers were named "Donley's Post Tension Ale" and "Donley's Farm 1916 Oktoberfest." Pictured below is the brewing of our beers and the final product at the anniversary party.
At the celebration, we honored Dave Bednar (pictured far left) with a special video from all of his co-workers. Dave is retiring this year after working with Donley's for 36 years. We also honored our CEO, Mac Donley (pictured right), with a video of his employees and his family thanking him and congratulating him on his 40 years with Donley's.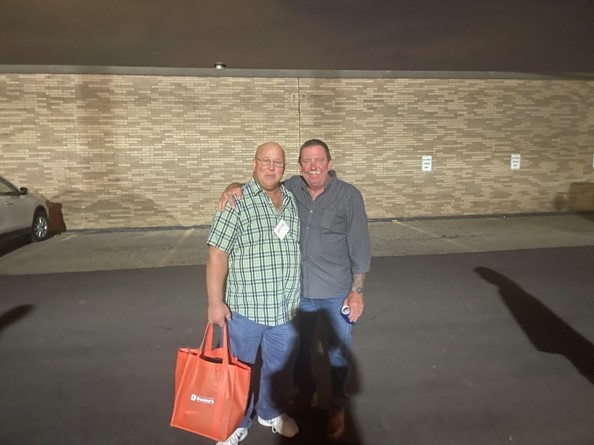 We had a great time gathering with familiar faces and celebrating 80 years together. Thank you to everyone throughout our amazing 80 years who has supported us and worked with us to make this all possible.
We are excited to continue growing.
Happy 80th Anniversary Donley's!
As Donley's celebrates National Intern Day, we wanted to share a profile of our summer 2021 co-op interns.
On July 29th, Donley's celebrated National Intern Day. It's a holiday that was created in 2017 by WayUp, a platform that connects early-career candidates to employers. National Intern Day recognizes the future leaders by "bringing attention to the challenges that entry-level candidates face in the workforce. National Intern Day is meant to show companies that investing in a diverse internship program is an investment in the future of their company," according to WayUp.
This summer, Donley's hired 11 interns across our Northeast Ohio, Southeast and Mid-Atlantic locations. Donley's has a wide variety of co-op opportunities available, including those in engineering, concrete management (concrete management majors= concrete operations intern) , marketing, human resources, information technology, accounting/finance, and legal/risk management. Let's meet some of our interns below.
Meet our Interns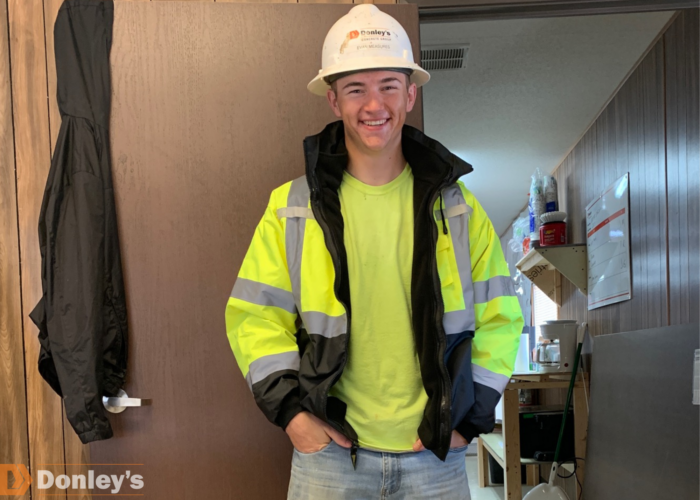 This is Evan Measures, a civil engineering major at West Virginia University. Evan is working on the Darden Inn project at the University of Virginia, which you can find more details on here (draft). He says that a skill he improved on the most is reading drawings and relating them to field work, inspections, and RFI requests. Evan's favorite part of the co-op is "working with the crews, the FE's, and the PE because I am learning a lot of skills for all sides of the job."


Pictured center we have Taeyon Coleman, a civil engineering major at Old Dominion University. He is working on the Scott's Addition project in Richmond. Taeyon says, "one thing I have learned is what goes into getting ready for a pour and all of the moving pieces, working on a common goal making sure everything is in place and ready for the concretes arrival." His favorite part of being a Donley's intern is, "the culture and the attitude. There is a family and friendly culture here and it seems like everyone also has the "let's go after it" mindset which makes the jobs fun and rewarding."

Next we have Zack Manti, who has been interning with Donley's IT department in Cleveland for almost 2 years. Zack is enrolled in Coursera, Google's online certification program. His current projects include imaging laptops, mobile device management, Verizon account management and helping with office renovations. Something he has learned is how to image (reset) a laptop clean so that someone else can use it for future use. Zack's favorite part of being a Donley's intern is, "my co-workers. They're always helping me with different projects and troubles that I'm working on."

This is Marisa Apelons, a marketing and public administration double major at Miami University of Ohio. She is a marketing intern at the Cleveland office and is responsible for creating the Donley's social media posts, among other tasks. She has learned how to "apply the marketing and business skills I learned in school to real-life situations." Marisa's favorite part of being an intern at Donley's is, "using my creativity to develop social media posts and produce other marketing content. It's interesting to see what types of content our followers enjoy engaging with."

Trey Stewart is a civil engineering major at Clemson University. He's working on the Morrison Yard Apartments project and the 40 Line Street project (draft). During his internship at Donley's, Trey has learned that "communicating clearly and efficiently is an important skill. Take the time upfront to present information as clearly as possible." His favorite part is getting to work with people of different backgrounds! From craft labor, to officemates, to owners and developers.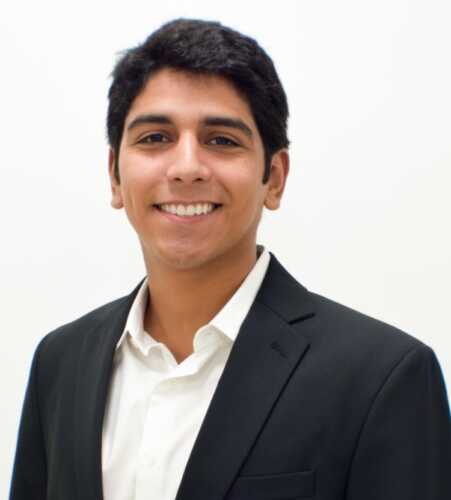 As a construction management major at East Carolina University, Erik Lujan is working on the 301 Hillsborough project and the Seaboard Station project. This his second internship with Donley's, and as a concrete operations intern he has learned the importance of punch list in the closing stages of a job site and how key it is to ending a job. Erik's favorite part of his co-op has been being able to help finish up 301 Hillsborough. "I think it is something great to learn and will definitely help me in the future," he says.

Cooper Ross is an IT intern, entering his senior year at DePaul University in Chicago. He is x year intern at Donley's, working at the Cleveland office. Cooper has learned how to "strategically problem solve and resolve any given technology related issue within a timely manner so that we can ensure all Donley's employees can be as productive as possible in doing their jobs." His favorite part of being a Donley's intern has been "getting the chance to be involved and hands-on with almost all facets and aspects of our department as well as other departments in the company."

Colby Polkabla attends Kent State University and studies construction management. He is currently working on the Waterford Bluffs project and at the Ahuja Medical Center in Cleveland. Colby's favorite part of his co-op experience is that "the people I've met have been fantastic. Everyone I've worked with is more than happy to share what they know and truly want me to gain as much knowledge as I can from this experience." He's learned how "dynamic the construction industry is. The job and it's plan change on a daily basis due to a variety of factors and being adaptable is a must have skill in this industry."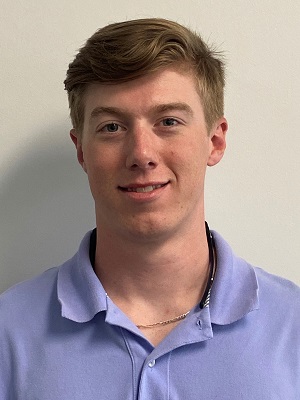 Austin Newman is a construction management major at East Carolina University. As a concrete operations intern, Austin works on the Seaboard Station project in Raleigh. He has learned the in and outs of the TITAN formwork system and how to calculate and check column heights in PlanGrid. Austin's favorite part of being an intern at Donley's is how friendly everyone is and how much they can teach you if you just ask questions.

Ruben Flores is an IT intern at the Raleigh office. He attends Campbell University and has learned the importance of having an updated and strong security, as well as gaining the knowledge to assist/fix various problems in regards to technology.
As Donley's celebrates its 80th year of providing concrete services, we wanted to share a few of our recent projects marking the growth in the Pennsylvania market.
The Assembly
Construction Manager: Turner Construction Company
Donley's recently completed its work for Turner Construction on The Assembly Project at 5051 Centre Avenue in Pittsburgh. The Assembly will pioneer Pittsburgh's newest high-tech developments in cancer biomedical research and commercialization, anchored by the University of Pittsburgh. Donley's provided concrete services for the new 5.5-story below grade parking garage and podium slab, including a lower floor addition to the existing building.
The location of the Assembly project with respect to adjacent structures presented unique logistical challenges that the team was able to overcome through extensive planning and coordination efforts with Turner's operations team.  An earth retention system consisting of steel soldier piles with wood lagging and tie-backs extends more than 50′ below street level to create the west and south boundaries of the project. At the same time, the existing century-old Ford Building intersects the new underground garage along its north side.
Donley's engineering team utilized state-of-the-art laser scanning technology to map out conflicts between the as-built earth retention system and the proposed structural concrete framing of the garage. Detailed drawings and reports were then provided to the design team in advance of garage framing, resulting in design modifications of the garage to accommodate the as-built conditions without any delay to the project's schedule.
Working closely with Turner, Donley's delivered the project safely and successfully on time over an aggressive 10-month schedule during the COVID-19 pandemic.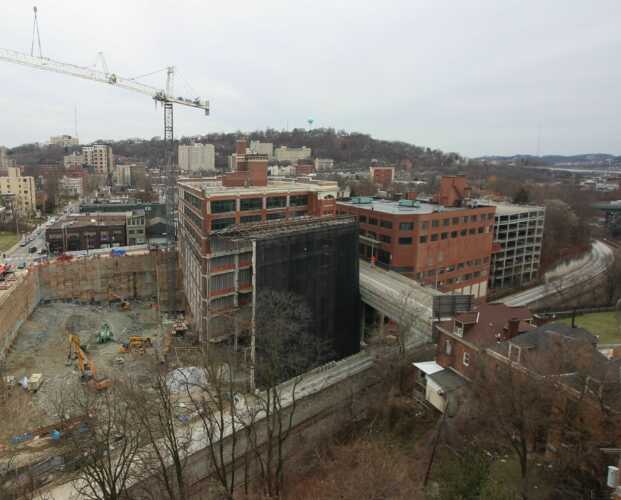 Connection at South Side
Construction Manager: TWG Construction
Donley's also recently completed our work for TWG on Connection at South Side Apartments in Pittsburgh. South Side Flats is one of two neighborhoods that make up Pittsburgh's dynamic South Side. The primarily residential neighborhood is located at the base of Mount Washington, South Side's enormous hill. We are providing concrete services for the residential podium. The site is a 123-acre riverfront development with a 142,750 square foot podium (2-level) structure and 6,800 cubic yards of concrete.
This mixed-use project includes residential and commercial space, a marina, a riverfront park, and 5 miles of new multi-use trails.

Glasshouse at Station Square
Construction Manager: Rycon Construction
Donley's work for Rycon Construction on The Glasshouse was recently featured in Breaking Ground Magazine.   Glasshouse is located on the former site of Pittsburgh's historic glass-making factories, on the bank of the Monongahela River, overlooking the city's central business district. Our scope included structural excavation, foundations, basement walls, core walls, slab on grade, and podium deck slabs.
The community provides 319 residential units, including studio, one, one den and two-bedroom apartments, ranging in size between 665 and 1,200 square feet. Ground-floor retail and 335 indoor parking spaces broaden the variety of facilities on the property. Read more about Glasshouse here.
Read the Breaking Ground Magazine Feature here on page 35.
See our entire portfolio here.

www.donleyinc.com
Donley's was featured in the May/ June article of Breaking Ground, THE MAGAZINE OF THE MASTER BUILDERS' ASSOCIATION OF WESTERN PENNSYLVANIA Master Builders' Association.
Project Executive for Rycon Construction, Inc., Mike Figgins, said, "Donley's was extremely adaptable and that saved us a lot of time. We recovered quite a bit of schedule by that resequencing…"
Read Donley's Feature in Breaking Ground Magazine to find out more on the detailed construction of the Glasshouse project in Pennsylvania from 2016. (Page 35)
https://www.mbawpa.org/assets/images/files/CP_BreakingGround_MAYJUN21-LowRes.pdf
We are thrilled to announce Eric Cox has been promoted to the Vice President of Donley's!
Eric Cox graduated from Eastern Carolina University and went to work for Miller and Long Concrete Construction in the year 2001. Working in the field as a field engineer and enduring the chilly North Carolina winters and hot North Carolina summers helped Eric quickly realize that he wanted to learn other parts of this business!
In 2003, he went to work for Blair Concrete Services as an estimator/project manager…working alongside Jeff Hamburg and Ian Blair.  After estimating and managing dozens of concrete projects over this 5-year span…Eric was promoted to Senior Project Manager in late 2008.
Donley's acquisition of Blair Concrete Services led us down the path of chasing larger structural concrete projects and overall business growth throughout the southeast.  During the transitional years of Blair Concrete changing over to Donley's Concrete Group…Eric put in the time, energy, and effort to build relationships with clients and managed multiple concrete projects.
In 2015 Eric was promoted to Project Executive.  Over the next several years, we solidified our South Carolina Team, performed several very successful projects in Georgia, and successfully expanded into the Virginia market.  Eric played a very key role throughout this growth and development phase of Donley's Concrete Group.
Eric exemplifies the hard work, determination, and experience it takes to learn and become EXCELLENT at managing internal and external clients.  Eric has an exceptional focus on keeping everyone safe, doing high-quality work in the field while at the same time managing the productivity of our workforce.  Over the years, he has built his own book of business and solid relationships with multiple clients.
Our business is all about people – This is truly what Eric excels at!
Please join us in congratulating Eric Cox on a very well-deserved promotion to Vice President.
Congratulations Eric, you have certainly earned it!
Donley's May 2021 Service Awards: Billy Powell and Jose Espinoza Jr.
Congratulations to Billy on his 10-year work anniversary with Donley's at the Cleveland office as Corporate Risk Manager and congratulations to Jose on his 10-year anniversary with Donley's as a Foreman at our Raleigh location! Your work does not go unnoticed and we appreciate all that you do at Donley's. We are proud to share your service with us and look forward to more great years together. 
Congratulations!

As Donley's celebrates its 80th year of providing concrete services, we wanted to share a few of our current and recent projects marking the growth of our South Carolina office. Four of the tower cranes in downtown Charleston are on projects where Donley's is the concrete contractor, with a fifth being erected in Summer 2021. Exciting times for the South Carolina team!
Morrison Yard
Construction Manager: CF Evans
Donley's is working for CF Evans on this new mixed-use project. Our work on the Morrison Yard development includes a cast-in-place frame for the ten-story apartment building and a two-story podium deck with a total of 17,755 cubic yards of concrete. This mixed-use project includes a market, restaurant space, offices, and a coffee shop.
Click here to learn more about Morrison Yard.
Take a 360-degree tour of the site here.
The Cooper
Construction Manager: BL Harbert
We are currently working with BL Harbert on The Cooper Waterfront Hotel in Charleston, South Carolina. Located on the Charleston peninsula, The Cooper Hotel will be a six-story, 225-key, 288,000-square-foot hotel featuring a ballroom, conference space, service kitchen, a restaurant, 12,000 square feet of ground-floor retail space on Concord Street, rooftop lounge, elevated pool, and sea-wall, plus views of the harbor and downtown skyline. For decades, the site was the location of the State Ports Authority headquarters.
Click here to learn more about The Cooper.
North Charleston Coliseum


Parking Deck


Design Build: M.B. Kahn
We recently served as part of MB Kahn's Design-Build team for the new North Charleston Coliseum Parking Deck. The new deck can accommodate 2,000 vehicles and provides additional parking for the North Charleston Coliseum, Performing Arts Center and Convention Center Complex. Our work in the 664,000 square foot structure resulted in 23,500 cubic yards of concrete and three elevated levels.
168,000 square feet of slab-on-grade
3 elevated levels using Donley's Garage Beam System
495,000 total square feet of elevated slab
Click here to learn more about the North Charleston Coliseum Parking Deck.
Additional Current and Recently Completed Projects
40 Line Street
Developer/Construction Manager: Lifestyle Communities
Downtown Charleston
Still Hopes Independent Living Phase 2
Construction Manager: CF Evans Construction
West Columbia
International African American Museum
Construction Manager: Turner Brownstone
Downtown Charleston
Wild Dunes Resort Hotel
Construction Manager: BL Harbert
Isle of Palms
See our entire portfolio here.

March New Employees:
This past month, Donley's has had the privilege of welcoming four new members to our team: Ruben Flores, Brandon Chairez, Dylan Skipper, and Thomas Carpenter. Ruben and Brandon will be working in our Raleigh office, Dylan will be working in our Charleston office and Thomas will be working at our Richmond location. We are thrilled to have these new members on board and can't wait to see what they accomplish in these roles.
Welcome to the team Ruben, Brandon, Dylan, and Thomas! We are excited to work with you at Donley's.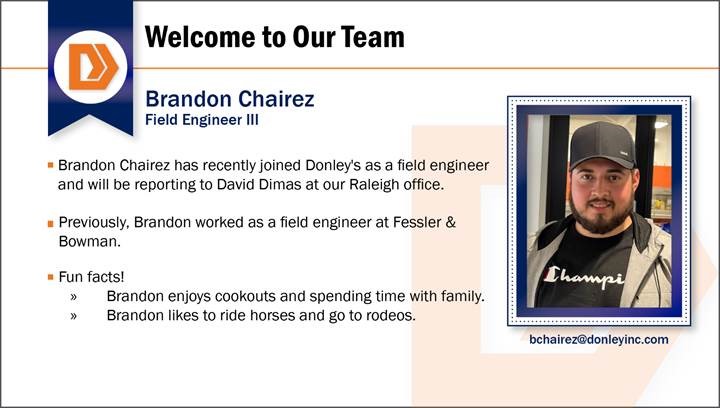 Donley's March 2021 Service Awards: Chris Cammerata and Joseph Fowlie
Congratulations to Chris on her 20-year work anniversary with Donley's and congratulations to Joseph on his 10-year anniversary with Donley's! Your work does not go unnoticed and we appreciate all that you do at Donley's. We are proud to share your service with us and look forward to more great years together. 
Congratulations!