This student housing facility, located in the Bluestone section of JMU's Harrisonburg campus, now offers accommodations to approximately 507 students in an apartment-style configuration. The four-story building also features various student life spaces, academic classrooms, seminar space, administrative offices, and other support spaces.
This project is LEED registered.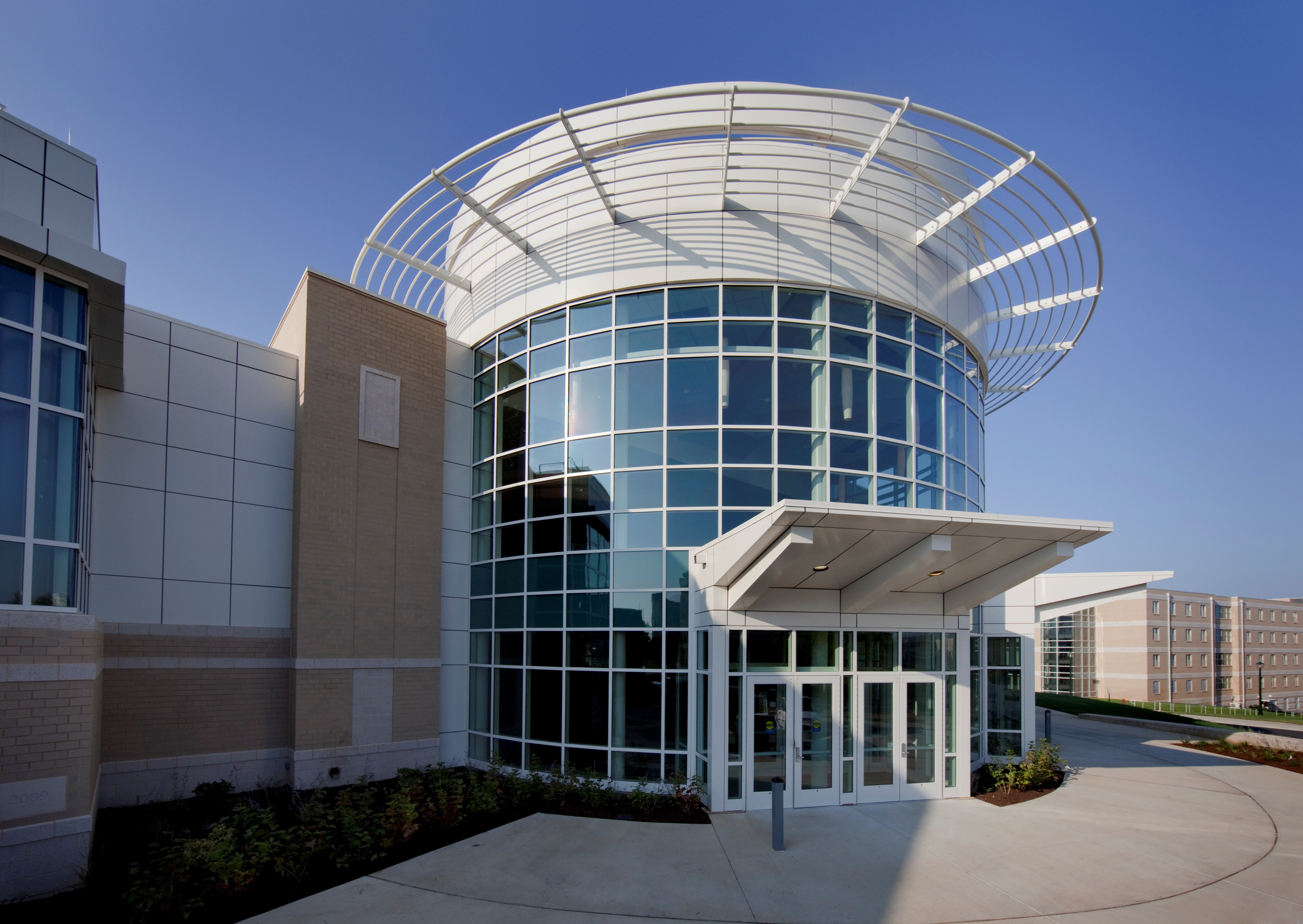 Located in the CISAT section of campus, this two-story dining hall features a large, open indoor dining space with windows on three sides to let the maximum amount of daylight into the space, as well as inviting outdoor seating areas.
The first floor features a central two-story "rotunda" lobby, as well as the main student dining area, which includes seven food venues, associated back-of-house kitchen services (receiving, food preparation, storage, and cleaning spaces), and a small convenience store. The second floor includes an upper lobby in the rotunda; an executive dining room that features a fireplace; an executive dining pantry for food preparation and staging; and an outdoor balcony with views to the south for executive event functions. The executive dining room and balcony also serve the community as a venue for parties and receptions.
Sustainable elements of JMU's first green building include a white membrane that covers 97% of the roof and reflects sunlight; water-efficient plumbing; low emitting materials (paint, carpets, coatings, etc.); controllable lighting systems and daylighting; enhanced refrigerant management; and the use of recycled and regionally manufactured building materials.
This building is LEED Gold certified.
This project encompassed removing the existing West Grandstand and replacing it with a new, two-tiered West Grandstand with approximately 14,000 seats. A new, single-tiered North End Zone Grandstand with approximately 5,400 seats was connected to the new West Grandstand.
The complex's lower concourse level features concessions and a team shop, while the club level consists of an 8,000 sq. ft. club lounge. The suite level houses 15 luxury suites and a president suite. The upper concourse level features concessions, and the upper tier of the West Grandstand houses an approximately 6,500 sq. ft. press box to replace the outdated facility located in the existing East Grandstand. The lower service level of the stadium includes a commercial kitchen and commissary facility, as well as a loading dock.
Originally planned as a three-phase project to be stretched over three off-seasons, the Donley's team completed the project in only two phases and actually beat the very challenging completion date – all without causing disruption to the football schedule over the two years of phased construction.