This new facility doubles the size of Cleveland Clinic Laboratories and is designed to support testing needs in microbiology, special chemistry, immunopathology, and molecular pathology for the Clinic system hospitals and healthcare providers worldwide. The building includes areas for clinical engineering, administration, and sales offices.
Virtual design modeling was used for design of exterior building envelop, interior space, lab mock-ups, and MEP systems. Failsafe redundancies for mechanical, electrical, and plumbing ensure that systems operate 24/7.
Sustainable features of the project include:
green roof
permeable pavers to control water run-off
enhanced energy performance through lighting and energy recovery
95 percent of construction waste was recycled
This project is LEED Gold certified.
This challenging project was built on the edge of a cliff and features a soaring 4-story atrium and breathtaking views of the Rocky River Reservation. The four-story addition to the hospital's existing facility has 144 medical and surgical patient care rooms. Fairview's innovative approach to the addition was to divide it into patient-friendly zones: the Patient Zone, the Visitor Zone, and the Caregiver Zone. Each has its own amenities and uses, designed to make the patients feel more comfortable.
The project also included a pedestrian bridge built over a ravine between employee parking and the new facility
The Orthopedic Institute of the Great Lakes is the new home for one of the most heralded orthopedic groups in the Midwest. The group services Cleveland's professional franchise athletes.
Donley's was responsible for the buildout of this facility, for which it had previously constructed the building shell. The medical office building features:
an MRI room
an x-ray room
exam rooms
physicians' offices
medical work rooms
waiting rooms
a reception area
In addition, the facility houses a physical therapy unit that includes a hydrotherapy pool and a locker room area. The building's entrance features a large structural canopy for patient drop-off.
This project consisted of the construction of a three-story shell with a structural steel frame. The exterior façade of the building is made up of precast concrete, granite, and glass curtainwall. The main focal point of the structure is the new three-story atrium, featuring glass-enclosed elevators, granite floors, and views of the landscaping outside. Included in this project was a 10,000 sq. ft. buildout for an Imaging Center that houses an MRI and a CAT Scan
The three-story addition includes 16 state-of-the-art operating suites, four of which are specifically dedicated to open heart surgery. The facility also houses an outpatient surgery center, a pre-admission testing area with ten exam rooms, and a diagnostic radiographic room.
Ten beds were added to the emergency department, bringing the total to 49. Other additions and renovations were also made to the emergency department.
New construction included an outpatient entrance featuring a dramatic two-story lobby, cantilevered vehicular canopy, and exaggerated elevator tower, creating a highly visible entrance to the hospital. A separate two-story addition provides space for a 15-position PACU and Endoscopy Suite, as well as a Same Day Prep/Recovery Suite with 29 private patient positions. The first floor of the PACU addition is adjacent to the existing Emergency Department and provides 13 beds to support both Observation/CDU and Inpatient Pediatrics.
Elements of the project include:
36,000 sq. ft. of new construction
76,000 sq. ft. of renovations
17,000 sq. ft. of cosmetic renovations
146,000 sq. ft. of site work
Renovations to the surgery platform to create 8 "fully functional" operating rooms
Renovation of the Inpatient Unit for a 21-bed Progressive Care Unit
Renovation of Radiology to incorporate Nuclear Medicine and establish a patient prep/recovery area
Renovations to support services including Central Sterile, Laboratory, and Respiratory Therapy in support of clinical care
Renovation of the visitor lobby, gift shop, chapel, and pastoral services
Cosmetic upgrades to public corridors
This project is LEED registered.
This facility houses a state-of-the-art cancer center fully equipped with a lead-lined simulator room, a linear accelerator room contained within six feet of concrete on all sides, and a cancer treatment floor. As a resource for patients, families, and friends, the center houses a Community Resource Center stocked with brochures, periodicals, videos, and internet access to related information. The Resource Center overlooks the Cancer Center's two-story lobby and waterfall.
The decor of the center was designed to create a healing environment with bright, airy rooms filled with natural light and wall coverings, carpet, and furniture in comforting colors and textures.
This free-standing, single-story ambulatory same-day surgery facility houses:
patient examination rooms
three operating rooms and related areas
patient pre-op rooms
patient recovery areas
an endoscopy room
two semi-private overnight rooms
In addition to building operations areas, support spaces include:
the main registration and waiting lobby
radiology room
laboratory
medical supplies storage
medical and administrative staff offices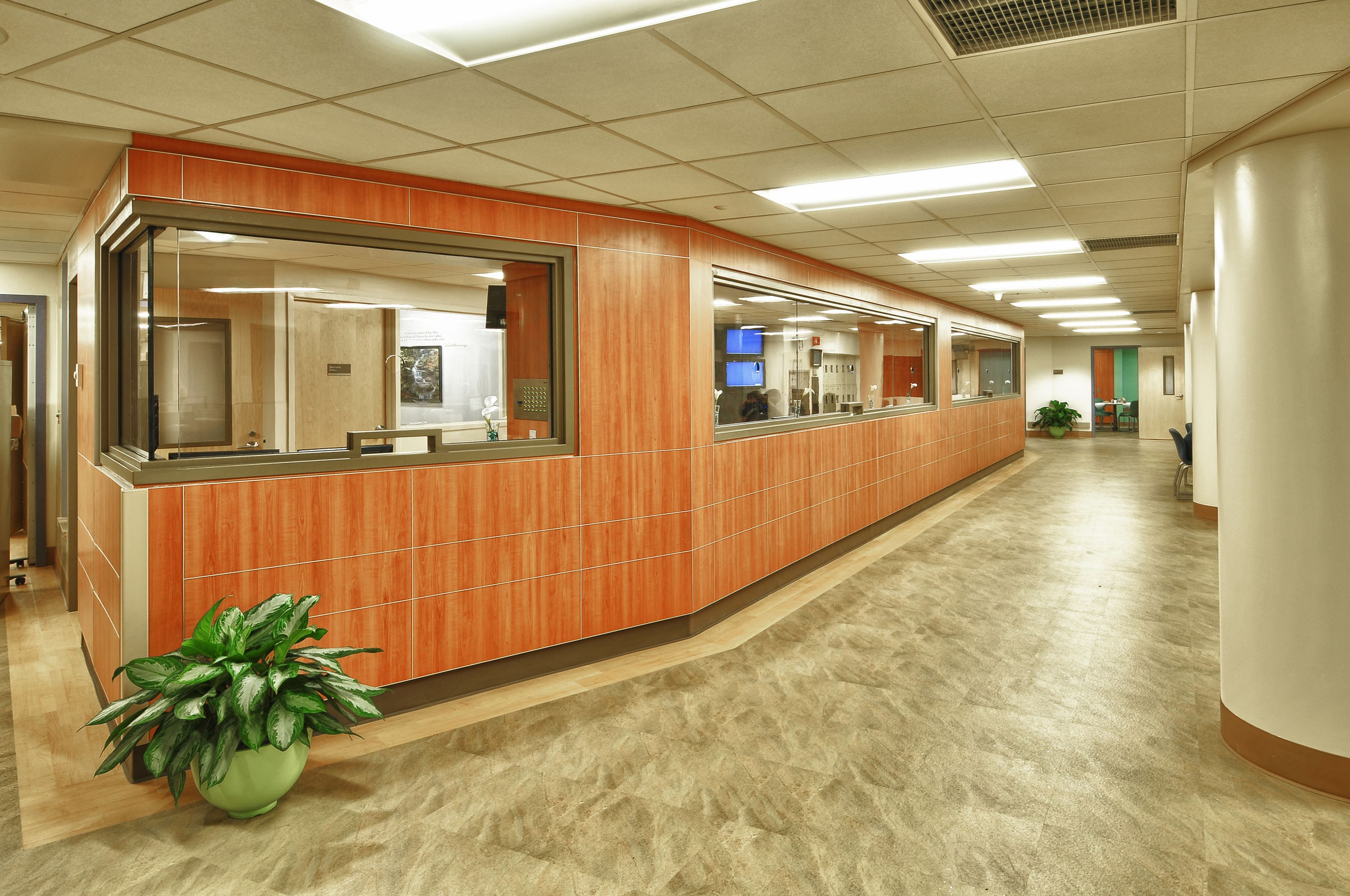 Renovation to the hospital's Patient Tower made up the majority of the project and was completed in six phases in order to minimize disruption to the facility. Areas addressed included:
patient rooms
nursing stations
sterile storage areas
showers
MEP/HVAC system upgrades
Work in the Emergency Care Center included new air handlers and a lobby renovation that took place while the ECC remained open. Renovation of the Biometrics area consisted of a new IT room, a new stress lab, and a new EMG room. The Physicians Information Center was also renovated to include fireplace and other amenities.
Donley's was responsible for the buildout of existing shell space on the lowest level of the hospital's existing Ambulatory Care/Surgery Center (also constructed by Donley's).
The new 8,730 sq. ft. Radiation Oncology department includes a 2,200 sq. ft. linear accelerator vault that was added onto the side of the existing building. The department also houses:
a CT Simulator
a hot lab
examination rooms
physicians' offices
ancillary support spaces
The Women's Imaging Center features:
four ultrasound rooms
two mammography rooms
chest x-ray and bone densitometry
ancillary support spaces