Articles by:
Hillary Pickard
We are pleased to announce the promotions of three of our staff members to Senior Project Managers! Here's a little bit of background info on John, Courtney, and Nate.
John Berkebile: Since joining Donley's in 2002, John Berkebile has worked on numerous higher education and healthcare projects for a variety of our clients. Most recently, he served as the project manager on CSU's Center for Innovation in Medical Professions and the Health Education Campus project. As a key leader of the HEC team, John has routinely stepped up leading Initiatives such as our CM Quality Program, Lean, and CM Internal Training programs. He recently presented as part of a panel on Lean construction at the Lean Construction Institute.
Courtney Moore: Courtney joined Donley's in 2011. Earlier in her career she worked in the housing construction marketing in California before migrating to Cleveland. Courtney's portfolio of work at Donley's has included the Cleveland Clinic Tomsich Pathology Laboratories, CWRU's Tinkham Veale University Center, the Health Education Campus project, and she is currently providing job administrative and engineering set up on Ohio University's HCOM project in Athens, Ohio. Her expertise in project financial cost control and subcontract administrative leadership have been extremely valuable on complex CM projects such as CWRU and HEC. Courtney has recently taken more of a leadership role in the CM group, co-chairing our Job Cost Meetings, and Beta testing Procore's Construction Management Software on our Ohio University HCOM project.
Nate Heitner: Nate joined Donley's as a Project Engineer in 2011 and became a project manager in 2014. His portfolio of Donley's projects is quite diverse and includes MOCA Cleveland (new museum), CWRU Tinkham Veale, City of Akron Rack 14, Oatey's headquarters, and the Summa West Bed Tower. Nate has provided expertise in Viewpoint and the standardization of our documentation process.
The journey of an interior construction project can lead down many paths… you need to make certain that you have a solution-driven builder who can look around the corners, mitigate schedule and budget risks, and deliver your vision.
Our engagement process ensures that we understand your goals, schedule, and budget so that together we can achieve project success.
engage. build. thrive.
Our approach will engage the team to save time and money

Our work by the numbers
We build quality and safety into all we do everyday

A new space will help your organization thrive
Our genuine people bring an additional sense of commitment and passion in developing partnerships that result in spaces that will help your organization thrive. These partnerships are not only the owner but with the design and engineering partners as well.

Time lapse video of the new tower at Summa Health System – Akron Campus. Construction is expected to be complete in May 2019.  Proud to be working with our joint venture partner, Shook Construction along with Perspectus Architecture and Hasenstab Architects.
At the FNB job site in Raleigh, NC, Donley's crew member, Emersson Molina, and a team saved a window washer when they noticed, on a building adjacent to the site, the widow washer slipped off his chair and was dangling from his harness. Molina contacted The Choate Construction crane operator who was able to swing the crane around to the dangling washer, hooking it onto his harness. From there they brought the man down to safety. Emersson and the crane operator were honored by Choate at a safety stand down.
DCG Raleigh was awarded a $2 million in concrete services for a pharmaceutical manufacturing facility with BE&K in Holly Springs, NC (just five miles from our new office). In 2005 and 2006, Blair Concrete completed four of the five original facility structures (Novartis). The owner's rep was there in 2005 and they are excited to have us back for our start this December.
DCG Virginia was recently awarded the $9.3 million Garrett Street Mixed Use Office Building Project (aka Apex Clean Energy Building) for Whiting-Turner. Since expanding our concrete services in Virginia, this has been the largest concrete project won.
This project is located in Charlottesville, VA. It will consist of three frames levels of  parking/podium 11 levels of concrete cores surrounded by heavy timber framing. It will have 40,000 sq. ft. of slab on grade and 165,000 sq. ft. of structural slab. The project will most likely start around April/May 2019.
Donley's CM team and Donley's Concrete Group in Virginia are celebrating multiple project wins!
The UVA Musculoskeletal Center project is a $7.1M contract for Whiting-Turner. This project marks the largest concrete project in VA since we launched concrete services in 2016. It includes the new UVA facility plus enabling work for a precast parking deck. This is a big wall job—there is almost a mile of various types of walls on this project. In addition, this project marks our first job with Whiting-Turner since the Cleveland Clinic Heart Center over a decade ago.
The 2525 Project for Purcell Construction in Richmond is a $5.9M contract. This project includes a structural concrete multi-level parking garage and podium supporting 4 levels of slab-on-metal deck (Epicore Deck). This is our first project with Purcell Construction.
The Donley's CM team was awarded the 27,000 sq. ft. Cole Eye Primary Care Expansion at the Cleveland Clinic Westlake Family Health Center!
Congrats to all those involved! We are very excited to get our start on these projects!
The Health Education Campus project team's presentation was named in the top five presentations at the Lean Construction Institute Conference. The presentation "Delivering the future of health education on time, on budget, with the highest quality using lean tools" included John Berkebile and John Clark from Donley's, along with representatives from the Cleveland Clinic, Turner Construction, and DLR Group.
Over the weekend, Donley's Northeast Ohio Concrete Group worked through the night on the first (of two) mat placement pours at the Playhouse Square The Lumen Project in Cleveland, Ohio.  Thank you to all those who were a part of this 18.5 hour pour. Your dedication and hard work are the reason this pour was a success! Keep up the great work!
Fun Facts The Pour Was Serviced From 3 Separate Ready-Mix Plants.
4 Active Pump Trucks With 1 Stand-By Pump Were Utilized.
52 Concrete Trucks Were Used, Running Round Trips To Maintain The Pace Of Installation.
Placement Lasted 10.5 Hours (2:00 A.M. To 12:30 P.M.), With The Final Finishing Lasting An Additional 8 Hours (12:30 P.M. To 8:30 P.M.). Total Duration Of The Pour Lasted 18.5 Hours!
Average Placement Of 408 CY/Hour. Peak Placement Hours Surpassed 700 CY/Hour.

Donley's Concrete Group (DCG) recently submitted a project to the Associated Builders and Contractors, INC (ABC) Excellence in Construction (EIC) awards program. This award program is the industry's premier competition, with hundreds of projects vying to be named the best in North Carolina in up to 50 categories. Of the 69 projects submitted for judging in this year's ABC Carolinas Chapter EIC Awards Program, DCG will receive a Merit Award for The Dillon project.
The ABC EIC award application requires detailed descriptions of the project's scope, a narrative of the construction process, and discussing challenges and how they were overcome. These in-depth descriptions present to the judges why The Dillon ranks on top, which also challenges our team to take a more comprehensive look at the project and the story it conveys to the community.

The Dillon Supply project is the first mixed-use development of its kind in downtown Raleigh's rapidly expanding, vibrant Warehouse District. Completed in January 2018, the project included an 18-story office tower with retail space and two six-story apartment buildings with an adjoining parking deck. This structure reuses and preserves parts of the original Dillon Supply warehouse building, a 100-year-old Raleigh company. Donley's provided turnkey concrete construction services on the project to Barnhill Contracting Company and Theys Construction Company.
The ABC award application requires detailed descriptions over-viewing the scope of the overall project, a narrative that tells the story, presents to the judges why The Dillon ranks on top, along with a look into some challenges and solutions that occurred during the construction process. It is also important that the application remains creative but does not take any attention away from the overall project.
"Through the rigorous quality control and schedule management, The Dillon Project was completed several weeks early."
Click Here to view The Dillon award submission and learn more about why we feel this project represents Excellence In Construction.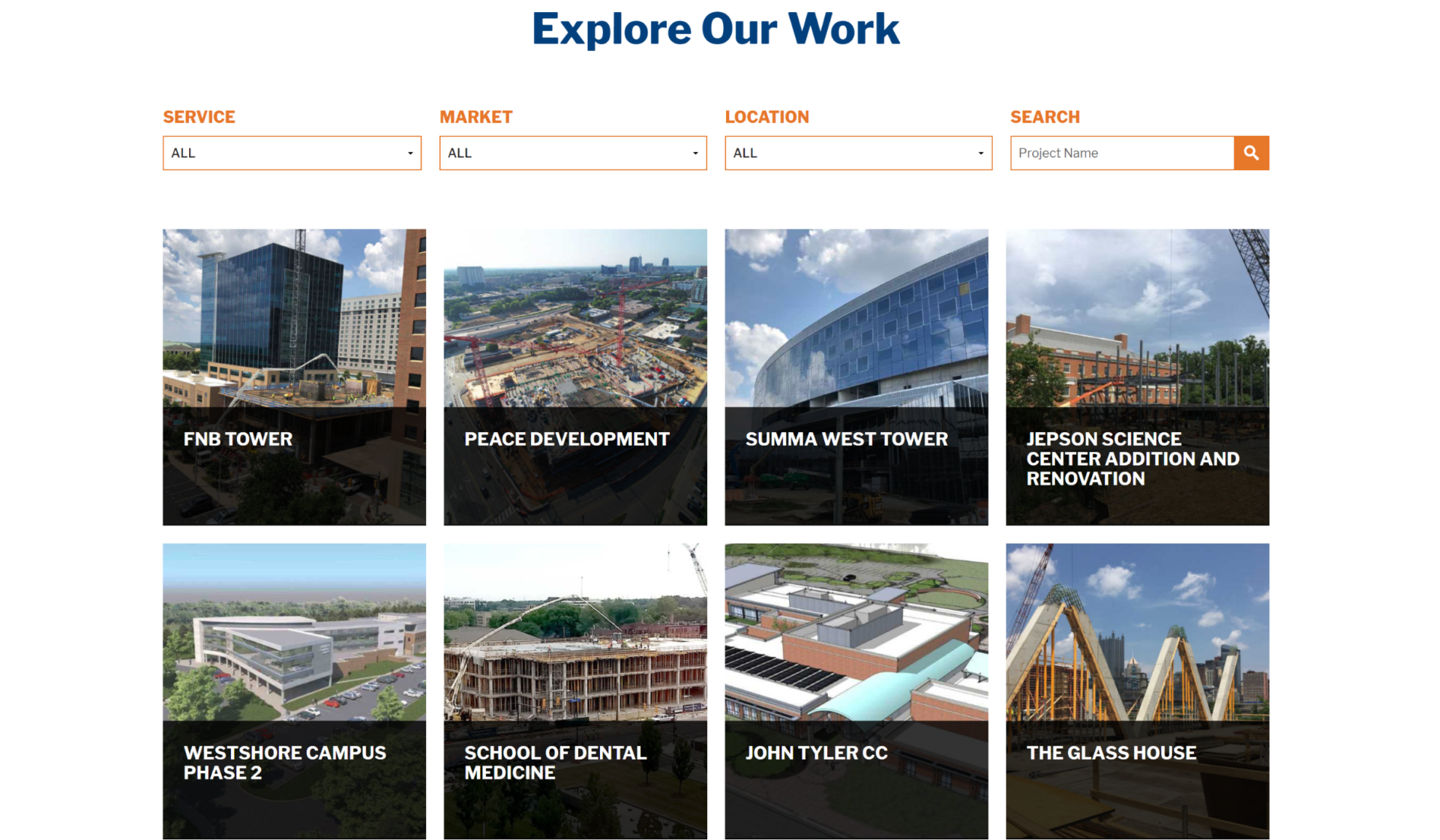 We are excited to announce the launch of the newly designed digital home for Donley's. The new website is designed to engage you in learning about our culture, history, projects, job opportunities, and news offerings as effortlessly as possible.
Our goal was to bring you a simple and modernized platform. Furthermore, we think it better represents our genuine people, family culture and focus on delivering and sustaining our clients' vision. It is our hope that you will immediately take advantage of everything the website has to offer including our compelling and interactive interface, upgraded navigation tabs, engaging numbers, stats and information, a careers section that can be translated to Spanish along with our easy to customize project gallery.
Thank you for visiting and we look forward to hearing from you soon.